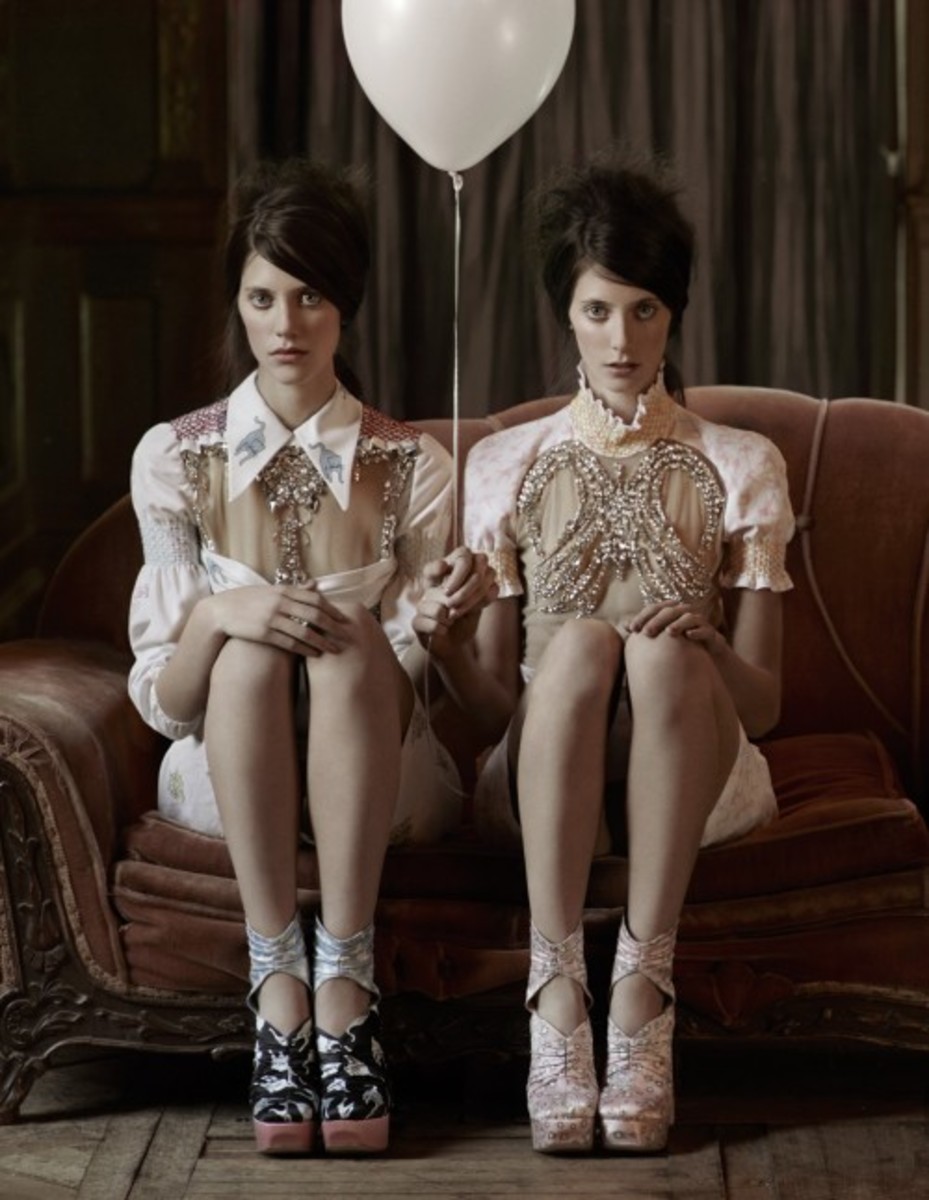 No you're not seeing double. Modeling's current stars are twins Ann and Kirby Kenny.
Even though AW10 was their first season doing shows, combined they walked for such industry bigwigs as Prada, Marc Jacobs, Miu Miu, Celine, Proenza Schouler, and Burberry, just to name a few. Now they're gearing up for SS11, which is sure to be another hit.
Click through for an interview with Ann and Kirby about their already-incredible careers, and what's next. How did you get into modeling? Kirby: One day Ann and I went into the woods behind our house and took Polaroids of each other. That night we sent them into DNA and soon after set up a meeting and signed with them right away.
What was the change like going from regular high school girls to major international models? Kirby: At first it was a little strange being away from my friends and out of my usual schedule. But the whole change has been extremely quick and very exciting! Ann: It was a very strange world that I entered, but I adjusted fairly quickly. It's been an amazing opportunity and I'm still taking it in.
How did your parents and friends at home react to your immediate success? Kirby: They all have a really hard time believing it, but everyone is so excited. I'll always get a comment like 'I saw you here or there' or whatever, so that is kind of funny. Ann: They could identify with the brands that they knew so they felt like they were a part of it in a way.

What is it is like working together on shoots? Do you request to be shot together or do clients request it? Ann: We don't request to be shot together but I do love shooting with Kirbs. We're so natural together and I think clients are interested in how we'll interact with each other in front of the camera. Kirby: We don't request to be together on shoots, but we work together an awful lot. I love working with Ann because we're so comfortable with each other and I think that translates onto the camera.
Sibling rivalry: has it gotten better or worse modeling together? Kirby: We've never been competitive, so there haven't been any fist fights or anything, haha. Ann: It's funny, it has actually remained exactly the same!
Did you choose to have different hair colors to differentiate yourselves from each other, and how did you choose who went blonde and who went dark brunette? Kirby: It's funny because a week before we took the pictures to send in I bleached my hair blonde.... I don't know why, impulse I guess. Ann had gone dark a while before that. So when we showed up to DNA they liked the colors and decided to keep it.
How do you feel that your looks differ? Ann: We've always had similar features, but not identical ones. I enjoy having another version of myself with an alternate perspective. Kirby: We both like the fact that we look similar, but not completely the same. What looks good on me may not look as good on Ann, or vice versa. So as a result, I think it gives us more versatility to be able to stand on our own, or together, and both will be interesting.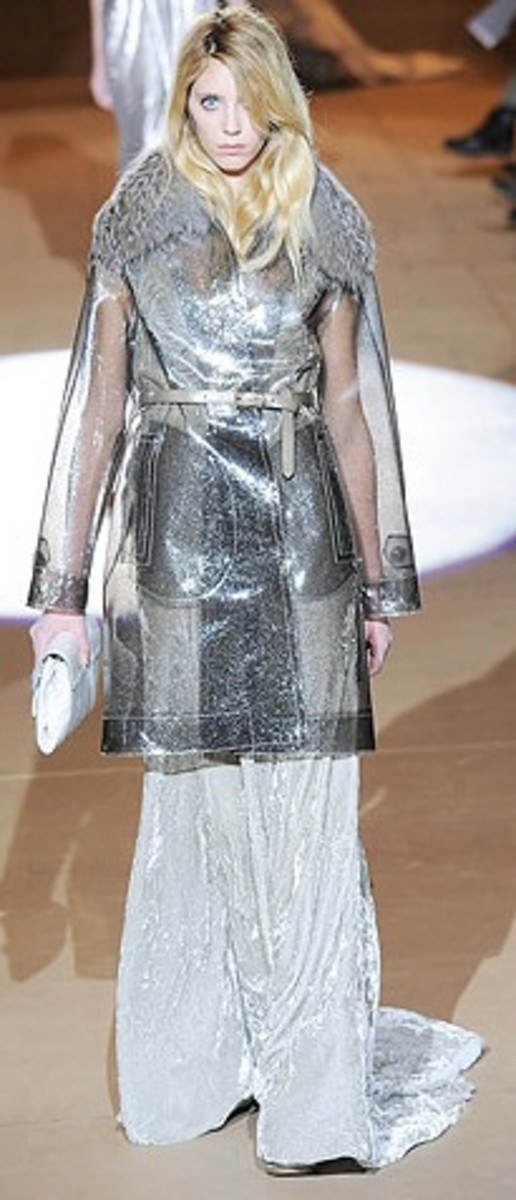 What were your favorite moments of the AW10 shows? Ann: I love when i get the opportunity to open shows, so Proenza Schouler, Pringle of Scotland, and Richard Nicoll. Kirby: I really enjoyed walking for Marc Jacobs because that was my first big show in New York. And Celine, because Phoebe Philo is one of my favorite designers.
What's on the horizon for SS11? Kirby: Hopefully many shows and a good time. Ann: More work and happiness, I hope.
You've shot with a lot of big names like Hedi Slimane and recently booked the Proenza Schouler AW10 campaign. What experiences stand out for you? Ann: I think every experience is as memorable as the last. Although some things I have done were more important for my career, I remember every moment all the same. Kirby: I think every photo shoot stands out for me. But definitely shooting with Hedi Slimane was unforgettable, he is so cool and relaxed. It didn't even feel like a photo shoot, it was just a chill time. And Proenza was great too. Ann and I both love Jack and Laz; the whole day was a great time.
Any dream jobs you're both hoping for? Kirby: There is no specific job I would love. But I strive to make the best photos I can, work with all the talented people in this industry, and eventually have an impact on the modeling/fashion world. Ann: I just want to do as much as I can, and the best I can. I want to be happy doing it.
If you weren't models what would you want to do? Ann: I'm fascinated with film, I will eventually pursue directing, definitely. Kirby: I am a movie junkie. So I would definitely be working on films, whether it be editing, directing, but probably both.
What are your favorite magazines? Ann: I really love Russh, Interview, and Another Magazine. Whenever I look at their editorials I want to be in them. Kirby: I love Russh, Tush, Another, LOVE, and Interview. I always get inspired after looking at the stories.
What's on your iPod? Ann: So much! I've been really into Radiohead, Nirvana, Alice in Chains, Pink Floyd, and Sufjan Stevens. Kirby: Pearl Jam, Nirvana, Sufjan Stevens, The xx, The Cure, The Cramps, and The White Stripes.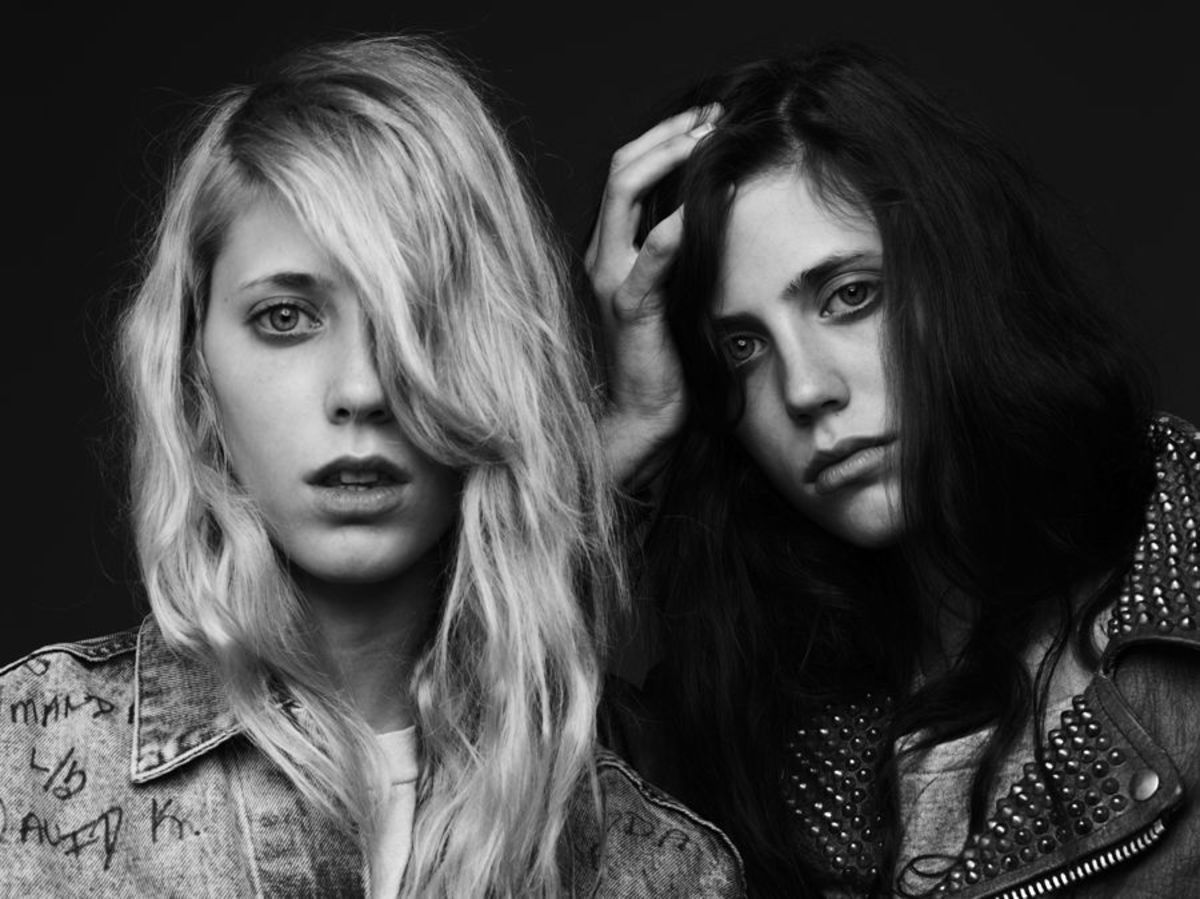 Where are your favorite places to shop? Kirby: Vintage anything anywhere. Ann: Any vintage store in any city.
Who are your favorite models? Kirby:Sasha Pivovarova, Natalia Vodianova, Raquel Zimmermann, Edita Vilkeviciute, Kim Noorda, Alyona Osmanova...to name a few, hahah. Ann: I am so inspired by Natalia Vodianova and Twiggy.
Related: More on Our New Favorite Model, Tati Cotliar Up-and-Coming Model Dorothea Barth Jorgensen Blogs About What Really Happens Backstage I Want to Be the Girl…in Proenza Schouler's New Campaign