A leading New York-based communications firm seeks an Executive Assistant to support the Founding Partner, an accomplished professional with deep experience in global marketing and media. The firm specializes in public relations strategies for a diverse clientele spanning fashion, luxury, lifestyle, travel, interior design, spirits, media, and entertainment sectors. This is a rare, full-time opportunity for an ambitious, motivated individual to interface with a widely known, respected figure in the communities described.
KNOWLEDGE & SKILLS
The Executive Assistant to the Founding Partner will interact with high-level professionals in the public relations, marketing, communications, media, and broadcast fields, with additional far-reaching connections into the various industries HL Group serves through its clientele. The network includes contacts on both a domestic and international level, with projected growth in the global arena. This is a highly demanding environment with excellent opportunities for professional development through a unique exposure to consumer lifestyle marketing. As such, candidates must possess the following characteristics and abilities:
Strong desire to learn the business
Interest in local, domestic, and international markets and media
Willingness to stay current with respect to news, politics, and world affairs
Professional demeanor with high level of discretion
Superior verbal and written communication skills
Exceptional analytical abilities with solution-oriented approach
Ability to remain flexible, proactive, resourceful, and efficient while under pressure
Must enjoy challenges and exercise sound judgment
Must be exceedingly organized with acute attention to detail
ROLE & RESPONSIBILITIES
An in-depth description of the position's day-to-day responsibilities is as follows: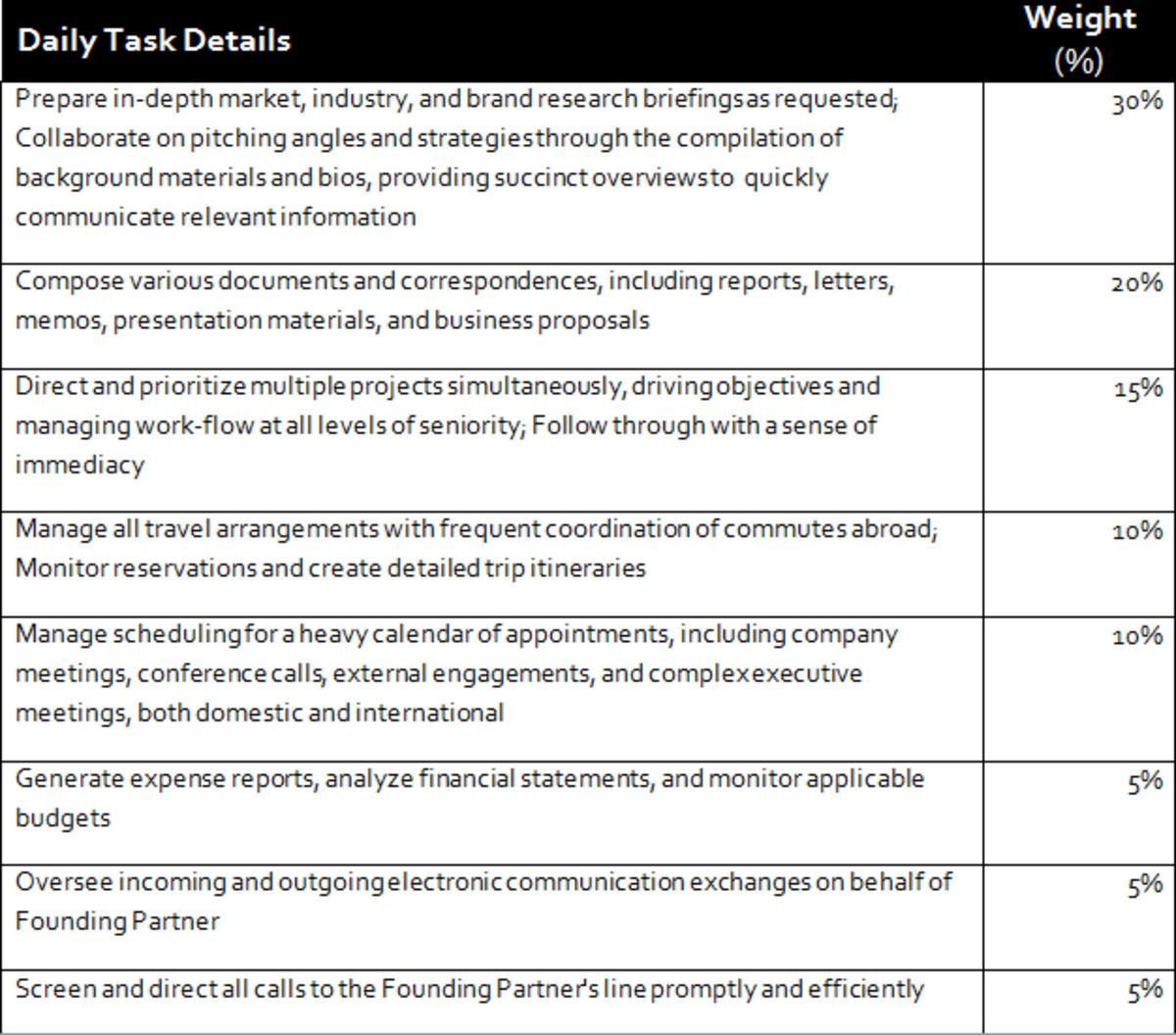 QUALIFICATIONS
Bachelor's Degree required
Proficiency in Microsoft Office programs including Word, Excel, PowerPoint, and Outlook required
 Specific or relevant industry or vocational experience required
Exposure to international markets or travel strongly encouraged
Coursework or training in public relations, communications, marketing, or media preferred

To apply, please send your resume to Denisse at dgallegos@hlgrp.com.