Last week, Women's Health held a panel to celebrate its annual Beauty Awards issue. The magazine brought in a group of digital media experts, including Radhika Prakash, brand strategist for Pinterest; Lucia Moses, media editor at Digiday; Valentine Uhovski, fashion evangelist at Tumblr; Lisa Chudnofsky, site director at Women's Health and Bobbi Brown, founder of Bobbi Brown Cosmetics and editor in chief of Yahoo Beauty, to talk social media strategy to the audience, which mostly consisted of beauty industry execs. Of all the panelists, Tumblr's Valentine Uhovski had some of the most eye-opening insights on the panel. (For example, the most common request he gets from younger users is for Tumblr to increase the daily post limit, which is currently capped at about 250 posts per day. That's a lot of cat GIF's.)
Tumblr bloggers — or "creators," in Tumblr parlance — will be happy to know that the New York Fashion Week program, whereby Tumblr sends a selection of its users to cover the shows and ancillary events, is still going strong, and is, in fact, growing. Uhovski, who stopped to chat with Fashionista after the panel presentations, says that Tumblr is partnering with the CFDA to send creators to New York's first-ever men's fashion week this coming July. He was vague on details, but the team is now actively working on choosing people to send. If the process is anything like how the Tumblr team chooses its womenswear bloggers, popularity won't be a consideration. "We look at content first. Some [creators] have a few hundred followers going in and some have hundreds of thousands," he said. "We always have a mix, but it's great to see them develop."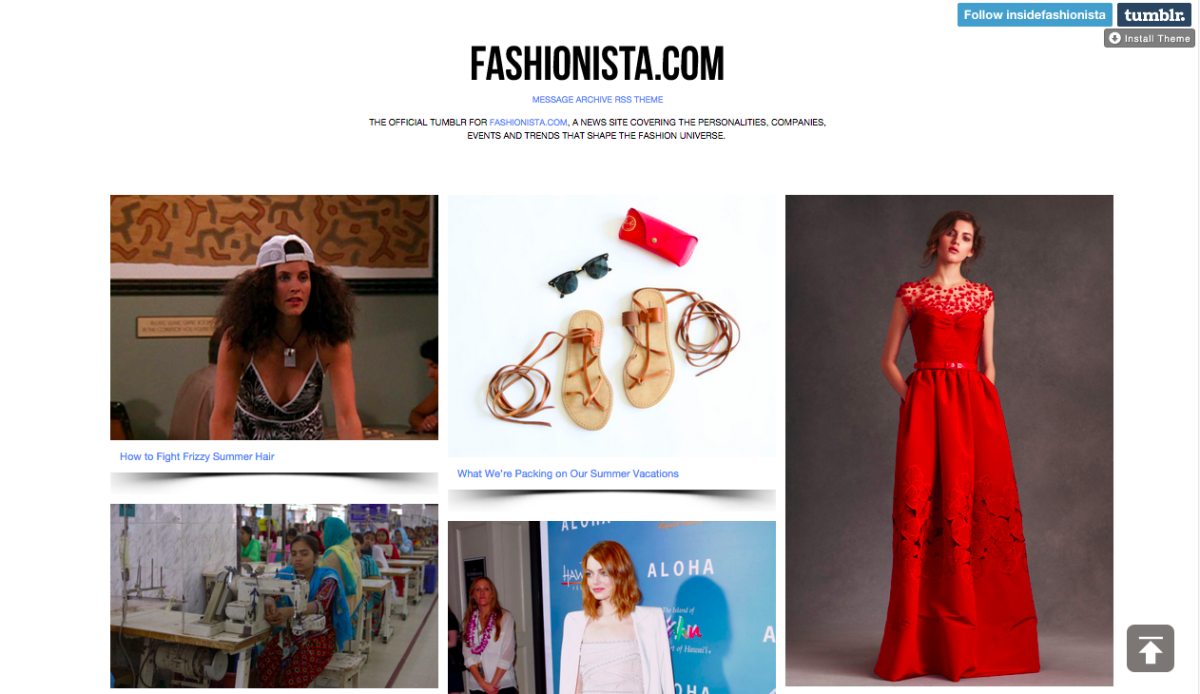 This coming September marks the 10th season that Tumblr will be sending creators to cover the women's shows at NYFW, and Uhovski is optimistic about working within the new fashion week structure. A few months ago IMG acquired Made Fashion Week, which Tumblr had worked with in the past. "We work with that team really, really well," Uhovski says. "I'm excited to see what they're about to put together. I think we'll collaborate with them even more digitally [this season]."
Uhovski is really proud of the fashion program and it seems the feeling is justified. He rattled off a list of Tumblr NYFW alumni success stories, and a representative from Tumblr sent over a more detailed list:
• Brandon Stanton is now a New York Times bestselling author with Humans of New York.
• Ira Chernova went on to become the star of Diesel's fall 2013 campaign, shot by Terry Richardson
.
• Jillian Mercado became the star of Diesel's "We Are Connected" campaign after meeting Creative Director Nichola Formichetti through Tumblr's NYFW program
.
• Jamie Beck is one of Tumblr's breakout stars who has since worked with Saks, Chopard, Tiffany's and more
.
• Mr Gif has contributed to American Apparel, Evian and Axe, among others.
• Wille Green is now editor of  We the Urban magazine
.
• Justin Chong shot the global Club Monaco lookbook in 2013
.
• Hannah Sider recently collaborated with Nordstrom and G-Star. 
• Matthias Brown has since worked with Disney and Converse, among many other Tumblr partners
.
• Photo/video artist Sam Cannon has gone on to work with many beauty clients including Covergirl and Tresemmé, most recently for their NYFW Creatrs Network campaign. 
• Chantal Adair shot the entire fashion season, across four cities, for Elle last year.
• Miguel Yatco shot for Oscar de la Renta in-house for 2013, and Ralph Lauren in 2014. 

• David Urbanke shot for AnOther and Flaunt, and also appeared in Carine Roitfeld's documentary
.
• Jace Lumley was hired by GQ as a photo editor.
Finally, it's been about two years since Yahoo acquired Tumblr, a move which prompted a lot of skepticism from Tumblr users and tech watchers alike. Since then, Yahoo has launched its range of so-called digital magazines. (Full disclosure: I contribute stories to Yahoo Beauty and Style.) Is there separation of church and state between Yahoo and Tumblr? Uhovski paints a loosely collaborative picture between the two media properties. "We're still run as an independent company, but the last few seasons we recommended quite a few [creators] to contribute to fashion week [coverage] at Yahoo Style and they did. We have an open dialogue with them and we recommend creators all the time," he says. "The cool thing about the Yahoo digital platforms is that they're Tumblr-powered so they're able to reblog Tumblr content pretty seamlessly. They've been really great about accepting collaborators."