For a few seasons now, the messy, too-cool-(or busy)-to-get-a-blowout topknot has been the go-to updo for the hip girls — off-duty models and editors — especially during fashion week when shampooing regularly isn't an option. But this New York Fashion Week, a new iteration of the seasons-old topknot has surfaced and offers yet another way to get your hair out of your face, create a semblance of an updo and avoid washing your hair. It's basically a half-up, half-down version of the go-to style. This demi-twist actually seems a bit man bun-inspired, as often seen on Williamsburg hipsters, sweaty European soccer players and Harry Styles. And, yes, Kate Middleton has previously sported a half-up, half-down look, but her twist was at back of her head and, well, more princess-y. (Ariana Grande is on it, however.) 
I first spotted a smattering of warrior-esque half-up topknots on the guests at a few of the younger, hipper shows early on during fashion week, but always among the regular people (well, regular fashion people). But when Jamie Chung wore a texturized version to sit front row at Rebecca Minkoff, I sensed this might be a thing. And then — bam — supermodel Constance Jablonski cemented the status of the fashion topknot 2.0 by wearing hers to the swanky Michael Kors Gold Fragrance launch on Sunday night. (Granted, hers looked a bit more done and freshly shampooed.)
So why half, but not all the way up? "[It's good for] when you're in the mood to have it all the way down and it isn't working out for you," said a topknot-sporting Tori Weinstein, an intern at the Albright Fashion Library I came across at Milk Studios. "It makes life easier." Jacqui Ma, editor of footwear and accessories at WGSN, likes how it makes her look taller. "It's easy and it just gives me a bit of height because I'm wearing flat shoes," she told me at the Jenny Packham show.
The ease of pulling together a messy half-up topknot has obvious appeal. Ma says her technique involves teasing day-old hair infused with leftover hairspray and lots of twisting to get the perfect straight-up-in-the-air shape. Styling time: three to five minutes. Weinstein's half-twist skill is even more impressive. "To be completely honest, it's pretty greasy right now, so I just threw it up," she shrugged. "I didn't even think about it. No mirror."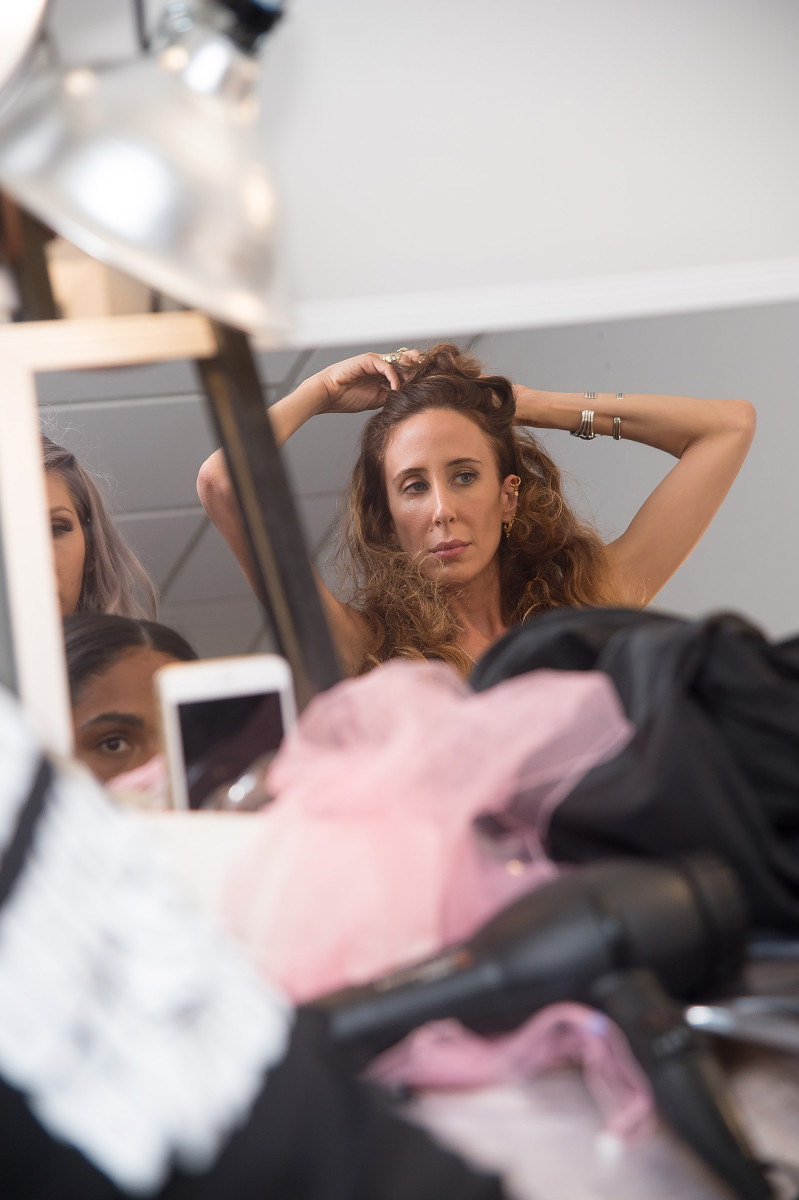 As we've learned from Jake Gyllenhaal and Bradley Cooper, the half-up style also works with hair that isn't long enough for a full topknot anyway. Case in point: jewelry designer Bliss Lau, seen sporting a sleeker and polished mini-twist atop her asymmetrical cut at Houghton. Her elegant half-bun is a tad more high maintenance, requiring Shu Uemura products, Japanese bobby pins and about 10 minutes of get-ready time. She finds the topknot iteration to be a refreshing change from another ubiquitous (and difficult to create) trend, which is possibly reaching its saturation point. "I used to braid my hair every day in elaborate ways, but I'm tired of braids now," she told me at Houghton. "I don't want to do that anymore. I like the simplicity of doing something in a bun."