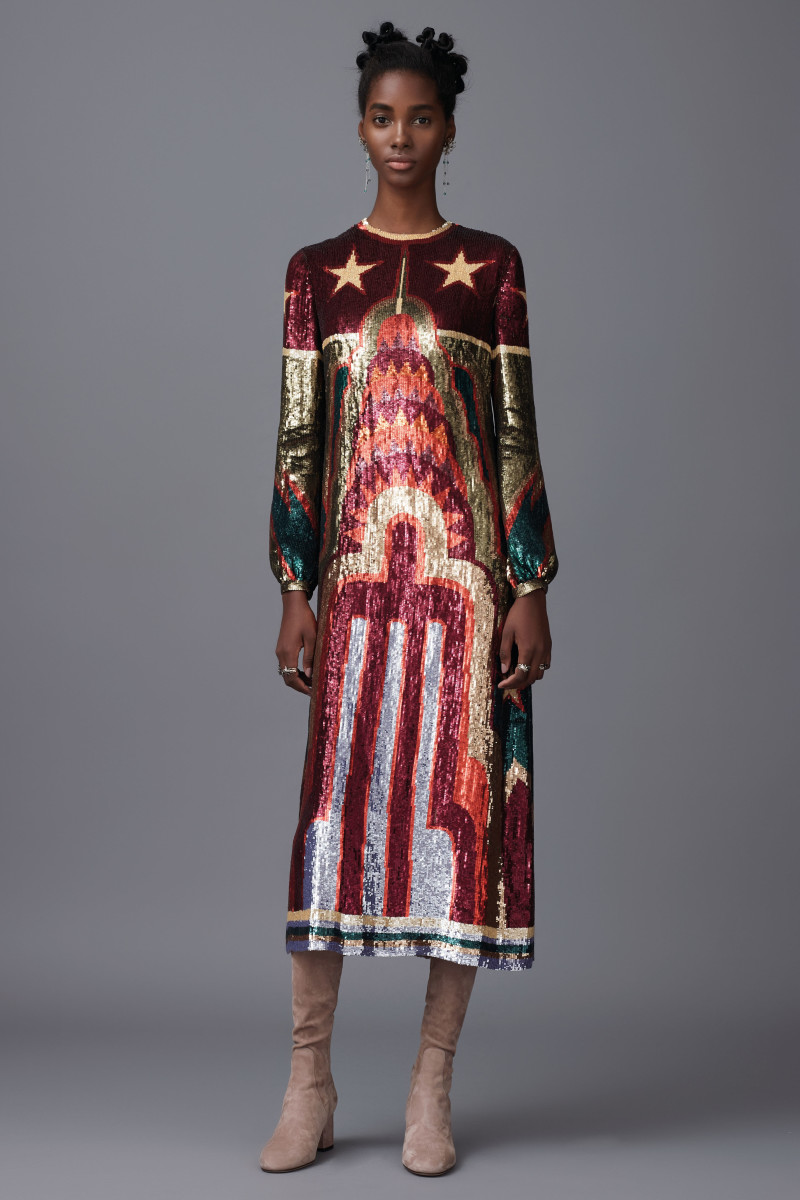 Just this week, we discussed the potential difficulties that creating a pre-fall collection presents. It's clear that brands have been unable to agree on what the season means temperature-wise, with both fur coats and floaty shifts shown side by side. And as the heavier-hitting fall 2016 shows are set to kick off in less than a month, designers have expressed their concerns about the lack of attention they are now able to give their annual ranges. 
But sometimes, when life gives you lemons, you have to suck it up and do what the old adage tells you to do: make some damn lemonade — and, oh boy, is that exactly what Valentino did this season. One need not examine the full 84-look collection to understand the Italian house's apparent enthusiasm for pre-fall. In just the first three looks, Valentino shows a) a sequined midi dress emblazoned with the Empire State Building, b) a leather jacket embellished with cute icons like clouds, stars and butterflies and c) an oversized, army green and slightly '90s tie-dyed trench coat, complete with matching trousers and a patchwork sweater. The whole collection is like this, too — a whimsical whirlwind of colors, patterns, fabrics and silhouettes that's a true feast for the eyes. The mixing of seemingly incompatible elements is a key theme as well: A dainty, heart-printed minidress is paired with patent leather thigh-high boots; matching crimson pajamas are worn with a long, brocade coat; and casual denim capri pants are made more formal with a girlie, cropped fur jacket. 
Unlike previous Valentino collections that have embodied more discernible themes, this pre-fall range has no common thread aside from its dedication to a dressed-down whimsy. It's a lot to take in, but we certainly appreciate the commitment. If the industry's current infatuation for all things Alessandro Michele has taught us anything, it's that over-the-top eccentricity is having its moment. Lest we forget, fashion can be fun, and it's thrilling to see brands as established as Valentino lead the charge.
Click through the gallery below to see Valentino's pre-fall 2016 collection in full.