Tommy Hilfiger's Spring Campaign May Be the Closest We'll Get to Behati Prinsloo's Wedding Photos
The groom looks suspiciously like Adam Levine.
Tommy Hilfiger's campaigns always seem to rely on the same on-brand formula: take stunning all-American models, put them in striped cardigans and fitted blazers and add classic cars, picnics and balloons until you've reached maximum preppy utopia. Don't forget a cool, upbeat indie song. My favorite is still the fall 2010 campaign that was basically a Vampire Weekend music video.
For spring 2015, Hilfiger gives us a taste of something we've all been desperate to see: model Behati Prinsloo as a bride. Ever since her July wedding to Maroon 5 frontman Adam Levine in Los Cabos, Mexico, we have been hoping for images of their undoubtedly rock n' roll chic wedding full of mojitos and Victoria's Secret models. But life's unfair and we don't always get what we want. 
Until now, sort of. Hilfiger's spring campaign stars Prinsloo in short white shifts palling around at outdoor wacky wedding reception featuring crisp white separates, leather, colorful fur, nautical stripes and the stars that were a central motif in his retro music festival themed spring show. Her groom's chiseled face, complete with rocker stubble, looks remarkably like Levine's famous mug -- certainly not a coincidence.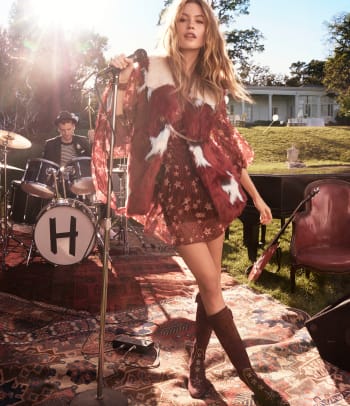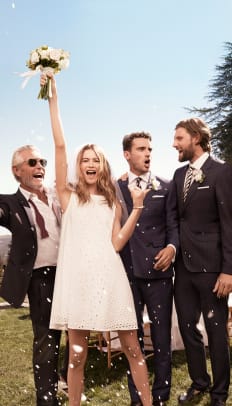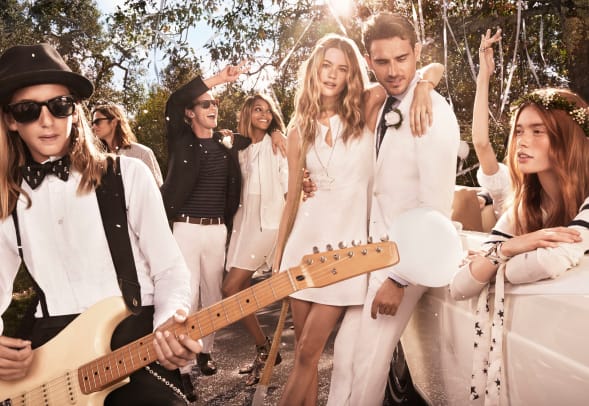 The short teaser video brings the reception party to life. There's a photo booth! And a motorcycle with balloons attached! Everyone gets into bikinis and jumps in the fountain! The groom takes his pants off! Prinsloo even plays the drums like a pro (did Levine teach her?). Watch carefully and you'll see Jourdan Dunn dancing around in the background wearing a leather jacket. She catches the bouquet—does that mean she's next down the aisle? Oh wait, this isn't real life. 
Click through to see all the images from the spring campaign.