Ben Minkoff Is Expanding, Starting With Men's Shoes
It's all happening, from footwear to a retail concept, with founder Uri Minkoff taking a more visible role in its creative direction.
Rebecca Minkoff's menswear offshoot, Ben Minkoff, is expanding, and her brother, Uri -- who is also her business partner and CEO of her eponymous label -- is stepping out from behind the scenes to lead the charge.
Named for Rebecca and Uri's grandfather, the brand launched in 2011 as a line of vintage-inspired man bags at a time when man bags were having a moment. But as we learned while chatting with Uri over the phone Monday, the line has undergone quite a few changes since then, with more to come.
Since 2004, Uri has run the business side of things of Rebecca Minkoff, leaving the creative side to his sister. But he hasn't exactly been invisible, accompanying Rebecca to events and frequently speaking to press about retail, strategy and tech initiatives. And in 2013, he somewhat quietly became the creative director of Ben Minkoff.
The line's first creative lead -- a man from the main Rebecca Minkoff design team -- had to leave that role due to "personal obligations," so Uri decided to take control. "I sat down with my executive team and said, 'I want to be creative director of this,' and they said, 'What? You're the CEO.'"
Uri says the line has become his "baby" as he's taken his merchandising knowledge and affection for Scandinavian and Japanese minimalist aesthetics and applied it to Ben Minkoff, which now includes bags, small leather goods, and, new for fall 2015, shoes.
In addition to changing the line's aesthetic direction -- '40-inspired briefcases have been replaced by sleek boxy backpacks, for instance -- Minkoff has found success with affordably priced bags that look more high end. "You're getting a bag that should be $450 for $325," he explains. Retailers that have invested significantly into the line over the past year include Nordstrom, Saks Fifth Avenue and East Dane. Next up? Footwear.
Aesthetically, the shoes are cool without being too fashion-forward. Uri is especially proud of the "dreaker," a dress sneaker that looks like a dress shoe on the top with a rubber sole, and is less ugly than it sounds (see below). The line also includes dress shoes, boots and sneakers that are not hybrids. As with the bags, he's been strategic about pricing, with most styles coming in between $150 and $300. He says he "sensed the void between cheaper and $500+ shoes," and wanted them to be accessible to men who are less likely to wait for an item to go on sale before they buy it.
While the shoe range has only just hit the trade show circuit, Uri confirms that retail response has been good, with several specialty stores planning to buy into it. Department stores, he says, will see the collection in the coming weeks.
The plan, ultimately, is for Ben Minkoff to be a brand that stands on its own. Growth will be measured, but Uri says that more categories are on the way, and more resources are being poured into publicizing the label as well. For instance, when Rebecca Minkoff's large L.A. flagship opens in May, a portion of it will be a dedicated Ben Minkoff retail concept with its own entrance.
For now, Uri is enjoying his role on the creative side of things. "It's been fun to sit back and come up with a concept and have that product realized."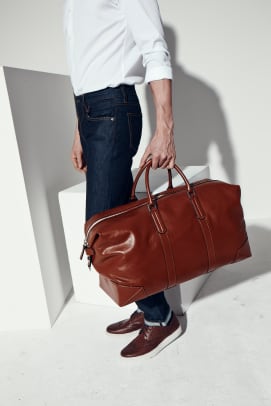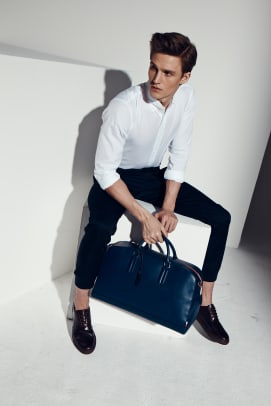 Cover photo: Astrid Stawiarz/Getty Images