Dior Haute Couture Mixes Red Carpet Fodder With Groovy Bodysuits and Rubber Boots
At least one of these dresses is making it to the Academy Awards.
There was a whole lot of mid-century mashup going on at Dior's spring 2015 haute couture show on Monday. In between groovy, mostly unwearable printed bodysuits, Raf Simons reworked the house's famous New Look gowns with pop colors, waist cutouts and rubbery go-go boots. 
The designer had embellishment and texture firing on all cylinders, resulting most successfully in a couple of short-sleeved minidresses broken up in different colors and prints. Simons elaborated nicely on certain ideas from past collections, too: a lemony coatdress with clean lines of silver and black embroidery, split at the thigh, recalled a dress of the same hue from fall 2014 with a literal slash up the hem. 
Of course, it is awards season, and there was plenty on offer that's tailor-made for the red carpet. A clean, short-sleeved navy dress with sequins running down the front has "Emma" — Watson or Stone — written all over it. Hailee Steinfeld could mess with one of the pastel A-line dresses with sparkle-embellished cutouts at the waist (sans rubbery orange boots, probably). Someone is going to snap up the cobalt ballgown dotted all over with three-dimensional flowers for the Oscars. Felicity? Lupita?
Given that Jennifer Lawrence wore Prada to the Producers Guild Of America Awards on Saturday, it seems that her all-Dior-all-the-time contract may have loosened or let up entirely. If she does wind up wearing this collection, we'd like to put out a polite request that she avoid the whole range of structured sleeveless dresses with flared skirts — it seems like she's worn so many of them lately.
Check out all the looks below.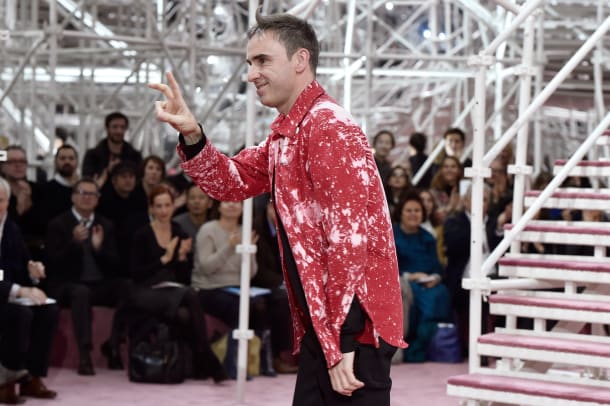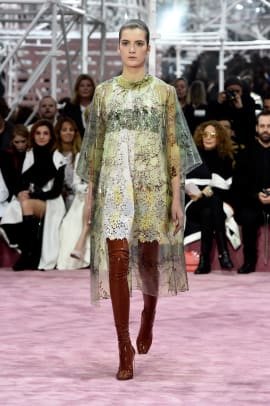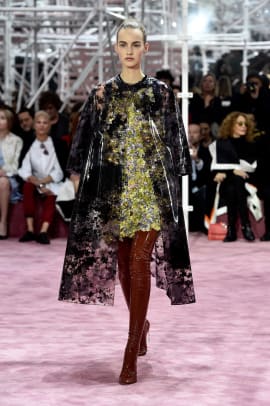 Update: A previous version of this article stated that Jennifer Lawrence wore Prada to the SAG Awards. It was, in fact, the Producers Guild Of America Awards.