Is the Cinched Waist Returning to Men's Fashion?
The hourglass silhouette made a surprise appearance at the menswear collection shows in London and in Italy last week. Will it go beyond the runway?
From Christian Dior's 1940s New Look, with its sharply nipped-in jackets and full skirts, through the media's obsession with Marilyn Monroe and, later, Christina Hendricks and Kim Kardashian, the cult of the hourglass has always been hard to avoid. The female waist crops up in fashion, season after season. But the male waist? It's rarely mentioned. Not since the Beau Brummell days of the early 19th century have we celebrated it; menswear silhouettes of the last few decades have veered from the boxy to the slouchy to the skinny, but they've rarely been curvy. Look carefully though, and you'll find that this is changing.
At last week's London Collections: Men, the hourglass silhouette was everywhere. The first look of James Long's show was a hip-length coat with wide, shearling lapels and a tightly belted waist; moments later, a cropped denim jacket was paired with high-waisted sweatpants. At J.W. Anderson – king of the androgynous – there was a long, clingy cummerbund worn over a blouse. Christopher Shannon did something similar with sportswear, layering thick, zip-up corsets over sweatshirts and puffer jackets. And at the Italian shows later in the week, Miuccia Prada included a long tunic shirt cinched in by a wide, high belt.
Menswear, it seems, is evolving. "When it comes to suiting, nipped-in waists have always been one of the focuses of a man's jacket, in order to give the appearance of a V-shaped torso. However, what's new this season is that this has also infiltrated a man's casual wardrobe," observes Nick Carvell, fashion editor of GQ.co.uk.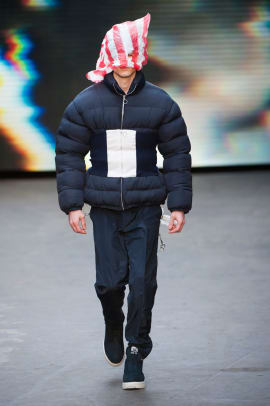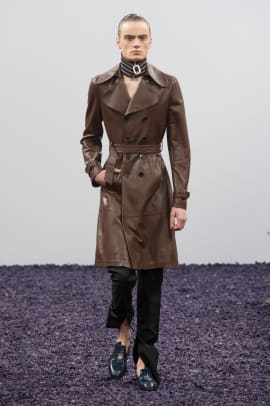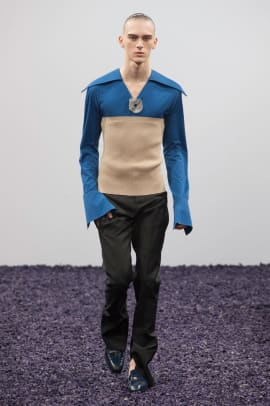 There was enough of this in London to call it a runway trend – but whether it could make the leap to the street is another question. We're used to associating an accentuated waist with femininity, and even in London, fashion buyers aren't wholly convinced. "I think the exaggerated nipping of the waist will be difficult to convert for consumers," says Stephen Ayres, head of fashion at Liberty. "For me, it's a styling illusion that will remain purely on the runway and in editorial shoots."
But the beauty of this trend is that it's easy to water down to a more accessible point. Knitted corsets and cropped jackets would probably take some menswear consumers too far out of their comfort zones, but a belted trench coat, for example, creates a similar silhouette. Ayres has another suggestion: "The easiest way to wear it would be through some high-waisted, wide-leg trousers. The proportions then seem less severe, but still on trend."
At the very least it's worth some trial and error, because this look gives men the rare chance to play with their proportions, as Carvell points out. "As my shoulders are quite narrow – about as wide as my hips – I always wear suit jackets that are tailored in at the waist, to give me some semblance of one," he says. He also recommends high-waisted trousers as an entry point, with an extra twist: "Wear them with your jumper tucked in – that's another trend that I saw all over the London catwalks."
Ironically, though the hourglass shape has long been viewed as feminine, it can actually have a masculinizing effect. As Beau Brummell must have understood, drawing attention to the narrowest part of the body just emphasizes the width of the rest of it. "I would suggest any man who wants to look like he has a broader chest should take his suits to a tailor immediately and have the waist pulled in," advises Carvell. "That's the part of the trend that's going to live way beyond fashion week – and make you look better and feel slimmer too."