Can Costume Design Collaborations Work for Menswear?
Mr Porter, in conjunction with director Matthew Vaughn and costume designer Arianne Phillips, has released a line inspired by the forthcoming film, "Kingsman: The Secret Service."
Women are inspired by the clothes they see on film and in TV shows. That's a fact that retailers, studios and costume designers have taken advantage of over the past few years, launching a series of collaborations between the likes of "Mad Men" and Banana Republic, "Scandal" and The Limited, and "Pretty Little Liars" and Aeropostale. While Banana Republic's "Mad Men" collaboration was designed for both sexes -- and Brooks Brothers's "Gatsby"-inspired collection was made only for men -- the vast majority of these collections are designed solely for female fans. Can a film or TV-inspired collaboration be just as successful by appealing only to men?
Mr Porter, the menswear counterpart of Net-a-Porter, thinks so. Earlier this month, the e-tailer launched a line in collaboration with the upcoming film "Kingsman: The Secret Service," with director Matthew Vaughn and costume designer Arianne Phillips. The film opens in U.S. theaters Feb. 13.
The 60-piece Kingsman collection offers a complete wardrobe for the sartorial-minded man, including double-breasted suiting, shirting, knitwear, pajamas and accessories, produced by an assortment of heritage British brands. "Kingsman: The Secret Service" is based on the acclaimed comic book and tells the rags-to-riches story of a secret spy organization that recruits an unrefined street kid into the agency's training program, starring Colin Firth and Samuel L. Jackson.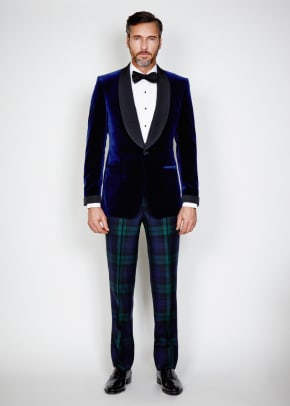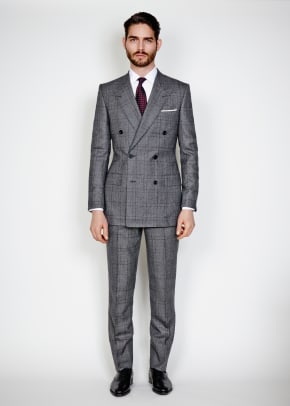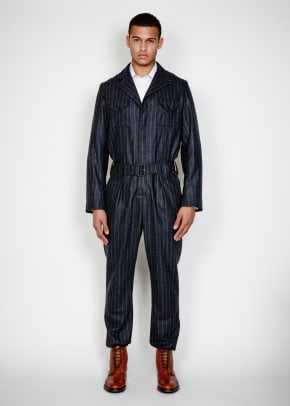 During the development of the film, director Matthew Vaughn, known for "Kick-Ass" and "X-Men: First Class," envisioned a new brand inspired directly from the script, and he approached Phillips, along with Net-a-Porter's Natalie Massanet, to execute the concept.
"I was specifically interested (and intrigued) in the 'costume to collection' concept," Phillips told us. "I know first-hand as a costume designer that men identify with a character, story or a 'world' created in a film. It has happened to me many times -- when a man has seen a look from a film I have designed, and he's gone to considerable means to try and find me to get it for himself."
Though Phillips has had a prolific career designing costumes for film, theatre and music videos, this is her first commercial collection. Her designs for the 2006 film "Walk The Line" and Tom Ford's 2010 film "A Single Man" earned her Oscar and BAFTA nominations, respectively. Phillips also boasts a 17-year relationship designing for Madonna in films, tours, magazine editorials and music videos.
Offering a contemporary take on Savile Row and traditional British tailoring, Phillips's designs translate seamlessly from the screen to a modern menswear collection, thanks to her use of timeless fabrics and cuts. "We played with the proportion of the length of the jacket, modernized the shoulders and cut a slim flat front but adjustable trouser," Phillips explains. "The result was something practical for the modern spy and the modern man -- stealth-like and stylish, not too trendy and cut to last." She also features classic British textiles and traditional prints including chalk stripes, and Prince of Wales, bird's eye and windowpane checks.
According to Toby Bateman, buying director for Mr Porter, the collection speaks to the male consumer appetite for quality craftsmanship and provenance of garments. "This has been prompted fundamentally by two things: the menswear swing back into the tailoring arena and men wanting to invest in quality garments that will last more than one or two seasons," he explains.
The emphasis on heritage and quality extends into the collection's curated accessories. Clothing is paired with customized watches from Bremont, silk ties from Drake's, Lock & Co. hats and Deakin & Francis cufflinks. The film's finishing touches, like Conway Stewart Pens and Swaine Adeney Brigg umbrellas, are also available for purchase. "It's the first time you can truly buy something straight off the screen," says Bateman. "You could literally be sitting in the cinema watching this film and shopping the looks from your mobile device or tablet as you watch."
While most designer and costume collaborations only stick around for one or two seasons, Phillips and Bateman anticipate longevity for the Kingsman label. Phillips is already working with seasonal fabrics including linens, cottons, and wovens for summer, and outerwear will launch in winter. "The aesthetics and products have definitely filled a gap in the market," says Bateman.