Alessandro Michele Makes His Womenswear Debut for Gucci
Bookish is the new sexy.
Fresh off his very recent (as in Jan. 21) appointment as Gucci's new creative director, Alessandro Michele made his much-anticipated womenswear debut on day one of Milan Fashion Week. And it's got everyone talking. (And not just because of the behind-the-scenes drama preceding his new gig.)
Michele's new vision for Gucci is, well, quite different from the Gucci we've gotten accustomed to. Looks (worn by male and female models) included: '70s earthy brown-toned hues, leather tea-length skirts, floppy neck bows, demure ruffles and pleats, retro-florals, Margot Tenenbaum-reminiscent fur coats, glittery bird embroidery and long, languid silhouettes -- even the floral printed pantsuits were loose and slouchy. Furry details accented the horse-bit loafers, mules and clogs, the heels of almond-toe flats and bouncy pom poms on lace-up heels. Fur even made its way onto a shaggy slip-on. Styled with geek-chic glasses and berets, the collection was almost the antithesis of the overtly sexy aesthetic Tom Ford established at the house, with the exception of a smattering of see-through, delicate lace blouses and dresses. 
Click through the gallery below to see the entire collection: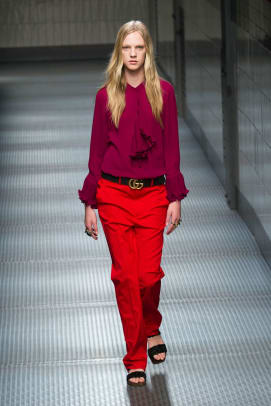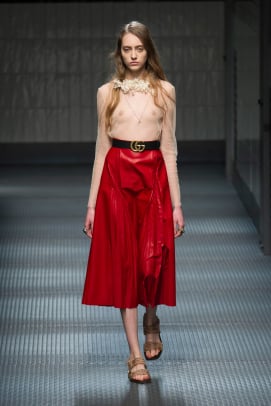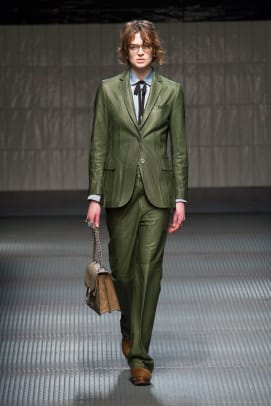 Photos: Imaxtree