How New York Men's Day Became the Precursor to Men's Fashion Week
One PR firm recognized the importance of having a menswear-dedicated day a year before the CFDA made things official.
On Thursday, the CFDA announced that New York would finally be getting its own menswear-dedicated fashion week. Dubbed New York Fashion Week: Men's, it's a sign that the CFDA recognizes the important and growing role of menswear in American fashion. 
But before that happens in July, Agentry PR will be putting on its third New York Men's Day this Wednesday. The brainchild of Agentry founder Erin Hawker, NYMD started a year ago when Hawker realized her roster of menswear talent needed more exposure. "We essentially work with a lot of emerging men's talent and young designers who really need support," she tells Fashionista. "A lot of them don't have huge resources behind them so we thought why not make it really easy for the editors and buyers as well, and kind of give back to the design community."
What started with just six designers in February 2014 has grown to 12 this season; Agentry had so many applicants, the agency asked editors and buyers to help curate the list of designers showing to keep the presentation manageable. The presentations are broken down into two groups of six, with one group presenting from 11 a.m. to noon, and the second from 5 to 6 p.m. Hawker estimates that some 800 hours of labor over the course of six months go into putting on those two hours of shows.
It's obvious that the designers chosen to show during NYMD appreciate the efforts. "It's really given a lot of the menswear designers in New York a platform that they haven't had in the past," says designer David Hart, who has shown with NYMD all three seasons. "What tends to happen is that a lot of the men's shows get overshadowed by what's going on with women's, and I think one dedicated day with 10-12 menswear designers really puts a spotlight on what's going on in the menswear industry, and that hasn't been available in the past."
"It's been an amazing experience in terms of having a singular place to show in concert with other men's labels," says Ernest Alexander, also a three-season vet. "The venue for us — just in terms of editorial traffic, bringing in buyers, all the press industry under one roof — [menswear] obviously is such a fast growing part of the fashion world at the moment that having our own centralized base and moment has been fantastic." Designer Lucio Castro, who has also been showing at NYMD for three seasons, echoes his statement: "I think it's good when you're a starting designer to see what other young designers are doing too and be on the same day as the rest of the other guys."
Because it's smaller, the menswear community has also become a close one. One of the biggest benefits to having NYMD was giving these designers the opportunity to talk trade and swap helpful tips and contacts. "It's a really tight knit community here in New York, and we see each other socially at events and we're always trading ideas," says Alexander. "It's really open and always like, 'What mills are you using?' 'What manufacturers?' — we're all helping each other. So it all feels like very sweet and close and be able to show together is a combination of that."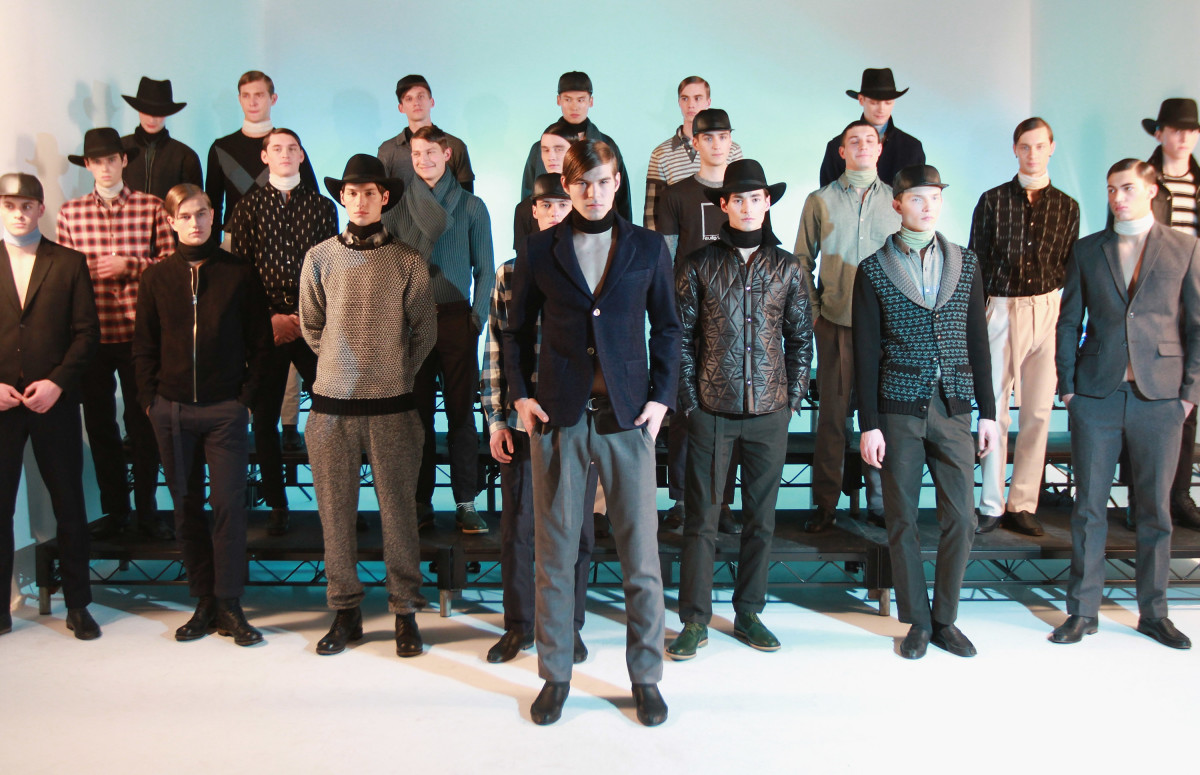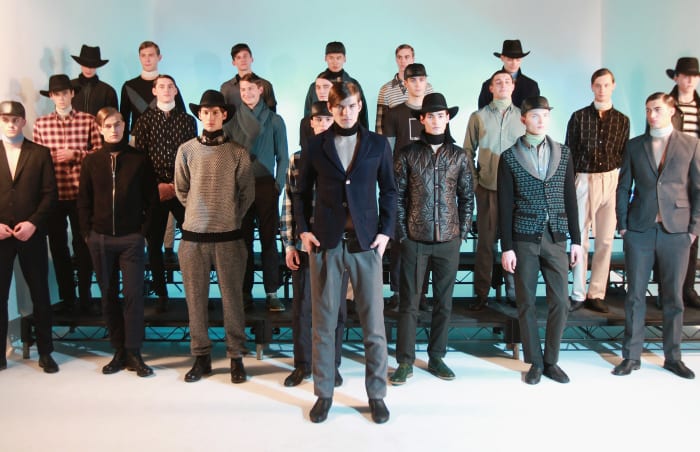 And of course, the main goal of having a centralized group presentation is making it easier for press and buyers to see the collections during a very packed fashion week schedule. Fashion shows and presentations help create much-needed buzz for emerging designers, and menswear is no different. By all accounts, NYMD has been highly successful on that front.
"The press has been fantastic; since we started doing Men's Day we've gotten a lot of attention from the New York Times and some of the editors we had trouble reaching out to previously when we were just doing the show on our own," says Hart. "I think we've also gotten in front of a lot of buyers that we weren't able to connect with previously, really giving them an opportunity to look at the clothing up close and personal, and that's been a great thing."
So it's clear that New York Fashion Week: Men's is coming at the right time. CFDA CEO Steven Kolb praised Hawker's work, telling Fashionista that Agentry had been "very helpful" to the designers taking part in NYMD. "Men's is creative and a vital part of the industry," he says, adding that the growing interest — like that seen during NYMD — was the driving force behind putting together an official American men's fashion week.
"We entered into this because the American menswear designers and the American retailers and editors said to us that we really think there should be an American menswear week and if you could build that we will attend and we will be a part of it," Kolb says. "That's why we did it. We wouldn't have put all the pieces together if we didn't known there was interest in this."
Hawker says the only change come this July — besides showing on the standard menswear calendar rather than the womenswear calendar — is that they might add a runway element. "We'll work in tandem with whatever they do," Hawker explains. "The CFDA looks to really support their members; we've opened the doors for more emerging talent and we would obviously like them all to become CFDA members at some point."
Most valuable of all is the chance for these designers to show their collections on their home turf. Some designers and labels have shown in Europe just to be on the menswear calendar. But doing so can prove costly to the brand — not just fiscally, but in terms of identity.  "The first season that I had a line, I went to capsule Paris," Castro says. "But I felt like I needed to confirm my New York status: I'm inspired by New York, I'm based in New York, I live in New York. I want to make that very clear that I'm a New York brand — I feel like for me it's very important to show in New York."
"New York is my home," adds Alexander. "It's my lifeblood and I think just being here in terms of being a center point and just the aesthetic of our clothes — not that they don't translate abroad — but we are very much rooted in New York City and so that's something I've kept close to my heart."