André Leon Talley Pays Tribute to Oscar de la Renta With a Personal Exhibit at SCAD
The designer's first posthumous exhibit features looks designed for those closest to him.
Andre Leon Talley has curated a number of exhibitions at the Savannah College of Art and Design (SCAD) Museum of Art, where he sits on the school's Board of Trustees — "Little Black Dress" (2012), "Stephen Burrows: An American Master of Inventive Design" (2014) and "Antonio Lopez and the World of Fashion Art" (2013) among them. But his latest was certainly the most personal and, according to SCAD President Paula Wallace, the most challenging.
Talley chose to honor his late friend, the Dominican-born designer Oscar de la Renta, with a new exhibit of 50 original looks (cut down from 70) spanning his career, each of which he felt had some cultural and/or personal significance. There are Met Gala dresses worn memorably by Sarah Jessica Parker, Taylor Swift, Oprah Winfrey and Lauren Santo Domingo, as well as gowns shot for Vogue on the backs of Kirsten Dunst, Beyoncé and Hillary Clinton. But the majority of the exhibit's inventory came straight out of the closets of those closest to Mr. de la Renta himself: His wife Annette loaned outfits from two separate Met Galas, as well as a rare pants look and the coat and dress she wore to her daughter's wedding. Former First Lady Laura Bush loaned the coat she wore to the 2005 Presidential Inauguration and a beautiful beaded jacket and skirt worn to the 2002 Poland State Dinner. Anna Wintour loaned an Oscar de la Renta for Balmain sable collared coat and silk flamenco skirt, as well as a custom gold lamé evening gown, all from her personal collection, while her daughter Bee Shaffer loaned three cocktail dresses. Eliza Reed Bolen (de la Renta's stepdaughter), Elizabeth Cordry Shaffer (Wintour's daughter-in-law), Huma Abedin and Miranda Brooks all shipped their own wedding gowns down to Savannah.
The exhibit, which spans three rooms and is set up in a series of vignettes, is not by any means an all-encompassing retrospective of de la Renta's expansive career, but it packs a punch because of each dress's personal significance and the memories — of Vogue covers and iconic red carpet moments — that they will drum up, even for someone who didn't know de la Renta personally or follow his career that closely. Seeing those dresses up close — and their impeccably beautiful construction — is thrilling at the very least.
What also makes the exhibit special is the history de la Renta has with SCAD. He visited the school in 2001, when he was the first recipient of the Andre Leon Talley Lifetime Achievement Award, which he accepted at the annual SCAD Fashion Show. Several of his dresses are part of SCAD Museum of Art's permanent collection, and de la Renta often donated fabrics to the school for students to use. Many students have taken internships with the fashion house over the years, and he developed an especially close relationship with Nikki Kaia Lee, now a junior at SCAD. At dinner following the exhibit's opening Wednesday night, Lee explained how while she was 13, undergoing intense treatment for thyroid cancer, she was connected to WWD's Bridget Foley, who arranged the opportunity for Lee to visit some of her favorite designers, including de la Renta. In addition to giving her a custom tailored dress from his spring 2009 collection, which she later wore to her prom, he offered her an internship. Lee has interned at Oscar de la Renta for the past four summers, and plans to return this summer. Though she hasn't met new Creative Director Peter Copping yet, she says the team has always felt like family.
Talley didn't give any interviews at the exhibit's opening VIP reception, instead spending time with Wintour and members of de la Renta's family, who had flown down for the opening. But speaking with Wallace and Sloane Mayberry, a fashion marketing and management student and recent ODLR intern who worked closely with Talley to prepare the exhibit, it was clear that the project was a cathartic labor of love involving late nights, last-minute dress arrivals, a difficult editing process, minute attention to detail and nerves — no one was allowed to publish photos of the looks until half way through the event, allegedly because Wintour had to give her nod of approval first.
If you find yourself in Savannah (which you definitely should at some point, it's a lovely place), "Oscar de la Renta: His Legendary World of Style" is on view until May 3 at the SCAD Museum of Art. A companion book, to be published by Rizzoli, is forthcoming. See more photos from the exhibit in the gallery below.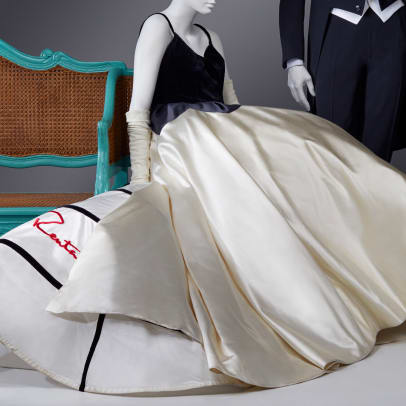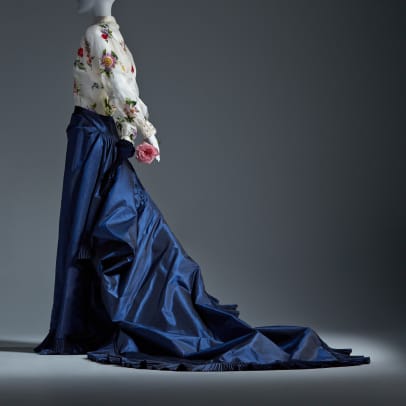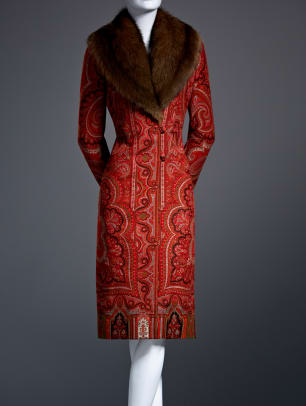 Disclosure: SCAD paid for my travel and accommodations to Savannah for the exhibit opening.