3.1 Phillip Lim Revisits Its 'Core Values' for 10th Anniversary Collection
And Donna Karan has a golden moment.
Monday marked the 10th anniversary of 3.1 Phillip Lim's womenswear line, which the designer used as an occasion to revisit his "core values," to "re-address the systems and structures that we have built along the way." He also pushed them a bit.
Lim used many of his favorite materials (black leather, wool, lace), shapes (straight-leg pants, biker and bomber jackets, sleeveless dresses, ankle boots) and motifs (plaid, pattern and texture-blocking). Absent was shearling (Lim has used shearling in nearly every womenswear collection for the past half decade) and the bright colors he has favored for the past several seasons; the palette for fall 2015 was dark and moody: black, burgundy, ivory, army green. And though the materials were luxe, the collection overall was more casual — it was downtown, tougher, cooler. The best styled looks juxtaposed those more casual elements with dressier ones: a blonde fur stole over a navy nylon flight vest with lace-up mules, a floral shell top over a plaid flannel shirt with an asymmetrical apron skirt and lace-up ankle boots. It was a collection with familiar elements, but a different attitude.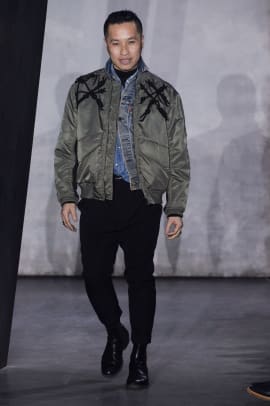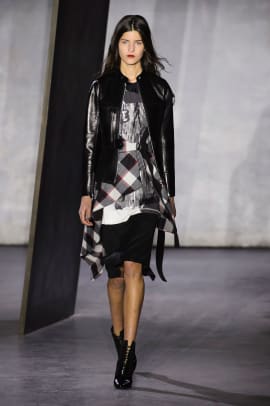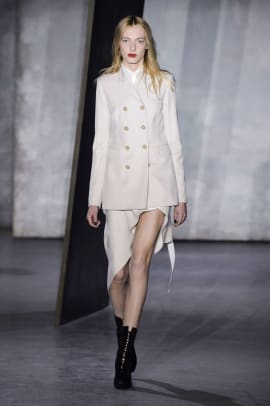 Donna Karan's fall 2015 collection was even darker than Lim's — the vast majority of looks were charcoal or black, on a glossy black runway set against a Manhattan nightscape — but the mood was entirely different. Her use of a dark palette spoke of midnight glamour and seduction, first on a series of wool flannel dresses and elongated bustier tops worn over straight-legged pants or skirts, and later on formal evening looks mixed with navy, bronze and, to finish, a striking gold. The audience was most taken with a body-hugging, semi-sheer tulle dress spattered with lava-like pieces of gold lame and black felt, and a gold wool and black velvet coat with a large black flower sketched on the back. It was a golden moment for Karan.