Tory Burch Takes Us on a Magic Carpet Ride to Marrakech
Burch's challenge was not taking the rug inspiration too far.
There is something to be said for sticking to a theme. While "Marrakech meets Chelsea" (as in London) might not be specifically what a customer's going to look for in a Tory Burch store this fall, the inspiration point certainly made for a memorable runway show.
Guests entered the gorgeous event space at 583 Park Avenue on a very snowy Tuesday morning to find every inch of the runway — walls included — covered in Moroccan rugs. Eventually, the lights went down and Anna Ewers emerged from behind the rugs wearing a matching jacquard wool coat. The collection was rife with rich, beautiful patterns, seen on luxurious merino sweaters, '70s-tinged dresses in suede and silk georgette and flouncy bel0w-the-knee skirts. For the most part, Burch was able to get the theme across and stay true to her brand's DNA without veering too far into "she's wearing a rug" territory. Favorites included a super-cool confetti-pattern jacquard suit and a red and white merino jacquard sweater.
The accessories were good, too — the knee-high leather wedge boots and bejeweled sandals struck just the right balance between editorial and commercial, and we won't be surprised if a Marrakech-themed editorial ends up in some major glossy this fall. See all of the sumptuous show images below.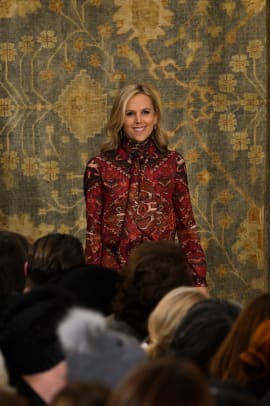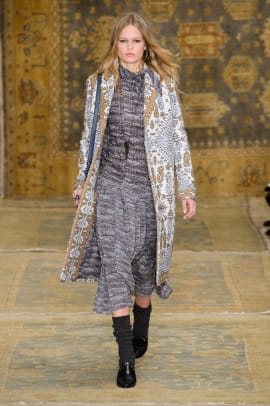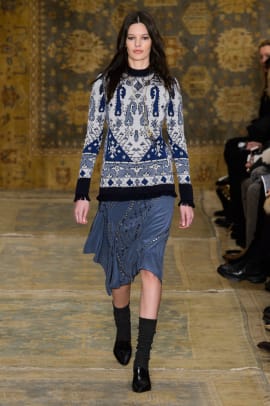 Update: This post originally read that Burch's show took place at 584 Park Avenue. The show actually took place at 583 Park Avenue. Fashionista regrets the error.