Rihanna and Naomi Campbell Steal the Show at Zac Posen
Campbell closed the show in a gown worthy of Glinda the Good Witch.
Zac Posen's Monday evening runway presentation at Grand Central Station was such a star-sudded, glamorous event, you almost forgot that a collection was being debuted. The star power inside was even evident outside on the street under Pershing Square, where police manned barricades, holding back photographers and eager fans. A columnist with an invitation in hand was ignored as Katie Holmes was ushered in, after what must have been a frigid six foot walk from her SUV without a coat. The biggest name in attendance was Rihanna, whose arrival surprised the rest of the already-seated audience as they struggled to open Snapchat fast enough to catch her power-walking down the runway to her seat next to Mary J. Blige. Other guests included Uzo Aduba from "Orange is the New Black," Christina Hendricks from "Mad Men," Judith Light, Coco Rocha, Kesha, Abigail Breslin and Maddie Ziegler. 
But the true star of the night was supermodel Naomi Campbell, who closed the show to cheers and applause from the crowd that also included several cast members from and the creator of "Empire," whom she personally invited (she made an appearance on the show in January). Wearing a sculptural pink glitter ball gown, Campbell accompanied Posen down the runway as he took his bow. It was a spectacular casting finale that justified an absurdly extravagant dress. 
The meat of the show was not without its showmanship, either. Alek Wek looked otherworldy in a saffron silk skirt and fur top. Anna Cleveland, daughter of supermodel Pat Cleveland, theatrically twirled in full circles as she preened down the runway, showing off the skirt of her navy jersey dress. And the effect of all this -- within Vanderbilt Hall's historic architecture and with a bright spotlight following the models as they walked -- was something like a Broadway show, where the clothes will never be for sale and the magic of opening night will never be repeated. 
See the gallery below for all the looks from Zac Posen's fall 2015 collection.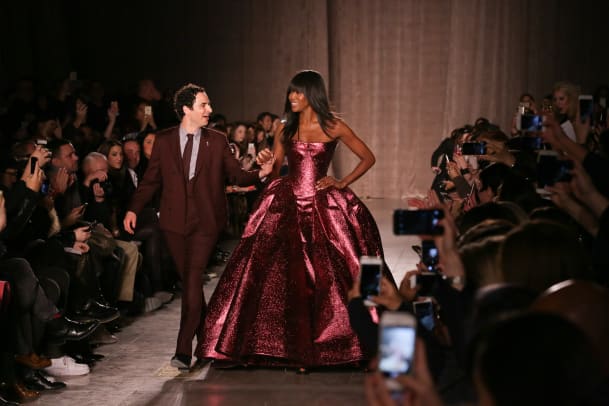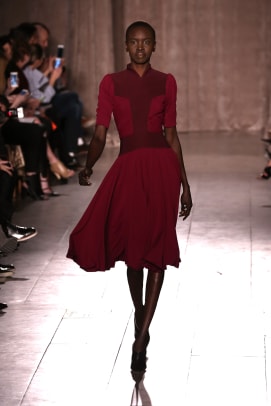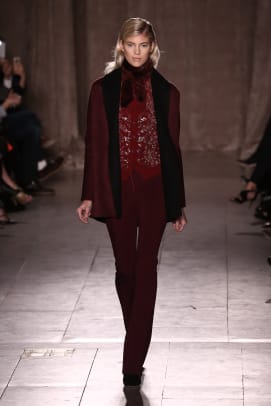 Note: This story has been updated because Misa Hylton-Brim was misidentified in the caption of the first picture.