For Céline Fall 2015, Phoebe Philo Tests the Limits of Good Taste
Really, the only thing we need to talk about is the fox shirt.
Phew, more white sneakers! I was worried for a minute that my mind would suddenly turn on my heart, telling it that the time for my ever-growing collection of white lace-ups had passed. But no, Céline's Phoebe Philo has saved me, showing clunky slip-ons in her fall collection. I'll surely be eager to justify the price come August. 
After all, Philo is the one to follow. She sets the tone, the trends, the looks that others will covet and copy for seasons to come. That's why I can't help but think she might be effing with us a bit this time around. For fall, she designed lots to obsess over, including a mock-neck knit frock in navy, a dress coat buttoned up and gathered at the collar, a hunter green deep-V onesie, and several wide-strap tote bags in just the right colors. Furry floral skirts? Yes! Color-blocked slip dresses? Please! Wide-leg, ankle-length chinos? Count me in. But much like last season, there were pieces that hovered — or maybe just leaped over? — the line of bad taste. Yep, I'm talking about that fox shirt. I thought it was cats at first — the most meme-y of internet memes. But foxes aren't so far away from that, and they were the last thing you expected to see from a designer so typically controlling of what she puts out into the world. 
Since her arrival at Céline in 2008, the creative director has risen from lauded designer to industry icon. Everything she makes is admired and revered and put on a pedestal. The brand she designs for is not active on Instagram, or Twitter, or any other sort of social media. It does not sell its wares online, and scoffs at other retailers trying to do so. It does not have a blogger program. Céline is currently the most exclusive brand in existence and it could not care less about the general public — which is exactly why many of us are in love with it.
Maybe Philo is looking to knock herself down from that by asking new questions, pushing our boundaries. As for whether that fox shirt will sell? My answer is an unequivocal yes.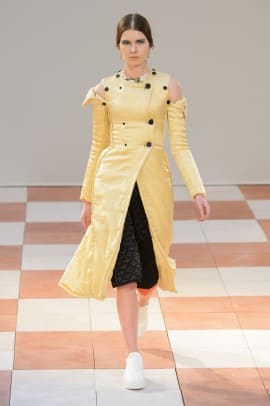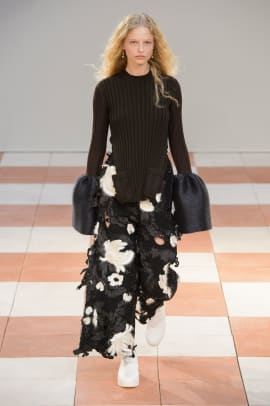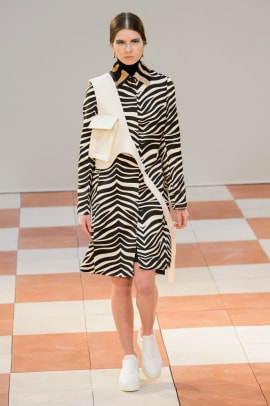 An earlier version of this story incorrectly stated that a shirt in Céline's fall 2015 collection features a cat print. It is a fox print.