Inside Comme Des Garçons' Emotional Fall Runway Show
Fashion's use as dialogue may be waning, but in the hands of designer Rei Kawakubo, it still has enormous power.
The last model exited the stage. Yet the runway lights stayed on, the violin and piano music continuing, unabated. It was impossible not to feel a sense of awe, having just witnessed a singular and overwhelmingly emotional moment in fashion. The audience at the Comme Des Garçons fall show, which took place Saturday inside the empty gallery of mineralogy at the Musee National d'Histoire Naturelle, sat still and clapped enthusiastically.
If last season's blood red collection, with its exploding shredded garments, evoked the senseless violence of the modern world, this time, there was an overwhelming feeling of utter serenity and meditation. Designer Rei Kawakubo offered a single word by way of explaining her thinking: "separation."
A white cotton "dress" — inflated like balloons and tied up with neat bows — opened the show. It instilled a sense of loss that pervaded throughout. (White is the color for mourning in Asia.) There was a white dress covered in bows, a gold-embroidered tiered structure covering a model's entire upper body and a black tulle cocoon that closed the show. Faces were often wrapped and covered with black lace, obscuring the models' expressions to render the notion of shared emotion.
To me, this show was also about the end of fashion as dialogue; a tool for communicating and reflecting on modern life. Instead, it's about the commercial: the corporate impulse to create bags that will fly off the shelves. That first look showed how much fashion is inflated with artificial excesses, blown up balloons that can be popped at any time. The excess of the Internet, the excess of fast fashion and also the excess of corporate demands: All conjured in one dress that seemed ready to burst at its seams.
Art is about asking questions. This show may not be about real clothes, but it asks a pertinent one. Fashion is so dull today, because so few of its foremost disciples push against the limits.
Progress in fashion comes only when there is constant interrogation and introspection at every turn. On Saturday night, Rei Kawakubo achieved that.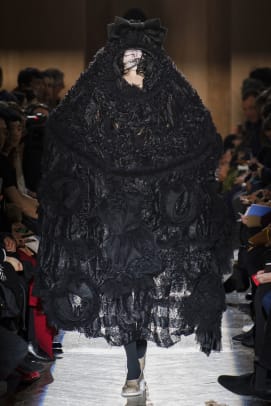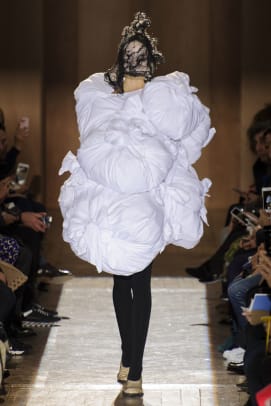 Long Nguyen is the style director and co-founder of Flaunt.