Emily Current and Meritt Elliott Are Designing Again, On Their Own Terms
Don't call it a comeback.
Emily Current and Meritt Elliott have a strong legacy when it comes to denim. With Current/Elliott, which they launched in 2008, the L.A.-based duo played a significant roll in ushering bell bottoms and, later, boyfriend jeans into ubiquity.
The two met while studying at UCLA in the late '90s (they bonded over their love of vintage bell bottoms) and launched their own styling business not long after graduating. To this day, they balance styling celebrities like Emma Roberts, Jessica Alba and Sarah Silverman with designing, but they're no longer involved with Current/Elliott. They left in 2012, reportedly over disagreements with the brand's owner, Serge Azria.
For spring 2015, Current and Elliott launched The Great, a multi-category contemporary line that they feel is a fuller expression of their "whimsical Americana" aesthetic. While the spring 2015 offering does not technically include denim (the designers say that decision was "strategic," though WWD cites a non-compete as the reason), there's lots of it in store for fall 2015. And both Current and Elliott sound like they're pretty happy to be in control — with a little help from Gap CEO Art Peck, an advisor and investor in the line.
We caught up with Current and Elliott over the phone to discuss what they've been up to since leaving their namesake line (they're authors and parents now), how they're approaching The Great differently from Current/Elliott and the lessons they've learned along the way.
Catch up time. What have you guys been up to since leaving Current/Elliott? When did you start working on The Great?
Elliott: Styling, that's always a constant aspect of our career. We also wrote a book published by Rizzoli called "A Denim Story," and we have been doing a home collection with Pottery Barn. We did teen, and continued to do teen rooms and decor.
Current: We both had babies since we left — we both had little girls six weeks apart. Between the career stuff and life stuff, time flew by since we left, and it's only been about two years. I think the book took a huge amount of time and we collaborated with people like Kate Spade while we were still with Current/Elliott. Then we left to do the home collection, which has been really rewarding.
Meritt and I have been working together since college; we went to UCLA and we've worked together for many, many years and I think that [we've been] honing in on what our world view is and what our aesthetic is, what our brand is. We've been able to flex different creative muscles into different projects, but this particular project, The Great, is really multi-category and broader than what we've done in the past. It sort of feels like something we've been working on forever. It's not something that started one day, it's something we've been working on for a really long time in our minds.
How do you guys split up responsibilities with so many projects? I imagine it's beneficial that there are two of you.
Elliott: We both work on everything together, but four hands in the pot is better than two. We're able to juggle more for sure and also quickly riff on creative decisions and bounce ideas off each other — sort of instill confidence in one another in decision-making. Certainly there's a reason we became a team, because we're creatively compatible, and because we're able to be that much more efficient.
What are you going for with The Great? Is there a certain customer or aesthetic you're after?
Elliott: I think we've become synonymous with denim and this sort of casual American style, and I think we identify with that as well. We always inject a bit of childlike wonder — I guess 'whimsy' is a word that gets used a lot — and our humor with what we do. It's sort of like a more feminine, charming Ralph Lauren. We really have this American aesthetic with heritage workwear, army denim, t-shirts, fleece... like, these classic fabrications [that have] our take on them in terms of proportion and detail. A lot of times people use this term 'American wonderland.' We love that, too; it kind of feels like a wonderland.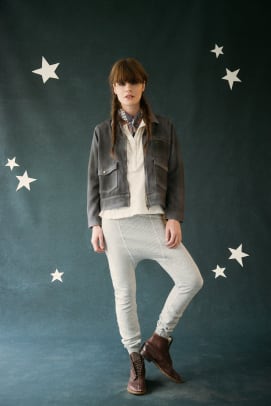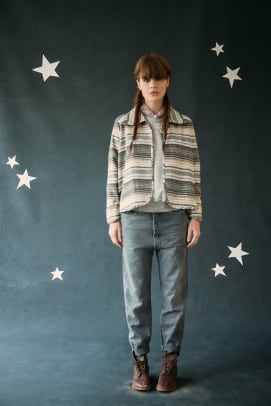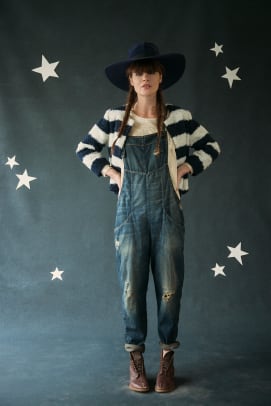 The line launched for spring, and you're adding denim for fall, right?
Current: Our first season, which is in stores now, was spring '15, and it's our first time really doing a multi-category collection. It was absent of denim, but it did have a lot of casual bottoms like armies and khakis. But for fall '15, we're launching denim, which will be in stores in May/June. That was exciting because we love denim; we had written a love story to denim, and just to get back into that category was really exciting for us. It was also really nice to not participate in that category for a little bit, so we could sort of recalibrate where our minds were at, where the industry was at, and to be able to re-approach it has been really nice.
How have you approached this differently from Current/Elliott? What feels different about it?
Current: I think Meritt and I approach every project we do the same; we like to tell stories and sort of build out a story of what the line is, what the delivery is, what the season is. I think this time around, it's our business, so we feel really, really invested and really kindred with this project. We're doing it on our terms, and we're producing it, manufacturing it, designing it ourselves. We're a primarily female-run business, and we're all about empowering the people around us and we're working with people who we admire and who are incredibly talented. It's just a different project, and we're heavily invested in it.
Elliott: We're older and wiser, and we're more well-balanced in general — that just comes with age and work experience, and that always shows in your work and your product. With that comes a level of fearlessness, and I'd like to say that's a work in progress; we always work on being fearless, but I think that shows through in what we do creatively.
What do you think has been the biggest lesson you've learned so far in your career in terms of running a business or having a line?
Current: There's so many, but I think the one that sticks out for me is really, riffing off what Meritt just said, it's an instinctive business. When you're a creative, you have to follow your instinct, you have to be a reader, you have to know your market, but you really have to follow your instincts and that doesn't always mean following every trend or looking sideways at other brands. It means looking inward, squaring out the box of what your own brand is, and charging forth without fear. It helps when you're in charge, and we have that work experience; we have that experience in the market.
I read that you guys are working with Art Peck from Gap. How did that relationship come about? What's his role?
Elliott: We were friends through the years and sort of mutually admired each other's point of view, work ethic and what we've mutually done in the business. At one point we consulted with the Gap and helped style the spring campaigns when he was in charge of Gap North America. I think we really worked magically together. We kept in touch and he sort of mentored us; he helped give us the confidence and the sounding board that we needed to take this leap. He became an official mentor and investor and partner to us. He's a remarkable man; I think Gap is so lucky to have him at the helm, and we're lucky to have him as a friend and advisor.
Current: I think going into this, we felt really confident from a creative perspective, but this was our first time really biting off the business side. Having someone with such incredible business acumen mentor us and advise us has been incredibly confidence-building. Like Meritt said, it gave us this platform to feel confident enough to run this business.
Do you have an expansion plan beyond denim? How do you see the brand growing in the next few years?
Elliott: Right now, we have a little girls' component called The Great Little, so that's something we'll continue to explore. We love accessories; we had so much fun designing them through the collaboration with Kate Spade, so I don't see that out of our world. I think any designer who's building a brand sees the possibilities of all these different categories and would love to put his or her mark on them all. Obviously we have dreams of all of that and being able to build out a retail experience, but I think we're also realistic and have to put one foot in front of the other and grow the business organically.
Did you launch with your own e-commerce?
Current: Yes, we sell through our own e-commerce as well, and that's a first for us, too. That's been super interesting to learn about.
Elliott: I think we wanted a place for people to see all of our product together and an online destination where you can get a quick bite of the brand. We know as consumers, too, that it's nice to visit the website of a brand, just to be able to find what you're looking for if something's out of stock somewhere, and to see stockists. We've had a great experience so far with e-comm. We've had a lot of business with it.
Current: Websites are such a quick way to absorb what a brand's message is, too. To not have a fully realized version of that when brand is so important to us would have been a disservice to the business. 
How is the styling business going? Any celebrity clients we've been seeing a lot of recently?
Current: We work with Jessica Alba; we just got back from Dubai traveling with her and we've worked with her for quite some time. We love working with her just because she loves fashion so much and and she's so willing to mix it up. We've worked with Emma Roberts since she was 14, so almost 10 years. We work with lots of other girls off and on depending on the projects: Nikki Reed, Reese Witherspoon, Sophia Bush and Sarah Silverman, recently.
I feel like Sarah Silverman has been looking so good lately!
Current: She's really stepped it up and it's fun to work with her. It was that first Met Ball that we really took it to a crazy place and she was into it. It's really fun when someone who maybe didn't love fashion decides that they want to have fun with it.