Matches Fashion Fetes LVMH Prize Finalist Vetements in London
With a growing army of stockists and the attention of LVMH, one-year-old label Vetements is on the rise.
Since its first store opened in 1997, we've been a touch obsessed with Matches Fashion because of its unique edit and, if you're in the UK, old school customer service (there's great coffee in the shops). The retailer is also the exclusive UK stockist for the spring 2015 collection of Vetements, a brand which is fast gaining serious repute. One of the eight finalists for the 2015 LVMH Prize, Paris-based Vetements is the latest brand designed by a "collective" — a concept founder Demna Gvasali, a grad of the Royal Academy of Fine Arts in Antwerp, no doubt borrowed from his time at Maison Margiela. He is one of seven designers behind the one-year-old label.
At the retailer's Marylebone headquarters Thursday evening, Matches Fashion celebrated the arrival of Vetements's spring 2015 collection, and previewed its offerings for fall 2015. With its simple yet sumptuous ways, Vetements is redefining fashion's "N" word (normcore) with almost mathematical shapes and fabrics equaling that quality. Buyers love it: Forty-four stockists bought pieces from the label's debut collection in March 2014.
It's almost ironic that a brand that embraces Belgium's cult of invisibility has come under the spotlight after this week's LMVH announcement. I asked Gvasalia what he was doing when he heard the big news. "I was at the Vetements studio having my fifth coffee and trying to solve some production issues together with my team; the news overwhelmed all of us. Naturally we still find it hard to believe this acknowledgement and appreciation of our work by so many high-profile fashion professionals," he said, referring to LVMH jury members like Raf Simons, Riccardo Tisci and Nicolas Ghesquière.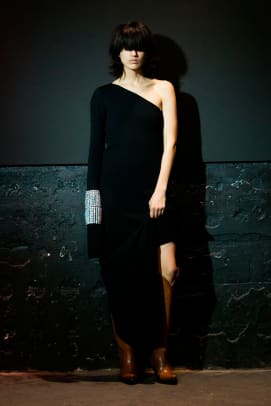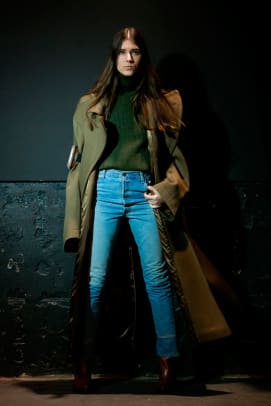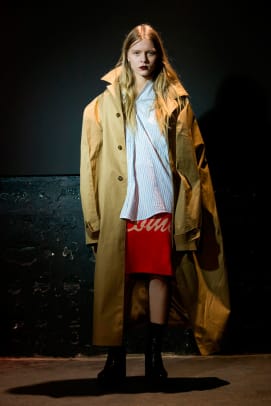 Should Vetements win the prize, Gvasaslia says the team plans to "invest in our structure and in perfecting our production base, which is the biggest challenge for a young brand like ours." Though all young companies have their challenges, after only two seasons it, theirs is an impressive start, buttressed by the fact that key stockists worldwide, like Matches Fashion, have embraced them. "They're an iconic retailer who sell a huge variety of brands, and the approach of Vetements is to be able to democratically mix our clothes with other brands — so we are very excited to be working with Matches Fashion, especially since it is just our second season in."
We share that excitement.