Fern Mallis's Famous Fashion Friends Sing Her Praises at Book Party
A well-heeled crowd celebrated Mallis and her first book, "Fashion Lives: Fashion Icons with Fern Mallis," at Saks Fifth Avenue on Monday night.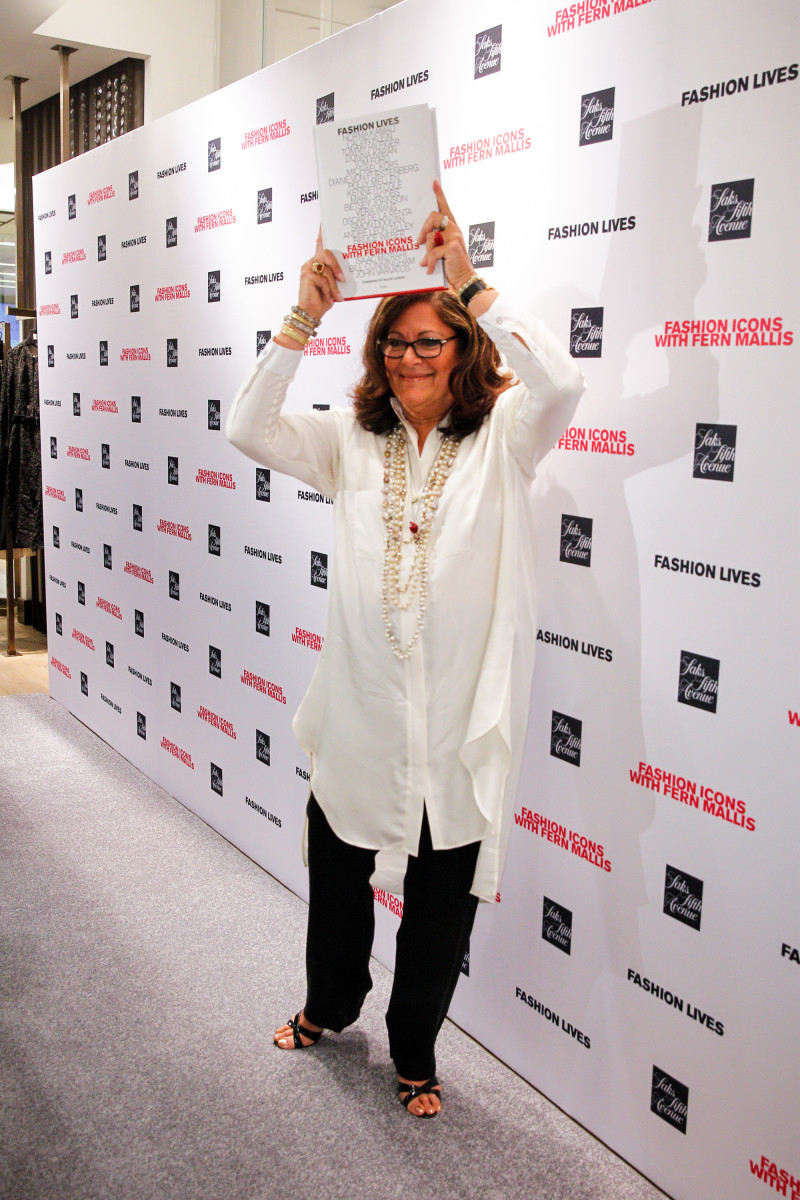 Fern Mallis has been one of the fashion industry's biggest champions for over 30 years, in her role as president of the CFDA from 1991 to 2001 and in recent years through her very popular conversation series with designers at the 92nd Street Y in New York. But on Monday, some of Fern's famous fashion friends turned out to champion her and her first book, "Fashion Lives: Fashion Icons with Fern Mallis."
The Rizzoli publication features 19 interviews from Mallis's conversation series with designers like Calvin Klein, Michael Kors and Diane von Furstenberg — who all showed up to the launch party on the third floor of Saks Fifth Avenue in New York to get their copies signed and pose for photos with Mallis. Another interview subject, photographer Bill Cunningham, slipped in and out in the first 15 minutes of the party. 
"Fern is a real people person, I think she's great at pulling in diverse people," said Kors, who took the stage at the 92Y with her in 2012. "There's not a chance you'd say no to Fern." 
Her crew of friends extends beyond designers, however. Martha Stewart stopped by the event, as did actress Sela Ward, television personalities Robert Verdi and Jay Manuel, model Tyson Beckford and "Real Housewife" LuAnn de Lesseps. Presiding over the celebration was newly appointed Saks president Marc Metrick, who took the opportunity to greet the designers, who also included Francisco Costa, John Varvatos, Ralph Rucci and Timo Weiland. 
"She's brought all that knowledge, all the connections that she's got into reality with great interviews," said Costa, with signed book in hand. "She made it very current."
Designer Bibhu Mohapatra says Mallis's influence in the industry has a lot to do with her genuine kindness. "She's the one who told me that no matter what, where you go, you always have to be nice because a little bit of niceness goes a long way," he said. "Look at this crowd! At 6:30 I arrived —  couldn't even go in, it was insane. She has made an impression on every single person that's here, in their lives in one way or the other. Everyone loves her and everyone wants to be here to support her."
Proceeds from "Fashion Lives" benefit the 92nd Street Y, where Mallis continues to conduct her interviews, most recently with Tim Gunn and Leonard Lauder in February and Valentino Garavani in November. If the frenzy over her book on Monday night was any indication, she may need to follow up with a second volume soon. Maybe after she finally sits down with Kanye West?