Karl Does Korea With Kristen Stewart and Hudson Kroenig in Tow
Chanel hosted its resort 2015 show in Seoul on Monday.
Chanel's resort 2015/2016 show — which took place Monday in Seoul — may have conflicted with "fashion's biggest night," the Met Gala, but Karl Lagerfeld still managed to wrangle some big names, making for a respectable turnout both on and off the runway.
While the show was devoid of the many American and European "It Girls" we're used to seeing at a Chanel event, current spokesmodels Kristen Stewart and Gisele Bundchen both came out for the show. Bundchen, of course, made a big deal of the fact that she was sitting front row instead of walking the runway. Tilda Swinton, face of the brand's Paris-Edimbourg Metiers d'Art campaign, also showed up, as did a slew of South Korean celebrities, from actresses to K-Pop stars.
Cara Delevingne was noticeably absent from the event, but other young, social media-savvy models of the moment like Binx Walton, Molly Bair and Soo Joo Park (who is Korean-American) all did a great job of walking the runway and posting fun selfies throughout the weekend. The highlight of the show, as we've come to expect, was Hudson Kroenig. The incredibly well-traveled six-year-old closed the show hand in hand with Park and Lagerfeld in a chic pint-sized tunic from the colorful collection.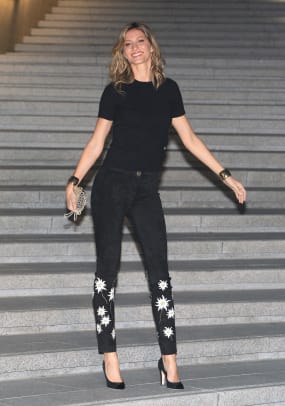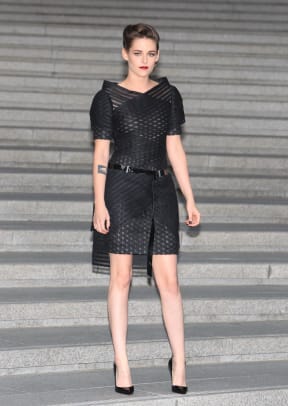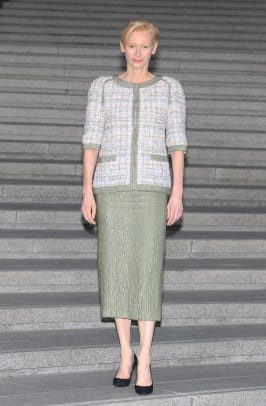 Once again, Lagerfeld mined inspiration from the show's locale for the collection. As described by WWD, Lagerfeld used a traditional Korean patchwork technique throughout and the beauty look — thick black braids worn crown-style or as buns —was inspired by South Korean period dramas. Other than that, Lagerfeld's references to traditional Korean culture seemed pretty non-specific (and have yet to piss anyone off). Ultimately, the collection felt very Chanel. There were lots of dainty Peter Pan and bow collars, and Chanel's signature camellia motif could be seen everywhere from brooches to appliqués to embroidery. The aesthetic ranged from ultra girly (lots of short dresses) to conservative (tweed suits) to formal (gowns) to casual (short shorts, denim, leather jackets) — a level of versatility afforded by a 96-look collection. One thing that was consistent was the use of bright colors — particularly pinks and blues — throughout the collection. The accessories, both statement jewelry covered in sparkly stones and brightly colored purses in classic Chanel shapes, were also on point. Prepare to see this stuff all over winter magazine covers and editorials.
Here's the full collection.