Celebrity Stylist Kate Young on Designing Sunglasses and Sienna Miller's Sartorial Comeback
It's been a busy week for Young, who celebrated the launch of her new eyewear collaboration the day after dressing four ladies for the Met Gala.
Kate Young is one of the most important celebrity stylists in the game right now. Her clients include some of the most relevant and consistently well-dressed women in Hollywood — Natalie Portman, Sienna Miller, Dakota Johnson, Rachel Weisz and Selena Gomez among them. Thanks in part to Instagram, where she posts some of her red carpet work, she's getting a lot more credit for it lately. 
On Tuesday night at Tijuana Picnic in New York, Young hosted a cocktail party to celebrate her upcoming eyewear line for Tura. I congratulated her on a successful Met Gala (where she dressed Miller, Johnson, Weisz and Gomez, as I had confirmed via her Instagram earlier that day); Young says people are now much more likely to compliment her on the looks she helped create. "It boosts my ego," she said of the feedback she gets both on and off the social media platform.
Of course, while she isn't starring in reality shows or making headlines for feeding weight loss pills to young starlets, Young hasn't flown quite as under-the-radar as some stylists. She's done numerous collaborations over the years, including a big one in 2013 with Target. Her latest is with 77-year-old, Manhattan-based eyewear company Tura, better known for its licensing deals with brands like Lulu Guinness and Ted Baker.
We chatted with Young about the collab, how she tackled the Met Gala's tricky Chinese theme and the strategy behind Sienna Miller's re-emergence as one of fashion's favorite "It" girls.
How did this collaboration come about? Why was it something you were interested in?
Tura is a huge eyewear company, but they wanted to do something with a little more of a fashion angle, like fashion eyewear. We were talking a lot about that and they sort of said, "why don't we just do it with you?" It was really fun; they have an amazing capacity to do anything because they have all these artisans who make their stuff. It's all made in Europe or here, so I was really excited with some of the prints they could do and the handmade stuff. I like making stuff. In my job, usually I'm curating other people's creations and it's really fun to make something the way I want to make it.
What was your starting point for the collection?
I kept thinking about making glasses that I wanted to wear, but also the girls who work in my studio and my friends — people I like, what they would want to wear. More than anything, that was on my mind. I found a bunch of vintage frames that I really liked, so we worked from them, too.
Do you have one main guideline for finding the right pair of sunglasses for your face?
No, it's really hard — you have to just try them on and see if they look good on you because it has a lot to do with the bridge of your nose. In Western standards of beauty, I never even notice the bridges of people's noses, but that determines what shape's going to look good on you more than anything. 
Will we be seeing your sunglasses on any of your clients?
Everybody's in Cannes, so in Cannes everybody's going to wear them. I wanted to wait until they were available for sale; it's frustrating if people like them and can't buy them and I don't want to bum them out. Cannes kind of coincides with when they're out.
So, the Met Gala. How do you approach an event like that where you're dressing several people?
They all stay at the same hotel, they all get ready at the same hotel. That's my best secret.
With the Met, it's pre-determined who will wear what designer, right? Does that make it easier?
Yeah, but I actually think it makes it harder because it's not like, "Oh, I'm gonna call in all these dresses I like." It's like, "OK, we're working with you, what do you want to do?" And if that vision of the designer isn't the same as the actress, it's a real dance to figure out something in-between. This year I actually had a really easy time. Everybody was on the same page and it was really positive, collaborative. I had a really fun, enjoyable Met Gala — but it can be more complicated.
Sienna Miller's outfit was especially fun. How did that come together?
We were talking a lot about China and how to incorporate China — we were talking about Kung Fu outfits and the idea that pants would be cool. Sienna has a great body and she has a really awesome attitude; she can pull off things that other people can't, and Thakoon had that sequin fabric in his last show. I'm a real snob about fabric. I was lulled by that and she really wanted to wear pants.
If you saw it move, the whole thing shimmied, it was amazing. It was a jumpsuit underneath. When the jacket came off, there was a jumpsuit and the jacket snapped onto the jumpsuit. You can see it on [Thakoon's] Instagram.
It seems like Sienna has had this major sartorial comeback recently. We associated her with boho and now she's just as much of an "It" girl with a more sophisticated look. What was the thought process behind that?
We're all talking about her sartorial comeback, but really what she's having is a professional comeback. She's in major movies: She was in "Foxcatcher" and she just got reviews on Broadway for being outstanding — the best person in "Cabaret" in the last 10 years. She's having a real resurgence in her career and we wanted her fashion to reflect where she is in her life. She's still an "It" girl, but she's an "It" girl with gravitas.
Going back to the Met Gala, were you nervous with the Chinese theme in terms of trying not to offend anyone?
I mean yeah, I just didn't want to do chopsticks in the hair. I think it's always important to have a nod to [the theme] but ... I don't know, I like red.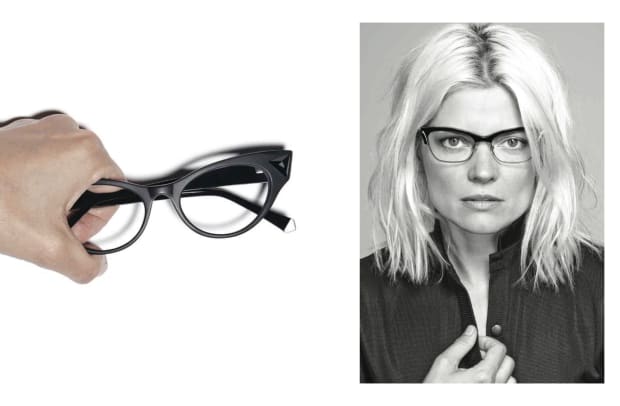 Browse the look book for Kate Young for Tura in the gallery above. The collection launches this month with women's optical retailing at $250 and sunglasses from $295 to $350. A unisex kids' eyewear line will retail for $125, a portion of which will be donated to the Child Mind Institute, a non-profit organization dedicated to transforming mental health care for children.