A Firsthand Account of Vienna's Life Ball, Where Fashion Takes Center Stage
The event is such a visual spectacle, you almost forget it has a charitable mission.
Last Thursday, I was flown to Vienna in a chartered plane for Life Ball, known by those who've heard of it as an over-the-top, glamorous, weekend-long party filled with celebrities, models, drag queens and debauchery. Born out of a desire to raise money and awareness for the fight against HIV/AIDS in a positive way, Life Ball attracts a who's who of the LGBTQ community, and its hard-partying reputation is not unfounded.
The celebrations began at JFK Thursday evening, where champagne was served before boarding (making for a rather rowdy flight), and didn't end until well into Sunday morning — one after-party didn't even start until 5 a.m. The ball itself draws around 40,000 spectators for the opening ceremony, which included performances by a ballet company, Vienna's Spanish riding school, Mary J. Blige, Conchita Wurst and several others. Around 4,000 stay for the actual party, which takes place inside Vienna's City Hall — basically a huge, neo-gothic castle, filled with rooms decorated in different themes.
But the Life Ball really revolves around fashion: Before the event, the organizers shoot and publish a "Style Bible" to serve as inspiration for how guests should dress. And everyone, from the celebrities to the plebes, goes all out. This year's theme was gold, resulting in what must have been the highest concentration of gold sequins in one city ever.
The weekend includes several opportunities to exhibit an on-theme look, beginning with the plane's arrival in Vienna Friday morning, where a literal red carpet was set up on the tarmac for guests and celebrities including Kelly Osbourne, Paula Abdul, Carmen Electra, Dita von Teese and Anna Cleveland to preen for Austrian press outlets. (Several guests managed to change into full drag on the plane before getting off.) Then, there was a welcome party Friday night, a press conference Saturday morning, a dinner Saturday evening, followed by the main event, which you entered via an enormous, sparkly "magenta carpet." This was no place for minimalism — I looked pretty out of place in my navy Katie Ermilio column gown, much as I loved it. And while some stuck to the black tie dress code, most of the outfits veered into costume territory: I saw lots of angel wings, headpieces, wigs, bodypaint, nipple pasties, leotards and other things I can't really explain. The drag queens, many of whom I watched arrive together on a drag queen bus, won the most points for creativity, hands down.
The opening ceremony concluded with a Jean Paul Gaultier runway show, which I sadly couldn't see due to a seating mishap that left myself and several other fashion editors standing barefoot (we'd already been standing in heels for hours) at the back of the room. But we heard it featured a mix of archival couture pieces and specially designed gold outfits inspired by the Life Ball theme, and Kelly Osbourne, Ellen von Unwerth, Carmen Carrera, Dita von Teese, Anna Cleveland, Amanda Lepore, Carmen Electra, Ladyfag, Lydia Hearst and Paula Abdul all walked (see pictures below). There was also apparently some sort of "Life Ball Queen" fashion competition judged by Kelly Osbourne and Vogue Italia Editor Franca Sozzani.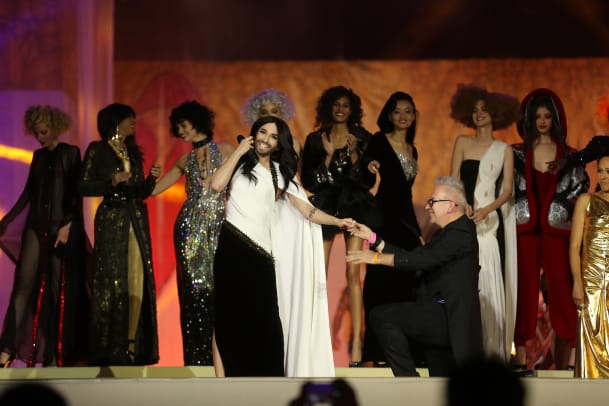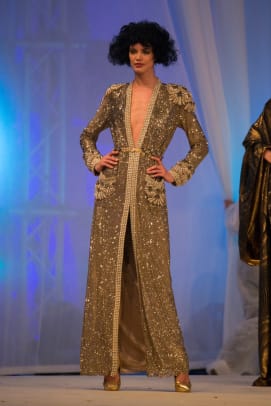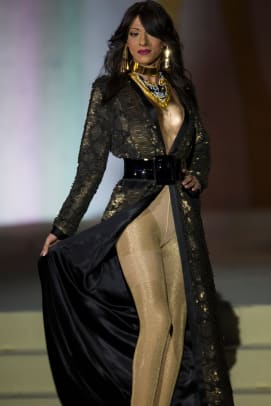 All in all, it was a spectacle, and one that makes it easy to forget that there is a charitable cause behind it. The way that Life Ball functions as a fundraiser is a little difficult to understand: Ticket prices vary based on the level of access you get (the fancy area with food and free booze costs more) and were sold out within minutes, I was told. It's organized by AIDS Life, described in press materials as "a charitable association" that "supports" other non-profits and HIV/AIDS-related projects. "We're making a loud scream for awareness," explained AIDS Life Chairman and Life Ball CEO Gery Keszler during a press conference. "Life Ball is a platform bringing people together from all walks of life raising money for many national and international programs."
Among the programs AIDS Life works with are amfAR, Clinton Health Access Initiative (CHAI), Charlize Theron Africa Outreach Project, Elton John AIDS Foundation and Sentebale, a charity founded by Prince Harry of Wales that helps children at risk for HIV/AIDS in southern Africa, and which this year received a "Crystal of Hope Award," donated by Swarovski and given each year to an outstanding initiative. Theron and her partner, Sean Penn, both made speeches about the global fight to eradicate AIDS during the Life Ball opening ceremony, though people mostly talked about how great she looked in her Givenchy dress. (She really did look great.)
The whole thing made me think about what fashion — from the gilded gowns and costumes to the runway show finale — brings to a charitable cause. While it certainly brings attention and excitement, it seems like it can also detract from an event's mission, hence why "AIDS fundraiser" is not the first thing people think of when you bring up Life Ball. Rather, it's largely about seeing and being seen — though in a refreshingly non-judgmental way.
The event's tagline is "fighting AIDS and celebrating life." While it could work on bringing that first part to the forefront of the Life Ball conversation, it does a phenomenal job at the second part.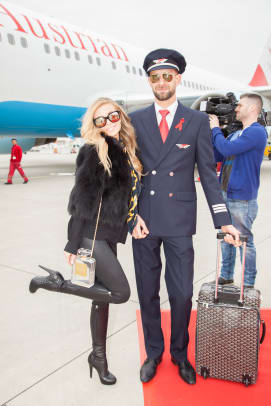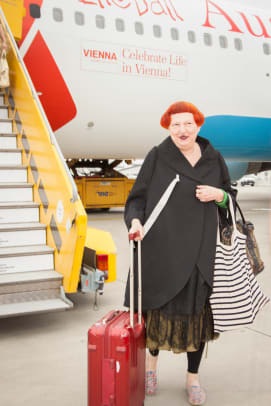 Disclosure: Fashionista was invited to the Life Ball by Bergdorf Goodman with travel and accommodations provided by Austrian Air and Hilton, respectively.