Anna Wintour, Marc Jacobs and More Fete Parsons's Graduating Class
Thirty-eight students showcased their final work to a crowd of industry leaders on Tuesday evening.
Of the more than 900 guests at the Parsons School of Design's 67th annual Fashion Benefit on Tuesday night, it felt like the majority were part of the fashion industry elite. Anna Wintour, Marc Jacobs, Robert Duffy, Donna Karan, Public School's Dao-Yi Chow and Maxwell Osborne, Lela Rose, Wes Gordon, many LVMH executives, and too many more designers and editors to name were in attendance. And yet, as Vanessa Friedman of The New York Times put forth in her keynote address, fashion no longer belongs only to established insiders.
"I like to call it the 'fashion-ization of life,'" she said. "It's a kind of mass recognition and understanding that fashion is one of the most universal narratives we have." There are opportunities for fashion in places no one ever though about before. "The NFL draft is a fashion story and the Mayweather Pacquiao fight is a fashion story and 'Mad Men' is a fashion story... Everyone wants in on the telling, so suddenly actors and rockstars and athletes are creative directors and political consultants are stylists and guys in Tevas and hoodies are retailers." 
It is a brave new world, as Friedman calls it, into which Parsons fashion students are graduating, and certainly a very different one than Jacobs entered after showing his senior collection at the school's final show in 1984. During the benefit dinner, 26 students presented 127 looks spanning womenswear, menswear, childrenswear and accessories. After the runway show, Wintour presented Jacobs with an honorary award on behalf of his alma mater. 
"He moves in a world where there is a lot of hype and a lot of superficiality, but his feet always remain very firmly on the ground," said Wintour about her longtime friend. "Whether he's pondering the Victorian street urchin or classic American cool, there's always been something wondrously nostalgic and almost childlike about his clothes."
Jacobs kept his acceptance speech brief. He thanked Parsons for teaching him how to work hard and be passionate and called his final show at the school "the luckiest night of my life" because Robert Duffy was in the audience. The two soon became business partners and friends, which Jacobs described as "the longest and most wondrous relationship I've ever known."
LVMH was also honored by Parsons after the student runway show. Chantal Gaemperle, director of human resources at LVMH, accepted the award presented by Saks Fifth Avenue President Marc Metrick on behalf of the luxury conglomerate. 
The evening concluded with final awards for the graduating students, presented by outgoing dean Simon Collins, members of faculty and Jacobs, who won the Designer of the Year award when he graduated 31 years ago. Lucy Jones took home the prize for womenswear, Jon Max Goh and Sungho Kim both won for menswear, Jennifer Lia Kim won for childrenswear, and Steffi Tsz Wing Lau nabbed the award for accessories. 
See the gallery before for our top 15 looks from the 2015 Parsons Fashion Benefit runway show.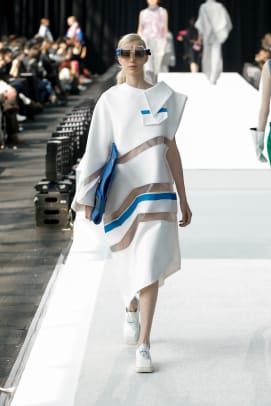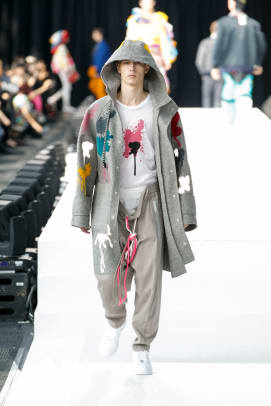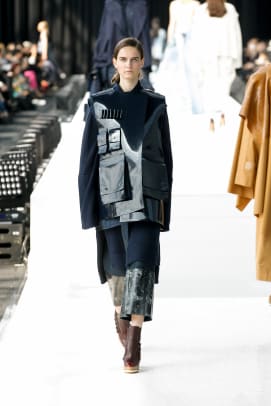 Note: The headline has been updated to reflect that 38 students showed their work in the runway show, not 26.