10 Looks We Loved from SCAD's Student Fashion Show
These are talents to watch.
Saturday night was a thumping, whooping affair for the Savannah College of Art and Design's graduating class. Students, faculty and a smattering of industry types including Vivienne Westwood and André Leon Talley (a trustee at the school), streamed into the SCAD Museum of Art for a runway show featuring the work of 37 undergraduates and grad students who were selected during a jury process the weekend prior. At 105 looks, it could have felt long enough to settle into your seat, were it not for the soundtrack's bass line reverberating through the floors of the gallery.
The show opened strong, with a tailored crop top and baggy, striped jeans by a student named Carmela Osorio Lugo, who found inspiration in construction workers. Neutrals broke into pattern play and evening wear of every sort — fluid and slinky, handpainted, lacy. Although students have the tendency to overwork their pieces — one alumnus who came back for the show said he kicks himself for that in retrospect — one student proved that more can be more with a joyful series of brightly colored pieces embellished with big, kitschy appliqués or built into exaggerated shapes with layered yarn. (After the show, Talley said he was personally taken with Abbey Eilermann's egg-shaped, hot pink yarn dress, as well as the finale look, a cheeky jacket and skirt set with trompe l'oeil pockets by Olivia Latinovich.)
Though most professional designers simply pop out from backstage for a little wave at the end of their shows, the beaming students streamed out from the wings at the presentation's close for their own walk down the runway. After all, it was their night, wasn't it? 
Click on for 10 of the best looks from the SCAD student show.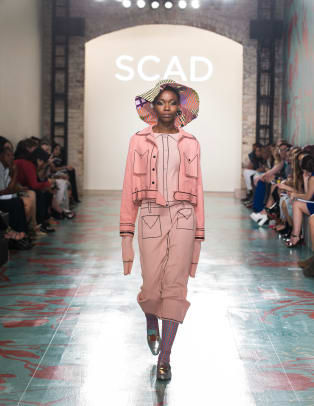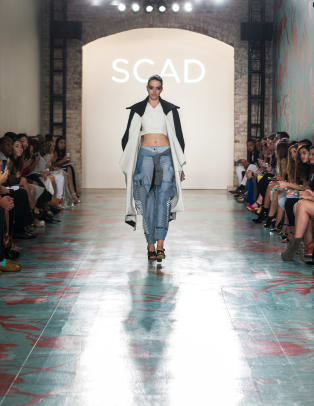 Disclosure: SCAD paid for my travel and accommodation in Savannah to cover its senior fashion show.