Zac Posen Got Inspiration for Resort from Instagram
His food pictures aren't just hunger-inducing.
Despite being called "New York's busiest designer" — he has his own ready-to-wear, diffusion and bridal lines, is the creative director of Brooks Brothers womenswear, is working to redesign the Delta Air Lines uniforms and often appears as a judge on "Project Runway" — Zac Posen still has time to be Instagram obsessed. He moderates his own comments, always removing offensive words about race or body weight, and responds to technical questions from his followers about fabrication and construction. As it turns out, he also uses it to guide the direction of his designs, specifically for the ZAC Zac Posen line. 
"It's complete, immediate consumer feedback and dialogue," said Posen at his showroom on Wednesday, after presenting his brand's resort collections.  "It has encouraged me to add more separates, suiting and daywear, just from their excitement when I do post that. When I post a large gown, that has an immediate transporting romance to it — we sell off Instagram, even — but to see the interest in the more casual line ZZP gives huge encouragement to continue expand and grow it." Posen says the line's handbags, all under $600, have doubled in growth in the last year.
Posen also looked to Instagram for ZZP's design inspiration, specifically his own food posts (see #CookingWithZac). For example, porcelain china and speckled quail eggshells are digitized into jacquard and neoprene, respectively. 
The ready-to-wear resort collection forgoes conceptual inspiration for versatility. Posen continues to deliver the tailored daywear he's known for — trousers, dresses and coats in wool, charmeuse and cotton — with an emphasis on separates. There are also, of course, glamorous evening gowns in simple, vibrant satin, floor swishing embroidery and floral-printed tulle. One voluminous navy skirt is paired with a high-neck satin crop top that exposes the side of the hips. It's a potentially unflattering part of the women's body to expose, but therein lies the logic of evening separates: you can choose your own adventure. 
See both resort collections below. 
ZAC Zac Posen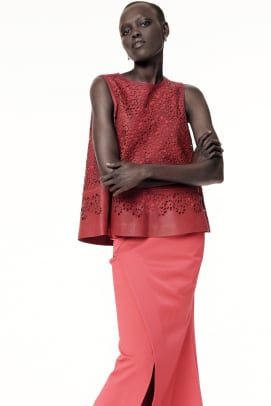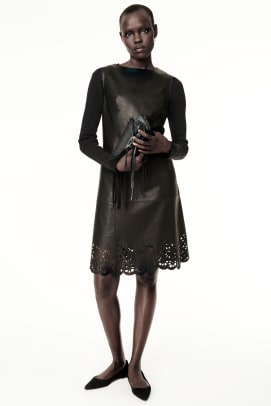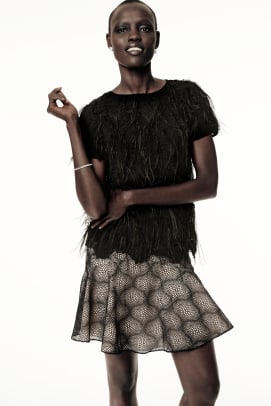 Zac Posen