Kate Spade Expands Into Several New Categories, Including Athleisure, Sleepwear and Kids
The $1.14 billion apparel and accessories brand is now several steps closer to becoming a bona fide lifestyle empire.
In today's turbulent retail landscape, it's more common to hear about established brands scaling back rather than expanding. Just as many large-scale labels like Joe Fresh and Donna Karan are hitting the pause button on global growth, certain trademarks — like Kate Spade & Co. — are surging ahead.
On Monday morning, Kate Spade & Co. announced plans to add a whole fleet of new lines ranging from athleisure to children's clothing and sleepwear to kitchen accessories, all through various licensing deals.
There's the 16-piece, limited-edition fitness collection, which Kate Spade & Co. is developing in collaboration with Beyond Yoga for spring 2016. The children's range, licensed to Tawil Associates, will be available this fall for infants, babies and girls. Sleepwear, loungewear and a bridal capsule are all in the pipeline for spring 2016, too, in a licensing deal with Carole Hochman. The company has even inked a deal with New York-based cupcake institution Magnolia Bakery to churn out four pastry-themed totes, bags and clutches. They'll debut this October, following the launch of a new kitchen accessories collection under All in Good Taste at Macy's stores this August. And then, there's bedding and bath (launched in a partnership with DWI), furniture (with E.J. Victor) and rugs (with Jaipur).
Mary Beech, executive vice president and chief marketing officer of Kate Spade & Co., confirmed the brand's expansion to Fashionista in a statement:
"Interesting women leading interesting lives are at the core of our brand. We aim to provide our customer with the products she loves for all aspects of her interesting life. Our best-in-class licensing partners allow us to thoughtfully expand our lifestyle offerings — from athleisure to sleepwear, cookware to furniture — in a way that is uniquely Kate Spade New York."
In January, the company made the surprising announcement that it would be folding its lower-priced streetwear label, Kate Spade Saturday, into its main line, with all of its brick-and-mortar stores closing in the first half of the year. Its e-commerce site, Saturday.com, shut down for good in March. Despite a $53.6 million loss due to operational costs in the first quarter of 2015, the brand's revenues are on the upswing: Sales rose 14.2 percent to $255.3 million in the same quarter.
Click through the gallery below to see all 14 of Kate Spade New York's fall 2015 campaign photos — starring one very leggy Karlie Kloss.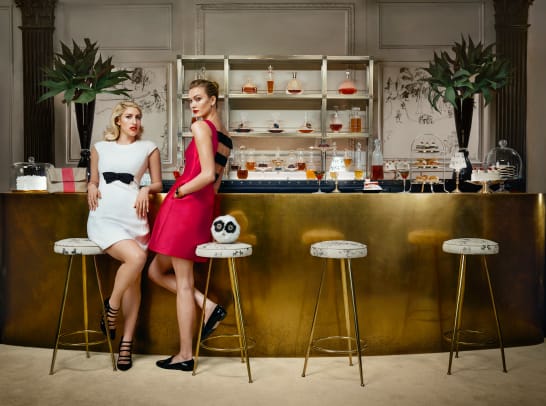 Note: This story has been updated to include Kate Spade New York's fall 2015 campaign images, as well as the statement from Mary Beech, both of which were provided to Fashionista by the brand.