Tommy Hilfiger's Fall Campaign Could Be His Most All-American Yet
The designer scores a cashmere-clad field goal with the help of Behati Prinsloo and a whole team of football players.
Try as I might, I still find it nearly impossible to associate fall fashion campaigns with any occasion but back-to-school. I haven't participated in the shopping season myself in nearly four years — though that doesn't mean I can't daydream about a fresh academic year and all the sartorial opportunities that may present. 
I'm not alone in this fantasy, I sense, especially when considering Tommy Hilfiger's prep school-perfect fall 2015 ads. The campaign's four images echo the American designer's football-themed fall runway show — but this time, he swapped replica goal posts, scoreboards and yard lines for the real deal. 
The campaign — appropriately titled "Team Hilfiger" and lensed by Craig McDean — stars Behati Prinsloo in her second campaign for the brand. In one shot, Prinsloo gets hoisted by a brood of uniformed football players; in another, she poses alongside the same athletes and a group of buttoned-up, collegiate-looking friends — like RJ King and Julia Hafstrom — clad in plaids, stripes and cashmere. It's exactly the type of imagery I might have torn from a bulky September issue and referenced as the school year inched closer. 
The full campaign — complete with a behind-the-scenes multimedia component — breaks worldwide on Aug. 3. Browse the rest of the campaign images below.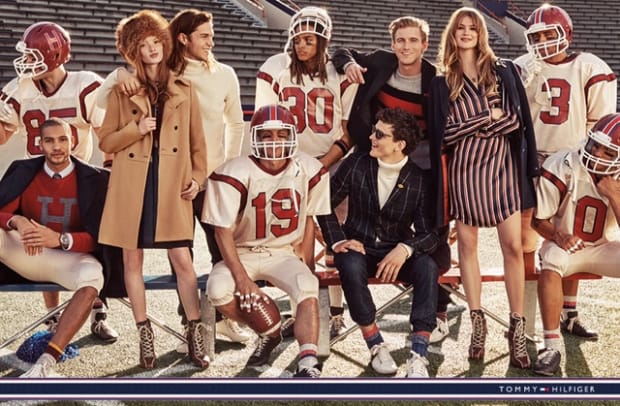 This post has been updated to include more images and information provided by Tommy Hilfiger.