Liv Tyler Teams Up with David Beckham for Belstaff's Latest Fashion Film
She will be the face of a multi-platform marketing campaign launching next year, as well as act as creative contributor to a capsule collection to debut in February.
She will be the face of a multi-platform marketing campaign launching next year, as well as act as creative contributor to a capsule collection to debut in February.
Liv Tyler has been named the new womenswear ambassador for Belstaff following its spring/summer 2016 presentation at London Fashion Week.
The actress follows in the footsteps of Amelia Earhart, who fronted the brand in the 1920s. She will be the face of a multi-platform marketing campaign launching next year, as well as act as creative contributor to a capsule collection to debut in February.
"I am truly excited about rolling my sleeves up in the design room — and spending some of my Belstaff time on the other side of the camera," Tyler said in a press release. "I want women everywhere to feel sexy, empowered and confident in what they wear. I believe I genuinely understand the role that the right clothing can play in making you feel ready and looking great for whatever adventure life may throw you."
Tyler has already been working with the brand through her role as executive producer for "Outlaws," Belstaff's new short film, which also premiered in London. On this occasion, it was menswear ambassador David Beckham who was the guest of honor, launching the new film in which he stars as the lead character.
As the face of Belstaff for the past two years, the former footballer takes on the role of "The Stranger" in the 15-minute film. Referred to as a mysterious drifter (he doesn't actually have any lines), he's a motorcycle stuntman haunted by memories of a trapeze artist played by Katherine Waterston, and hunted by a maniacal director-cum-circus-master seeking revenge, played by Harvey Keitel. Tarot cards, late night diners and biker gangs also feature, and Cathy Moriarty stars, too.
Earlier in the day, Belstaff's spring/summer 2016 womenswear collection was on show in the Great Hall of Marylebone's Hellenic Centre. One of the wonders of London Fashion Week is its ability to unearth all sorts of incredible venues you never knew existed. In this case, it was a former inner-city mansion dating from the early 1900s, transformed for the seaside-themed line from Belstaff's VP of women's design Delphine Ninous.
Forget tropical beaches with a cocktail in hand, however — this was about as British as they come, with footage of a tumultuous sea playing on repeat against the walls in the background, and dark lighting casting shadows of the models against the piles of sand in the center of the room. Strictly speaking, inspiration came from the idea of beauty in power – the great force of the sea particularly — as well as ideas like the hum of a throttled engine in order to tick that box for Belstaff's long-standing motorcycle theme.
Said Ninous in a follow-up email interview with Fashionista: "Belstaff has a natural connection to the British outdoors as a brand that has dressed adventurers and daredevils for 91 years: Amelia Earhart, Lawrence of Arabia, Che Guevara, Sammy Miller, etc. For me, the sea is very much a part of that landscape. I really gravitated towards the juxtaposition between the calm and almost feminine beauty of the sea with the unyielding power and force of nature."
It may be something only Brits can truly appreciate, but there's something special about the feeling of taking your chances on a walk along the seashore in greying, windy weather with the crash of the waves surrounding you, and it felt as though Belstaff really captured that here. This is a British brand looking to recapture its heritage, and awakening that familiar sensibility seemed exactly to make sense.
"There is a great ease and fluidity to the collection that really speaks to the theme," added Ninous. "We took our Belstaff DNA and deconstructed it in a way." The iconic biker jacket is reworked in soft suedes for the lighter season; easy-fit tailored pants are layered with longer-length tops featuring low-slung relaxed necklines or waterfall ruffles down the front; and outerwear features heavily with further shapes seen in the classic trench as well as a rider coat, or four-pocket style. It was sophisticated and feminine, and in an unusually pastel palette for Belstaff, from sky blue to seafoam green and sandy beige.
Ninous' inspiration carried through to the details of the collection, too – wavy lines seen in the quilting on a fitted bomber jacket, for instance, represented the marks left in the sand by the receding tide. A white chalky coating was also introduced on leather, linen and knitwear in order to suggest a sense of degradation, much like windblown grains of sand might steadily achieve.
Meanwhile, in what felt like the sun attempting to break through the clouds, a tiered silk georgette dress in a delicate blue featured a gentle print across it that recalled light reflecting on the ripples of the water. That and the metallic hues hinted at elsewhere summed up the British seaside feel all the more – that constant hope of better weather up ahead.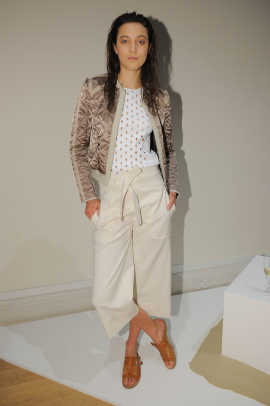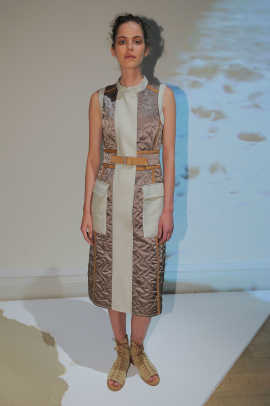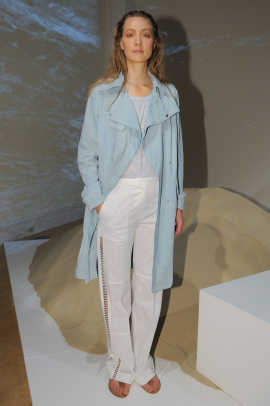 Homepage Photo: David Beckham in "Outlaws"/Belstaff