How Designer Claudia Li Stayed Calm and Collected Before Her Fashion Week Debut
For a young designer, Li already has a strong vision for her namesake line.
Before her official New York Fashion Week debut, designer Claudia Li was unexpectedly peaceful — aside from the preshow jitters. "Everything was done two weeks before the show," explained Li while backstage with her quietly composed team on Friday. "I actually told the models to walk like they're on the beach, very relaxed. Everything's okay."
Li's creative process always starts with a mood, and after a "soft" runway show for her previous collection back in February, the New Zealander took a month off and went to a beach in Vietnam. "It was supposed to be sunny but it was windy and dark," remembered Li. "I came back and had a sense of solitary calmness." By April, she started to gather inspiration, photos and fabrics to kick-start her color palette and silhouettes for spring 2016.
For a young designer, Li already has a strong vision for her namesake line, and it showed in her premiere collection, filled with airy knits and lightweight fabrics detailed with handwoven yarns from Italy. "At the end of a weaving loom, there's always leftover yarn, so I decided to thread it through the fabric." Her idea was a fresh take on trim as pastel-hued yarns were mixed on the cuffs of coats, sides of tops and ends of culottes. Long strips of yarn were draped from the shoulders of cotton jersey mock neck T-shirts, nearly sweeping the runway.
Li also showcased her first foray into footwear with white leather slippers, because "it's just impossible to find the perfect simple slipper." In addition, she debuted handbags with the Nui clutch. According to Li, nui means "giant" in the New Zealand language Maori and her clutch is just that — large enough to fit a 15-inch Macbook. "I've always wanted a really big clutch," explained Li. "About a year ago, I bought these raw pieces of leather and I started rolling them, playing around with them." The supersize clutches featured pieces of leather that resembled the rolled pages of a notebook; their extended zippers were similar to Li's long strips of yarn. 
The Nui clutch looked more like an artwork than an accessory, and that's because Li didn't initially study fashion design. Her background is in painting with a bachelor's degree in Fine Arts from Auckland (for one year) and Beijing (for three). Li's father is an art dealer, so her career trajectory naturally leaned towards becoming a painter — but it wasn't enough. "I love painting but I wanted something more. I wanted to be able to see people in my work rather than hanging on their walls at home," said Li. "When I was young, I always wanted to be a fashion designer. It was something in my bones."
To make the switch, Li moved to London and took a few design courses at Central Saint Martins, where one of her pattern-making instructors encouraged her to go to Parsons. Li moved to New York City to pursue an MFA in Fashion Design and Society at the acclaimed institution. "It was a tough but very good experience. It totally changed me design-wise," remembered Li. "It was like rebuilding myself." Li found the program to be a perfect fit for her fine arts background thanks to Director Shelley Fox, who served as her mentor. While there, she also developed an affinity towards using and weaving yarns, which played a part in her impressionable thesis. (While interning for stylist-turned-designer Brandon Maxwell, one of her pieces was worn by Lady Gaga.)
But it was a stint in London drawing, draping and designing for J.W. Anderson (after seeing her portfolio, he reached out to her himself), that prompted Li to move back to New York and break out on her own. "I was doing things that I loved to do, but I wanted to express and design for myself." Her spring 2016 collection is currently taking market appointments, some of which are with major retailers. When asked what shops she hopes to see her clothes in, Li lists Barneys, Ikram and a few designer boutiques in Tokyo.
With a knack for working ahead, Li is already getting started on her next collection to show in February 2016. "I have pictures and some idea of what I want to do, but I'm taking it slowly — I'm not in a hurry." Post-debut, her mood is in high spirits.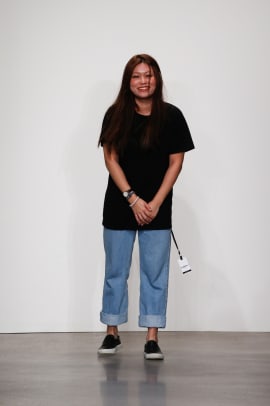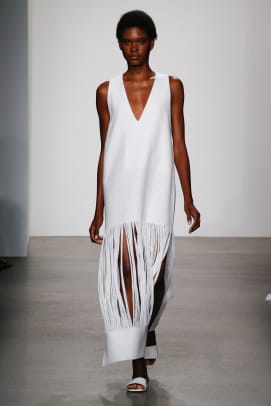 Gallery photos: Alessandro Garafalo/InDigital Media