Why Coach Is Now Focusing on Ready-to-Wear
With the launch of Coach 1941 — a new, higher-priced line centered on ready-to-wear — the beleaguered leather goods company is broadening its horizons, as well as its customer base.
Coach has always been known as a leather goods brand — first, in the 1940s, for its handmade wallets and billfolds, and since the early '60s, for its women's handbags. But since former Loewe Creative Director Stuart Vevers joined the brand in 2013, replacing Reed Krakoff, all anyone has been talking about is Coach's ready-to-wear — namely its leather and shearling outerwear pieces and its colorful intarsia knits — which Vevers has presented at small fashion week presentations beginning in Feb. 2013. The response has been so positive, in fact, that the financially troubled company recently announced the launch of a full, higher-priced line — dubbed Coach 1941 — which it presented at its very first runway show at New York Fashion Week earlier this month.
The day after the show, we stopped by Coach's showroom to ask Vevers about his plans for the new line, how Coach's customer base is evolving and whether he can imagine a future where Coach is known primarily for something other than its handbags.
Can you tell me a little bit about the spring collection and your decision to launch a higher-priced label?
In many ways this is an evolution of where we've come from. What we've been showing at New York Fashion Week presentations [for the past two seasons] we've been calling "collection," but we weren't labeling it as anything specific. We thought it was time to put some real commitment behind it, and it felt like the right time really because of the response from the clients and the editorial community.
So Coach 1941 has been on the road map from the beginning?
I knew that I wanted [Coach] to become part of the fashion conversation, but I don't know if I had a specific timeline. I think it started to come together more naturally when we felt like the best way to honor our 75th anniversary [next year] was to do something that looked boldly cool. Those two things came together at the same time.
Can you imagine a future in which Coach is not thought of first and foremost as a handbag brand?
I think there should always be a strong connection between Coach and leather goods — it's what we are, it's what we do. I think I'd like it to be not only that. And that's what this collection is about. I don't think Coach just has to be leather goods — that should be it's focus and it's strength and what it's most known for — but I don't think that limits us from doing other things.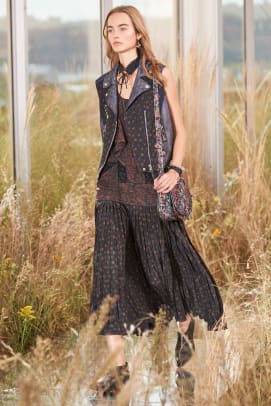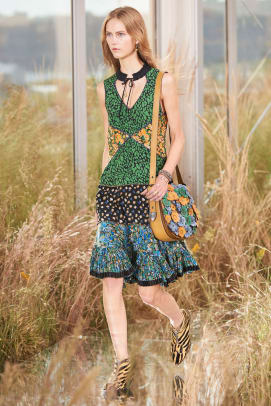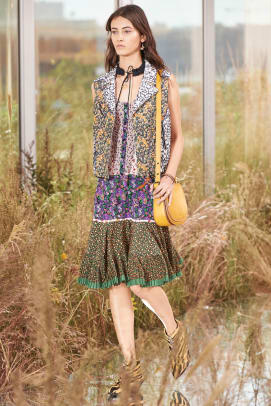 How does your customer for ready-to-wear differ from your handbag customer?
I think with our leather goods offer, we know that we're speaking to a big audience, a wide audience. With our ready-to-wear, we're not trying to create a whole wardrobe; we're not trying to create someone's wardrobe from day to night, work to play. It's about a point of view; it's about telling the Coach story and a new direction. The clothing is a great tool for that. And because Coach isn't known for ready-to-wear, every piece has to stand out on its own, every piece has to be something you could only get from Coach. We are finding that it's an incredible tool for customer recruitment. What's interesting is maybe they're going into Colette or they've been on Net-a-Porter or maybe they've been in [10] Corso Como and they've found a piece and they'll come to a Coach store and say, hi, they don't have my size, and by the way, I've never been in a Coach store before. And to me that's really exciting. We found it's bringing new people to our stores, and they're coming back. They're exploring what the brand means, in a new way, and that's why ready-to-wear is very important to us.
I walked by your Prince Street store and there was a nice selection from your fall runway collection, but I haven't seen that in other stores. In terms of non-flagship stores, do you feel you and the new Coach are well-represented?
It's hard to do everything at once. You can't physically change 700 stores overnight. So you can find bits of this collection in most of our stores, if you go through to jewelry and leather goods, and you can find everything online, which everyone can experience. Some of our stores in smaller cities, they're not huge so they don't have room for everything. If you're in a metropolitan city, you'll find this collection in a Coach store.
In the past you've drawn from the American Midwest for inspiration. Was that the main source for you still in the spring collection?
It's somewhere between New York City and the Midwest. There's always this reference between the melting pot of New York — all of the mixing of different cultures and nationalities — and Coach was born here in 1941, so it's really authentic. And then there's the romance of the great American landscapes, which I grew up watching through cinema. There's always some juxtaposition between the city and those cinematic landscapes.
Can you tell me more about the spring collection? You introduced florals and dresses in a big way this season, and some eye-catching boots.
We've started to establish Coach as an outerwear destination — those shearling pieces from the first season, they were sell-out pieces. Each season I want to expand our vocabulary a little; knitwear is something we've wanted to expand each season, I think it sits really well next to leather as a texture, and also I've treated leather like a T-shirt with motifs and things that make you smile. In fall we had some florals from the black bandanas in the last few looks, I really like those pieces; there was like a fashion magpie appeal about those we expanded this season. And we started to play with dresses. A throw-on, easy Coach dress sounded like something we should explore — it should feel like a T-shirt. The Coach personality is about ease and effortlessness and things that really work for you, like a T-shirt, no fit, no formality, and I think that's one of my takes on what makes Coach unique. Last season we were just finding our feet, now we've really found them.
This interview has been edited and condensed.