Diane Von Furstenberg Got All the Models for Her Spring 2016 Show
Kendall, Karlie, Gigi — and that's just the beginning.
Diane von Furstenberg is well aware of the impact a star model lineup can have on a show audience. Instead of bringing out a '90s supe, this season she cast a dozen of the most sought-after young faces, including Kendall Jenner, Bella and Gigi Hadid, fall campaign star Karlie Kloss, Jourdan Dunn, Anna Cleveland, Lindsey Wixson, Molly Bair and Binx Walton. Victoria's Secret Angel Lily Aldridge and Sports Illustrated star Irina Shayk were part of the lineup, too. It seemed to have the intended effect: the two gentleman on either side of me never stopped snapping photos with their phones.
The risk with famous models is that they often overpower — or in the case of the severe-faced Bair, clash with — the clothes, and that was often true on Sunday. The offering itself was eclectic, at times feeling excessively girly or clubby or tropical, and occasionally achieving real elegance.
Pink and fuschia dominated the opening looks, appearing in small floral patterns on flirty dresses and skirts, a flowing silk jumpsuit and drawstring-waist pants, and in romantic, billowy blouses. The effect was busy and excessively young — not what you typically expect from von Furstenberg, who has positioned herself over the years as a public champion of ambitious, powerful women. (Perhaps she is trying to appeal to a younger consumer — something she's certainly trying to do with her E! reality TV series, "House of DVF," which premiered just hours after the show.) Later in the lineup were clothes that immediately called to mind Miami clubwear: a metallic gold wrap jacket paired with matching shorts, a shimmery white romper with a zip front and white pleated dresses trimmed in animal print. 
It was the simplest clothes that looked best: a semi-sheer nude wrap dress that swept the floor; two pantsuits, one in natural linen with colorful fringed pockets, the other white and sleeveless with a smartly belted waist; and a billowing maxi dress with a navy stippled floral print and plunging V neckline. Those looked like clothes ambitious, powerful women would wear.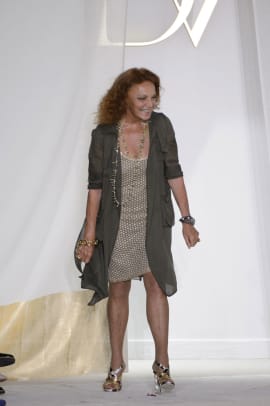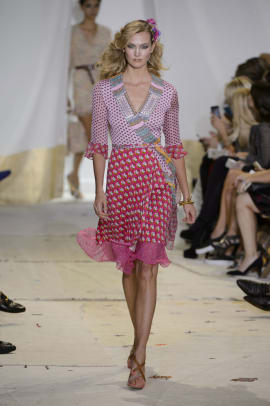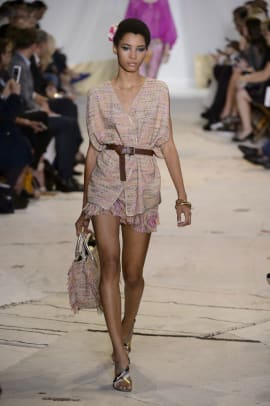 Note: This story has been updated to reflect the fact that Irina Shayk walked the runway.