New York City Kicks Off Fashion Week With 'Made in NY' Marketing Campaign
You can spot Public School, Rosie Assoulin and Chromat on buses and taxis in every borough.
At the start of New York Fashion Week in February, Mayor Bill de Blasio announced that the city would be allocating $15 million to initiatives designed to promote New York-based fashion designers and manufacturers, tripling an investment set by former Mayor Michael Bloomberg's administration. City officials kicked off the spring 2016 season on Thursday morning at Moynihan Station by getting specific about those programs — the most visible of which is a $1 million marketing campaign. Featuring buzzy New York designers like Public School and Rosie Assoulin, the images are now on 600 taxis, 75 buses, billboards in Times Square and other locations, ferries and street pole banners through October. 
"Everybody in New York will understand what Made in NY is all about," said Maria Torres-Springer, president of the New York City Economic Development Corporation (NYCEDC). Theory CEO Andrew Rosen and designer Eugenia Kim also spoke in support of the initiatives at the event.
The campaign was photographed by Zev Starr-Zambor, styled by Sarah Gore Reeves and features the designs of A Morir, Alexis Bittar, Chromat, Ohne Titel, Prabal Gurung, Tim Coppens and the three designers mentioned above. The images will run in both print and digital publications including New York magazine, Vogue and InStyle; there's another $4 million set aside for future campaigns.
Deputy Mayor for Housing and Economic Development Alicia Glen was on hand to celebrate the industry's economic impact on the city — it generates $1.4 billion in tax revenue and employs over 184,000 people — as well as the initiatives in action, such as the new Barneys NY x CFDA: Made in New York Collection, which features limited-edition designs from designers like Altuzarra, Proenza Schouler and The Row. She also announced a new certification program, where qualifying businesses that produce 75 percent or more of their products in NYC can apply online to use a "Made in NY" seal (the program's first submission deadline is Sept. 30).
These are only part of the Made in NY fashion initiatives in the works right now. A new Made in New York award will be given at the Women's Wear Daily Apparel and Retail CEO Summit on Oct. 27 to "an individual who has made outstanding and lasting contributions to New York City's fashion industry." A Made in NY retail activation to increase sales of locally produced goods and a Made in NY trade show partnership, which will offer free or reduced rates for trade show participants, are also planned. And lastly, city funds will go towards a new Made in NY Fund that, like the NYCEDC Fashion Production Fund, will loan designers money for purchase orders at below-market rates, benefiting younger brands.
See the entire Made in NY fashion campaign below.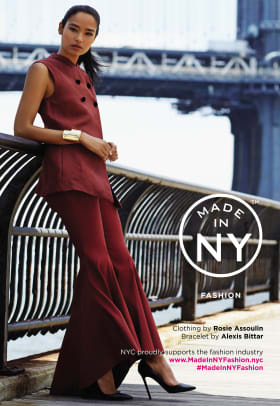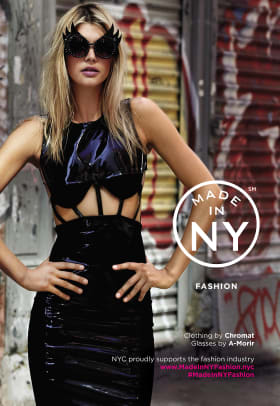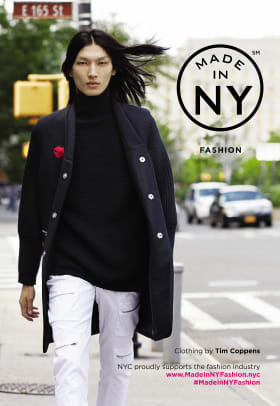 Note: A previous version of this article said Mayor Bill de Blasio allocated $10 million to Made in NY fashion initiatives this year. The amount is $15 million.