Monse, From Oscar de la Renta Alums Laura Kim and Fernando Garcia, Is a Label to Watch
The fledgling brand, which showed its first collection at New York Fashion Week earlier this month, has already dressed Amal Clooney, Sarah Jessica Parker, Selena Gomez and Jessica Paré.
Of the more than a dozen designer labels that launched during New York Fashion Week, few were as highly anticipated as Monse. There was, after all, no other first-timer that had already dressed both Amal Clooney and Sarah Jessica Parker before showing a collection, or that had the pedigree of founders (and fiancés) Laura Kim and Fernando Garcia, who had spent the last 12 and six years, respectively, working in the studio of Oscar de la Renta. (As studio director, Kim's position at the company was such that she was the one to present de la Renta's final, posthumously completed collection to press last December.)
Monse's fashion week debut did not disappoint. Held on the Saturday afternoon of NYFW at the Norwood Club, Kim and Garcia dedicated the collection to de la Renta; many members of the late designer's family and company were there to show their support. The show opened with a white cotton shirtdress, cut high on the thigh and off-the-shoulder, its "sleeves" knotted loosely over the bust. More shirt dresses followed, reimagined as floor-length dresses (still in white cotton), or cut into two pieces, the shirt budding into cotton flowers in one version, or hung off one shoulder in another. The evening looks were full of glamour but also looked easy to wear, particularly a pajama-style gown in black satin crepe that Selena Gomez was photographed in over the weekend.
It all bore the unmistakable imprint of de la Renta — particularly in the craftsmanship and tailoring, but also in the choice of black-and-ivory striped duchess satin for a number of the formal looks. However, it had a downtown, casual edge that was altogether more youthful. Women who grew up admiring de la Renta, but found his things too formal or unrealistic for daily life, will likely find something in Monse.
Speaking to Kim and Garcia after the show, it was clear just how advanced their thinking about the brand and its future are — one of the many benefits of having worked for a combined 18 years at an established designer's studio, versus starting out on their own immediately after graduation. With the passing of de la Renta in October, the pair said it "felt like the right time" to move on. "We wanted to, at a younger age, figure out who we were and learn everything we could from the company," Garcia said. "We were looking at our future — like in 20 years, will I still be designing under Oscar's DNA or will I find myself?" Kim added.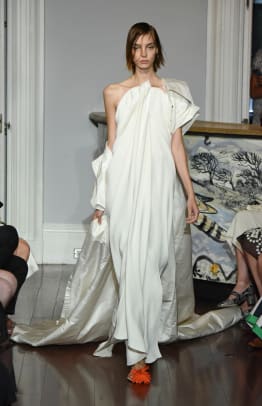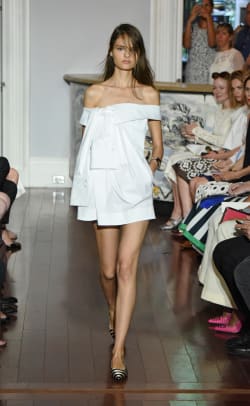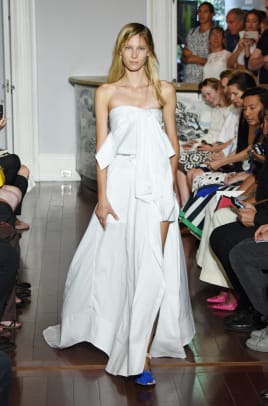 And so Monse (named after Garcia's mother) was born. Kim and Garcia said they are already thinking about Monse as a lifestyle brand a decade from now, and so for the first collection, they wanted to establish some signatures. "For a new brand, it's hard for people to go to that rack without identifying and relating it to a little bit, so we thought about that and what people are going to recognize," Garcia said. "We wanted to take the idea of a shirt, which everybody owns, make it sexy, make it fun, make it relevant again. Every woman likes a shirtdress, and it's something we always loved, even when we were at Oscar, so it could become sort of DNA for us. We feel strongly about all the clothes that we showed — the color, the stripes, the shirt. That's stuff we believe in for the long-term, for other seasons."
Kim said they're aiming to price the collection in the "opening designer level," starting in the $500-$700 range, with the most expensive evening option running between $4,000 and $4,500. The label is currently funded by friends and family, but Kim said they will be on the lookout for an investor soon. 
They shouldn't have much difficulty, especially given the amount of publicity the line has already generated. In addition to Clooney, Parker and Gomez, Monse also dressed former "Mad Men" actress Jessica Paré for the Emmys, landing her spots on Vogue's and WWD's best dressed lists. Garcia was responsible for VIP dressing at de la Renta. "I met the best professionals in the industry when I was there — Erin Walsh, Cristina Ehrlich — and we became such close friends that when we said we were leaving they were the first ones knocking on our doors saying we'll support you."
As for the wedding planning? "We used all our energy on this to be honest," said Kim. Garcia added, laughing, "We'll take it one expensive venture at a time."
Interview conducted by Dhani Mau.