Proenza Schouler Brings a Bold, Latin Flair to its Spring 2016 Collection
With ruffles, feathers and pom-poms, the collection was a fiesta for the eyes.
As we were waiting for the Proenza Schouler show to begin on Wednesday night, the chatter among my seating section turned to the preceding days of New York Fashion Week — more specifically, their lack of inspiring collections, and the collective longing for a show that could evoke true excitement and energy from even the most jaded and sleep-deprived editors, buyers and stylists. But by the time Lazaro Hernandez and Jack McCollough's masterfully crafted spring 2016 offering had come down the runway, it was clear that many of them had changed their tunes. 
When the design duo presented their resort 2016 collection in June, they had recently returned from a trip to Cuba, where Hernandez was able to meet members of his family for the first time and to explore the place of his heritage. The Latin spirit that pervaded the resort offering is back for spring — at least when it came to the ruffles, festive adornments and the vibrant pops of red — making for a show that was a fiesta for the eyes. Among my favorites were the broderie anglaise dresses and tops lined with pom-poms, the sleek viscose gowns in black and white with cascading ruffle skirts, the flirty, printed silk looks in black and red that exposed the shoulders and other sexy slivers of skin, as well as the deconstructed tweed pieces — some accented with blanket fringe — that seemed to peel away from the body.
Proenza Schouler is known for catering to the art crowd (the designers held their fall 2015 show at the old Whitney Museum), and this appreciation for the craft came through in the latter part of the show. A series of skintight, open-knit looks in sea green, black and white had a tropical flair and were texturally interesting; "linked feather" tops and dresses created a delicate chain mail effect; ruffled evening dresses were made sensual with cutouts that exposed the models' hips and shoulders, and the finale looks managed to tie all of the best elements together, from the twisted tops to the bell sleeves to an embroidered skirt adorned with silver balls. Each look was paired with low-heeled, lace-up mules (hanging ribbons were also a key detail throughout the collection) that were a fun update to a similar style the duo debuted for resort.
Despite the mixing of so many wild elements, the bold collection managed to highlight plenty of Proenza signatures and brought enough newness to electrify the crowd before it set out for London, Milan and Paris. We can't wait to see these clothes brought to life again in editorials and on the red carpets in the coming months.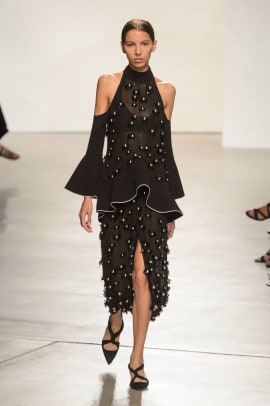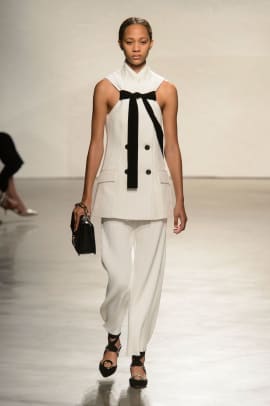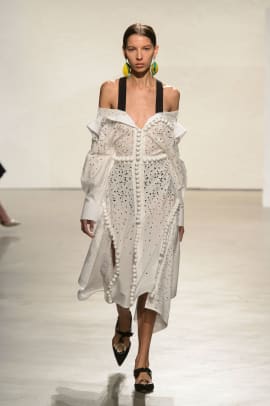 Homepage photo: JP Yim/Getty Images