With Category Expansion, Solid & Striped Aims to Be More than Instagram's Favorite Swimwear Line
Founder Isaac Ross set out to make the perfect pair of men's swim trunks. Three years later, he's executing a bigger vision.
If it seemed like every beachside vacation Instagram you saw this summer featured the simple and elegant swimwear of Solid & Striped, you've been paying attention. When Isaac Ross, now 29, started the brand with just a pair of men's swim trunks in 2012, he wanted to offer an understated alternative to the trendy and often unflattering swimwear dominating the market. Despite his lack of industry experience, Ross built a buzzy brand for men and women with a clear understanding of his customer: young professionals with disposable income who travel regularly to the Hamptons and St. Barts, and everywhere in between. The brand caught the attention of important retailers such as Net-a-Porter and Barneys, and influential women such as Poppy Delevingne and Hilary Rhoda, who have both collaborated on collections over the past year. 
But swimwear is just one piece of the puzzle. In July, J.Crew's Michelle Copelman joined the brand in the newly created role of design director. She is working to expand Solid & Striped's offerings in apparel and accessories, especially for women, who now account for 70 percent of the brand's business. If the 2016 resort collection is any indication — only half of it is swimwear — Solid & Striped is well on its way to becoming a full-fledged lifestyle brand.
I spoke with Ross about his early challenges, navigating social media and how marketing to women helps the men's business. 
You started by designing one pair of men's swim trunks. How did that happen?
I was really inspired by this pair of swim trunks, as strange as that may sound. Since I launched the company, I've only really had two goals: the first was to make one pair of swim trunks successfully and the second was to sell one pair of swim trunks online to somebody I didn't know. I was living in L.A. at the time and my friend was designing at Band of Outsiders and I hired her and said, "Can you help me make one pair of men's swim trunks? This is exactly what I want them to look like, this is exactly how I want them to fit." We sketched it out and met with a pattern-maker who was working at J Brand and she cut our first pattern and made our first sample. I fit them a million times like a lunatic and I had my friends come over. There's a lot of different body types in the world. I wanted to make sure that guys would actually look good in the trunks.
I looked at an old pair of trunks that I had and there was a "Made in Morocco" tag in them. I took a chance and called a Moroccan friend of mine, sent him the pair of swim trunks and said, "Can you try to find the factory that's been making these swim trunks?" A week later he called me and said, "You're never going to believe it, I went to elementary school with the guy who owns the factory that's been making these swim trunks." I flew over there a few days later and I made my samples and I came back to L.A. and quit my job and walked around with this canvas bag of samples in it, trying to sell what I was calling a resort season in September, and everyone was like, "Well, you're a little bit late on that." But somehow we managed to open up some cool doors and we shot the stuff, we built a little website and it was on from there.
Where were you working?
I was working at an advertising agency at the time. I was interested in product development and seeing things happen from the beginning all the way to the end. I wanted a real creative outlet of my own. I was at this point in my life where I was young enough to pull the ripcord and eject from corporate life and I had the mentality of, "What's the worst that's going to happen?"
What valuable advice helped you in those early stages?
It's nice to be in a business where you have no preconceptions and you can kind of figure out your own ways to do things. I ask a lot of questions and have people who have been in the business a long time who I'm lucky enough to be able to pick up the phone and talk to. My financial partner is great, he's been in the business himself since he was a college student. The first piece of advice he gave me, and probably the best piece of advice anyone's ever given me, was to start making women's swimwear. Turn it into a dual gender brand, sell both sides of it, create this world and this lifestyle for him and for her.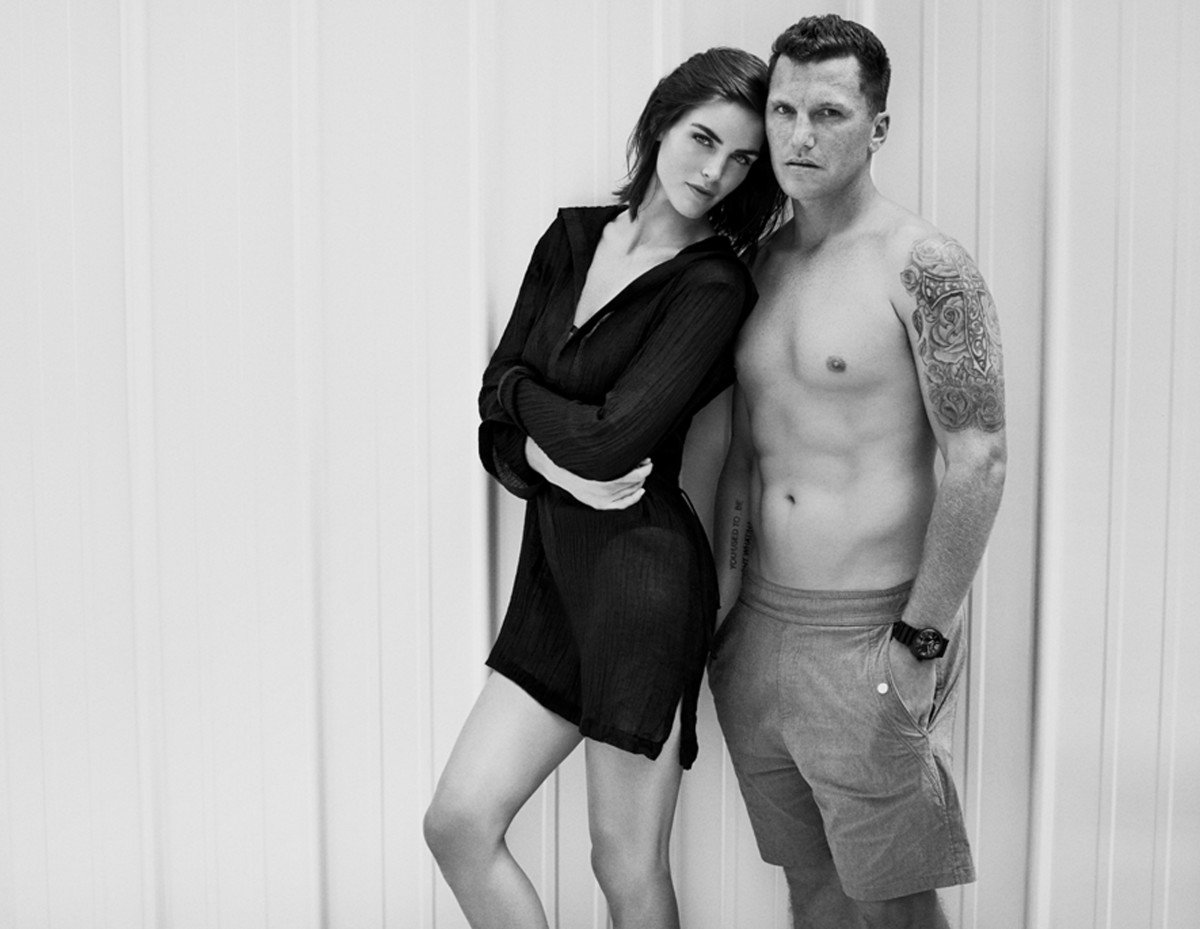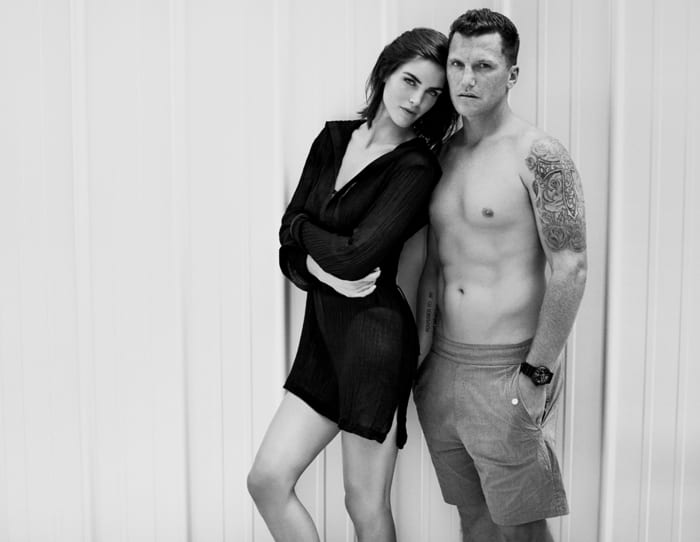 How did you start making women's swimwear?
I was making these custom trunks, which we still make, for the Beverly Hills Hotel. They are pink and white striped and every time we ship an order of those they just sell out. The woman who was buying for that store said, "The women who come in here, we're not selling them that. Can you make a women's bathing suit to go with the men's one?" So I called Morgan [Curtis, daughter of designer Jill Stuart] who was launching her lingerie line Morgan Lane at the time, which is very chic, and I figured if you can make lingerie, you can make swimwear. She said, "Look, I wouldn't launch a women's line just so you can do custom bathing suits for the Beverly Hills Hotel. Maybe take a look at the market see what you think and get back to me if you really want do it, we can definitely work on it together." 
I took a look at the women's market and I thought there was this amazing space for us to fit in in the exact same way we fit into the men's market, which was the understated alternative and was timeless, very Slim Aarons, very effortlessly chic, not trying too hard, not saying too much, not embellished, not bedazzled, no wacky stuff that I saw on all the bathing suits and I really couldn't understand. Morgan has such great taste and I've known her forever and she really helped me develop my own style. Something that we always strive to do is make product that is modern but wouldn't feel out of place 40 years ago. It's funny, [buyers] will come in and say, "Oh this is so great, there's a stripe trend this year." And I think, "Well, I hope the stripe trend continues or else we're in a lot of trouble."
How do women shop the brand differently from men?
Women shop for swimwear in a way that men cannot shop for swimwear. We have customers where every time they get on an airplane, they order five new swimsuits. It's incredible. There's so many more female-directed press outlets, so many more female-specific points of distribution for the product that I think makes sense for our brand. If you look at the digital landscape and the social landscape, which is so important, for every guy with a million followers on Instagram there's probably like 100 women. We had this amazing opportunity to market on the women's side and advance the brand with the power of women buying it. 
I know that a lot of our men's swimwear and apparel purchases online are made by women for men. It's actually a staggering number. I think that having women come to the site, having women engage with the brand definitely helps the men's business.

Have you paid for any social media posts?
We've never paid for social media. I like working with people who want to work with me. There are some people who I admire very much who I think are the personification of our brand and I think represent us in the way we want to be represented and sometimes I'll send them a nice gift, but most people who are posting on social media go out and buy it the same way I do. We got to keep the business going, there's not a lot of freebies going on over here.
How did you start working with Poppy Delevingne?
She was going away to do her bachelorette party at Coachella and she reached out to our publicist and said, "Hey, can we do some cool bathing suits for me and the girls in my bachelorette party?" And I was happy to accommodate her and send her a couple of things. She was in New York and we had breakfast and one thing led to another and by the time we were done with breakfast, we had already mapped out this entire collaboration. It was so exciting because I got to work with somebody who's really passionate, has a point of view, has an excellent taste level and really cared and really showed up to work. She was in our sample room on 38th street in the Garment District, really hands-on throughout the entire process. For us it was great because we made a really cool product, it was great for our brand awareness especially in Europe, and it was a fun thing to do. 
When did you expand into apparel and how is that impacting your business?
We shipped all of our accounts stuff other than swim [this past spring] — rompers and tees and knits and cool light, woven stuff. Everything was our world and just product extensions of our core. Now moving forward, we've had this pivotal shift where we sold our resort collection that ships in the middle of October and 50 percent of that collection bought was things other than swimwear. Which is this amazing validation that the market understands that you introduced yourself in a particular category but want to be something bigger than that and have done a good enough job creating all these complementary categories that they are really buying into it. We have our fall collection coming out next and there's basically no swimwear in that collection.
Why did you hire Michelle Copelman as design director in July?
Michelle is amazing, she's such a professional. She's a senior designer at J.Crew and Crewcuts and really ran point on most of their brand partnerships and collaborations. At this point we needed somebody who really understood who we are as a brand and our aesthetic and our customer and could work with me and Felicity [Cooney], who designs our men's line, and make sure that we just keep getting better every single season. Because this business has the shortest memory — you can't be good one season and take a season off. You have to always get better. I'm lucky we've gotten this nice mix of people in here that really are all so happy to be here and share the vision and same level of excitement and passion for the brand. It's a very good vibe going on right now.
This interview has been edited and condensed for clarity.
Homepage photo: Solid & Striped's resort 2016 lookbook. Photo: Solid & Striped