How Tanya Taylor's Spring 2016 Presentation Came Together
From casting to styling to last-minute alterations, it's been one busy week for the International Woolmark Prize finalist.
After four seasons of runway shows, designer Tanya Taylor is returning to a presentation format to showcase her spring 2016 collection. I visited Taylor at her Soho studio last week to talk about her design inspirations and prepping for Friday's noon presentation, which she says is closer to an art installation (more on that later).
Hosting a runway show comes with a certain amount of prestige, but Taylor says she felt disconnected from those in the audience, and that the experience didn't stand out enough in the busy New York Fashion Week schedule. "When people go to huge-budget shows, it's so hard as a small designer to give them the same storytelling opportunity as runway," she says. "Someone we had breakfast with recently said, 'I'd rather spend five minutes hearing from you what it looks like then waiting five minutes for a show to start.'"
The well-spoken designer's profile has risen considerably as of late — she was a 2014 CFDA/Vogue Fashion Fund finalist and this year's North American Woolmark Prize winner. Her brand is commercially thriving, too, with wholesale revenue up 300 percent in the last year. An e-commerce site launched in August.
"I just want to tell [editors] why this fabric is this or why this color happened, and you don't get a chance to do that outside of them coming to a show because everyone is so busy," she adds. "We wanted something that wakes people up and makes them really excited to spend a little time at the show and understand and talk to people."
That jolt of energy won't just be evident in Taylor's signature bright colors and prints. The designer has partnered Minneapolis-based installation artist Eric Rieger, aka Hot Tea, whose work is designed to "disrupt public spaces with positivity through yarn," in Taylor's words. He has cut and hung miles of colorful yarn on the Williamsburg Bridge and other landmarks across the country. 
Taylor discovered Rieger on Instagram and direct-messaged him. He's building his biggest installation yet for her — 47 feet by 47 feet — that will hang from the ceiling of the Swiss Institute. "He prefers that people don't touch the yarns, just so that there's a nice tension between the viewer and the art," says Taylor.
The colorful yarn installation is a fitting environment for the collection. Inspired by a trip Taylor took to Kenya, Tanzania and Morocco in May, garments feature flowers, clean stripes and geometric patterns throughout. On the season's mood board in her office, she points out a picture of brightly dyed yarn bundles suspended in air that she saw in a market in Marrakesh. "There's something about [Hot Tea's installation] that felt like, one, I would be obsessed to be in a room with the yarns and that much color. But it also totally went back to what it felt like being in these markets with this texture and color hanging above you." Taylor also has a picture of her tour guide at the Samburu National Reserve in Kenya, who wore a wrapped blanket with a big single flower drawn on it that she recreated. "We always do flowers and florals, [but we've] never done something that large scale," she says.
Pushing her own boundaries with fabrics is a priority for Taylor, who worked with silk twill and printed on silk cotton for the first time this season. She was most excited about a laser-cut and embroidered floral pattern on many fabrics, especially on denim — another first for her. Taylor is also starting to work with Swarovski crystals, having been inducted into the 2016 Swarovski Collective in August. "We don't usually use crystal but it was almost a way to enhance prints and add more texture," she says.
As one would expect, Taylor's schedule for the week leading up to her presentation is packed. On Friday and Saturday she and casting director Noah Shelley met about 200 models, narrowing her final selection to 25. Taylor says she looks for happy, healthy, wide-eyed models with a friendly personality. "We keep their hair natural, their makeup very natural and it makes them feel like they are walking down the street wearing the collection." She cited Kid Plotnikova, who appeared in the resort 2016 lookbook, and Cris Herrmann as some of her favorites. 
Meanwhile, Taylor tackled the presentation's soundtrack with DJ Paul Devro, a producer for Diplo who has worked on her last three shows. She sends him some notes about the collection and he responds with a playlist that she edits.
After casting comes styling, which Taylor tackled the Sunday before the show with her team. Typically, they come up with 70 combinations of looks, post them on a board and edit them down. Taylor says it's one of her favorite parts of the process. "It's deciding, are we starting with super bold floral and going into whites and going into stripes? Or are we mixing it up?" she says. "You are creating new pieces that didn't exist, new proportions are being found that are exciting and I love it." Taylor makes sure to include looks to wear to weddings, work or on a date, as well as something for people who are shorter, taller, bigger busted or smaller busted. 
Next up are fittings, which Taylor said are the most stressful part of the process. "Sometimes you have to recut the entire dress or we won't have enough fabric to do that, so we have to make it work," she says. "And you're almost at the final lap and it feels like the most pressure." The models return to try on pieces during the day and a seamstress, a 65-year-old woman Taylor calls her "secret weapon," takes them home at night for alterations.
Just three hours after the presentation on Friday, the collection will be at the 10 Eleven Showroom on Bryant Park for its first sales appointment with a buyer. Those appointments are Taylor's biggest priority for the rest of fashion week. Then she heads to Paris for the CFDA's "Americans in Paris" showcase for CFDA/Vogue Fashion Fund alumni designers. "I like to go [to sales appointments] because I get a lot of great feedback," says Taylor. "They'll ask questions they won't be able to ask a sales team, like where did this print come from or where do you see a girl wearing this dress?"
Taylor's focus on the wearability of her collections while still pushing herself creatively sets her apart from other young designers. At the end of our conversation last week I asked her what effect, if any, did she want her presentations to have on her customers. "I think when people find an emotional way to attach themselves to any designer, any brand, they become more loyal for a longer time," she says. "I feel like fashion designers should study psychology because that's what you're trying to do: figure out people's preferences and anticipate them. We have people who will buy the same shape every single season. It's like filling a hole in their life."
Update: See the entire spring 2016 collection below.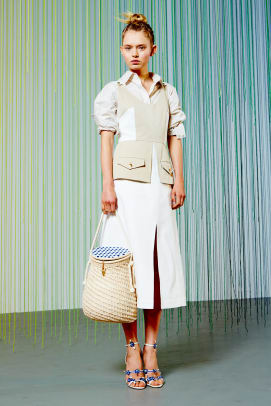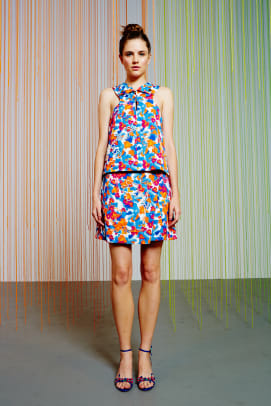 Homepage photo: Imaxtree