Dries van Noten's Flamboyant Prints Take a Sexy Turn for Spring 2016
Forties silhouettes added a dose of glamour to what was otherwise a classic Dries collection.
The spring 2016 collections won't arrive in stores for six more months, and already I'm extremely tired of deconstructed blazers and white shirts — just about every designer has decided that this is the season to do it.
And so it was nice to arrive at Dries van Noten's show Wednesday and see clothes that hadn't been torn apart and re-sewn, or hanging off one shoulder. Accompanied by a string quartet positioned center stage, models walked out in familiar clothes with a retro feel, aided by '40ish rolled hair and cat-eye sunglasses. There were bustier tops and dresses, high-waisted skirts and pants, and strong-shouldered blazers and coats that allowed van Noten's riotous interplay of color, print and embroidery to seize the focus. In his show notes, van Noten described the collection as "flamboyant, bold, impulsive, vivacious, observant, infatuated, jubilant, kinky, fearless, flirtatious" — but there was a tongue-in-cheek approach to the sexiness, the way the bustier tops were styled over flesh-tone turtlenecks that looked as if they'd been inked in henna, the sexy pencil skirts fluffed up with big, girlish bows.
In the end, it was hard to pick out which pieces were highlights — at the risk of sounding too effusive, van Noten has a way of making nearly every piece feel special. We were taken by the high-waisted trousers, done first in a rich peacock blue and gold silk jacquard, and then in grey with fuschia birds' feathers; printed silk dresses with sheer overlays that hung simply from the shoulders before fanning into curtains of tulle; a grey grid-print coat embroidered with hot pink feathers; and towards the end, a series of blouses and narrow midi skirts with sinuous ruffles sweeping down the fronts. Platform sandals were the shoe style of choice, done in fabrics and sequin embroideries that harmonized with the clothes.
Feast your eyes below.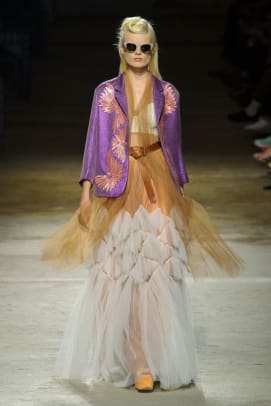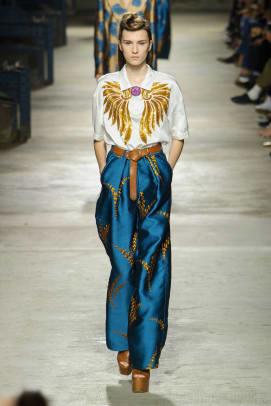 Homepage photo: Imaxtree