Opening Ceremony Brings Mission Chinese to Paris for a Cozy Dinner
The low-key event was a welcome respite from fashion month's many runway spectacles, though Humberto Leon made a case for those, too.
"It's gonna be a kind of wild ride, but bear with me," grinned Angela Dimayuga, the executive chef at Mission Chinese Food in New York City. Dimayuga, the co-creative behind so many of the famed restaurant's trippy, chili-heavy Sichuan delicacies (alongside co-founder Danny Bowien) was talking about the nine-course menu (think: turmeric steamed fish and spicy fried chicken wings culminating in pop rock-topped pistachio ice cream in a papaya) she dreamed up for Opening Ceremony's first ever event in Paris. The bash, held in a makeshift Mission Chinese in the disco ball-lit L'Atelier des Artistes restaurant in the Marais Tuesday night, celebrated OC's new collaboration with Samsung. James Blake DJ'd, Leigh Lezark and Amy Astley showed up to dine and dance, and editors washed down Dimayuga's fiery, flavor-packed creations with champagne and prosecco cocktails.
"We always talk about how we love not only fashion, but also art, music, and food," explained OC co-founder Humberto Leon of the unusual event. "So, it's super exciting to share one of our absolute favorite restaurants in New York and we flew Angela from Mission Chinese to cook this amazing meal. It's almost like a once-in-a-lifetime meal, because she made this menu up while she was here, and its funny, because there are people from New York, people from London, people from Paris, and a lot of these people don't get to eat this thing that I think is the best."
Leon also felt that the party represented a continuation of Opening Ceremony's spring 2016 collection, which showed in New York. "Our whole collection was about the home and inviting people into our house, so this is our interpretation of inviting people into our house in Paris. My family is here and everyone here is practically family."
The low-key event felt like the antithesis of the buzzy social media bait most designers try to create during fashion month these days. Though Opening Ceremony's NYFW show, which featured models intentionally falling down — and then dancing — got quite a bit of Instagram and Twitter play. "The way that shows are interesting to us is when you can bring a humanistic element to a runway show that is generally fast-paced, semi-distant, and meant to really kind of come and go as quickly as you can blink your eye," said Leon. "It's all about really trying to get into the inner psyche and getting an emotional reaction from the audience."
Whether that's by tripping models or amazing food, Leon and his Opening Ceremony co-founder Carol Lim are doing a great job.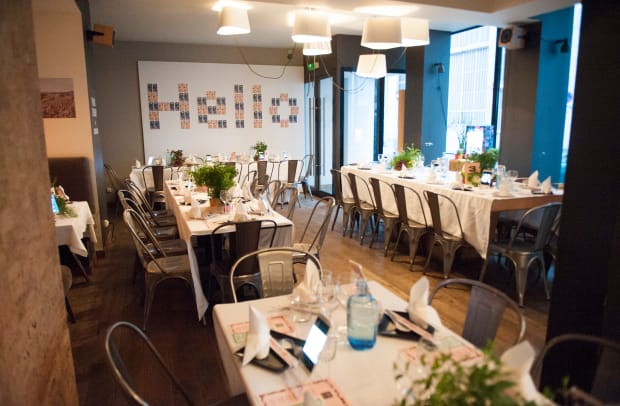 Homepage Photo: Opening Ceremony