10 Looks We Loved from Tel Aviv Fashion Week
It was the students and first-time presenters who really raised the bar.
Last week, I traveled to Israel for Tel Aviv Fashion Week — a still-developing annual event that was created back in 2011. The shows went on despite this being a particularly tense time to for the country, with bursts of violence between the Israelis and Palestinians peppering the month of October in its capital, Jerusalem. In fact, things were looking so grim that some colleagues and friends of the event's founder and producer, Motty Reif, tried to convince him to cancel it. But that would go against the very reason he revived Tel Aviv Fashion Week in the first place. 
"Four years ago, I moved back to Israel from Los Angeles — I hated that the press surrounding Israel was mostly negative, and I wanted to bring people [here] to show them that we're not violent monsters," Reif explained. "I felt that it was my duty." To make his case even stronger, Reif noted that not a single member of the international press cancelled his or her trip, further proving the event's importance to him and the fashion community at large.
Tel Aviv Fashion Week may still be in its infancy, but it's grown leaps and bounds since it began. Reif admitted that his first season, he needed to bring in an international designer (Roberto Cavalli) to generate interest from press and buyers. This year, 1oo members of the international press and 15 top buyers from all over the world were in attendance, only fueling Reif's ambition to play with the "big boys" in New York, Milan and Paris. Part of his mission, besides building international awareness of the Israeli fashion community, is to encourage the next generation of design talents — like the graduates of Shenkar College of Design — and for the first time, a sponsored runway show was dedicated to emerging local labels who couldn't afford to present their own.
While some Israeli designers have been in business for decades (and had fans cheering them on from the rafters), it was the forward-thinking new names, with their hyper-relevant designs, that really caught our attention during the four days of shows. When it comes to up-and-coming talent, we suggest you keep your eye on Tel Aviv in future seasons.
Read on for 10 looks we loved from the runways at Tel Aviv Fashion Week.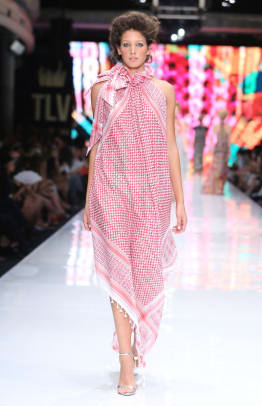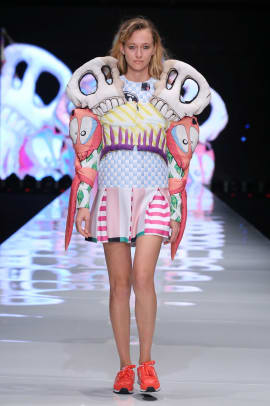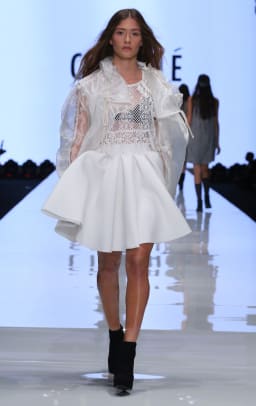 Disclosure: The Israel Ministry of Foreign Affairs provided my travel and accommodations to cover Tel Aviv Fashion Week.