Valentino Crafts a Beautiful Tribute to Tribal Africa on Its Spring 2016 Runway
These were some of the most beautiful clothes we saw this season.
Tribal Africa is a tricky theme for fashion designers, especially given all the Internet rage over cultural appropriation these days. But on Tuesday, Valentino's Maria Grazia Chiuri and Pierpaolo Piccioli showed the industry just how well it can be done, with dazzlingly intricate clothes that loosely — not literally — referenced a wide range of cultural groups, both African and Italian. (Other elements of the show, like the heavy casting of white models and cornrowed hair, were not so savvy, however.)
Set to the theme song of "Out of Africa," models walked out in a sequence of ankle-grazing dresses in dark silk and lace that grew increasingly elaborate and more colorful as the show progressed, paired with bone-collar necklaces, strappy leather sandals, and hand-painted and beaded bags that kept the collection firmly on-theme. An early standout was a long black wool coat colorfully embroidered on the sleeves, hem and all down the front, with feathers sprouting at the pockets and elbows, as well as a series of black lace dresses and separates paneled with studded leather for an armor effect (which looked particularly good on an ankle-length pleated skirt). 
We were also taken with a columnar dress with a tiered feathered skirt and a heavily beaded bodice that, at first glance, appeared to be studded with pearls, and which perfectly synthesized the collection's interplay of European and tribal dress. Sweeping black dresses trimmed with colorful Masai beading, fringed leather jackets hand-painted with geometric designs, and simpler silk dresses printed with birds, tigers and giraffes followed. But it was two of the simplest dresses — pleated semi-transparent chiffon and earthy in color, with flowing cape-backs — that stole our breath. When it seemed the emotional pitch couldn't go any higher, Valentino sent out a sequence of sheer gowns: one marvelously embroidered with tiny feathered birds on the bodice, another with birds picked out in silver beads, its swishing skirt made of fringed silk layered over tulle.
Of all the shows I attended this season, only one earned a standing ovation, and that was Valentino. And it was richly deserved — for it was a collection brimming with a love for beauty and craftsmanship, and in turn, a fitting tribute for all the beauty Africa has offered the world.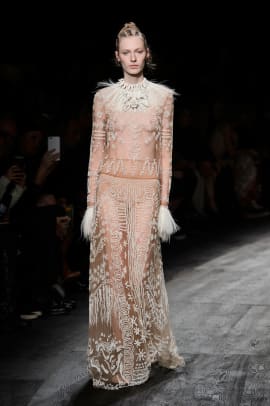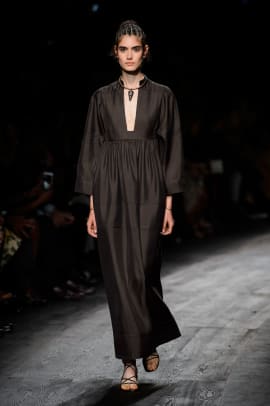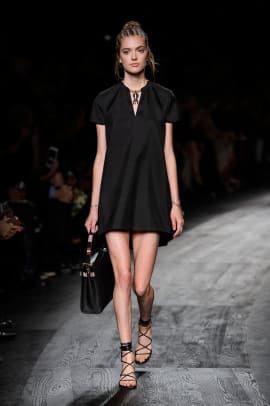 Homepage photo: Imaxtree