Camille Seydoux, Stylist and Sister of Léa, Gives the Bond Girl a Sexy, Modern Update
In curating custom-made couture gowns for her sister's many "Spectre" appearances, this Parisian "It" girl has the best job in the world.
When I call Camille Seydoux, sister and stylist of Parisian film star Léa Seydoux, from Fashionista's offices in New York City, it's clear that Camille is somewhere where there is also a crowd. It being 9 p.m. in Paris, I run through her potential locales. Could she have stepped away from a cozy French bistro? A spacious hotel lobby dripping in chandeliers? Marion Cotillard's house? "I was just at a movie premiere with another actress," she immediately explained, apologizing for the noise. "I styled Adèle Exarchopoulos, so I was here with her!" It was, I gathered, a now-typical evening for Camille, 32, who's spent the past few weeks jet-setting all about Europe for the well-documented publicity tour of "Spectre," the latest film in the James Bond franchise.
Léa, of course, is the franchise's latest Bond girl — and as a fashion darling and Miu Miu spokeswoman, under more sartorial scrutiny than typical. As you might expect as the sister and stylist of the world's actress-of-the-moment, Camille is elated — and not just because this tour required that she help create a number of custom-made, couture red carpet gowns. "The [Prada and Miu Miu] team is amazing," she said. "They're willing to make whatever we want, whatever we like, just so Léa can have these exclusive dresses only for her. This is the part I like most about my job." 
It's easy to see why, of course, and not only because both Camille and Léa are involved in the design process very early on. Camille said that the pair first sends the studio inspiration, be it pictures or even just a swatch fabric, then asks to see early sketches. "They even do the shoes and the clutches for us. They're really willing to give us the most exclusive things. That's why when Léa is wearing Prada or Miu Miu, she has her own way to wear the brand because it's really exclusive. It's made just between the studio and me."
It all started with last month's "Spectre" world premiere, for which Léa wore a bespoke metallic Prada gown, complete with a low back and three-quarter length sleeves. That this dress is the flashiest of all of Léa's press junket looks thus far was no coincidence; early on, Camille was set on putting Léa in what she called "the dress to remember." "Of course, I was inspired by all the Bond girls," she said. "You have to play the game. When you're a Bond girl, you want to be sexy and glamorous and powerful. I like that old Hollywood star quality, but with a modern, fun twist. I wanted Léa to look like a Bond girl, but a fashion-centric Bond girl."
Despite Camille's visible styling prowess (and, you know, their shared genes), Léa isn't always the easiest client with whom to work. "We definitely don't have similar styles," she told me, laughing. "I'm much more into fashion than Léa. I go to fashion shows, and she doesn't really like to go — but she does like to buy a lot of clothes. She's more boyish. She loves to wear big jackets, large pants and men's T-shirts." But Léa's wardrobe has become a balancing act, partly under necessity, and partly with her big sister's guidance. This season, Camille was a front-row fixture all throughout Paris Fashion Week, posting up at Louis Vuitton, Dior, Olympia Le-Tan, Mugler and, of course, Miu Miu. "It's funny because she likes to hide her body in real life, but on the red carpet she's super-feminine. She likes tight clothes, and likes to show some skin. My style is different. I like to wear high heels during the day," she paused, seemingly smirking, "but I don't think I've ever seen her in high heels when she's casual."
But as Léa's sister, Camille is granted a natural and biological degree of sway. "Sometimes, I'm working on a look and she doesn't even know what it is until the very last minute," she said. "I think I decide more with her than with other actresses. She trusts me and I know what fits her well. I know she's going to like it. Sometimes she tells me that she likes one better the last, but it's okay. She trusts me."
While Camille is back in Paris working with Exarchopoulos as she promotes her upcoming project, "The Anarchist," Léa is making the rounds here in the US before she continues to China. It's no secret that all this — especially her time spent with family — makes for quite the dream job. "It's an amazing experience, working with Léa," she says in her rolling French accent. "I love when I get to post a picture of her on Instagram and read the comments. People have been so happy, and they like the way I've styled her. It's a pleasure."
Click through the gallery below to see Léa's "Spectre" premiere looks from London, Paris and Mexico City.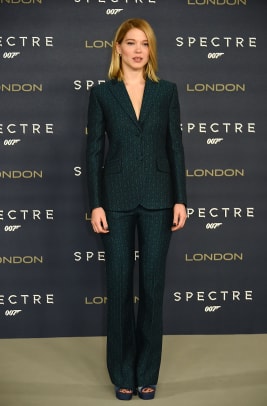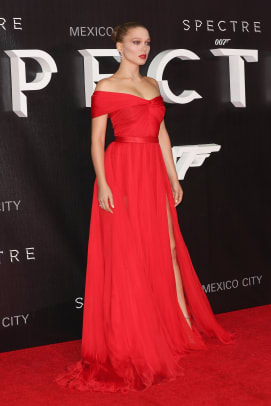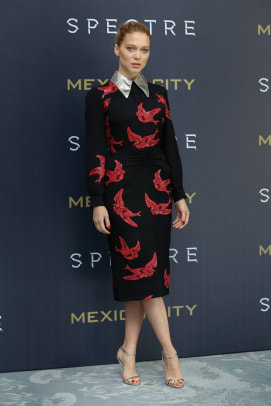 Homepage photo: Samir Hussein/WireImage