Warby Parker is Expanding Beyond Eyewear
"You'd be surprised by the number of people that come into our stores that don't need glasses."
Last week, Warby Parker debuted its first book, "50 Ways to Lose Your Glasses," a cheeky, light (in mood and lbs), gift-able illustrated hardback now available not only in the company's growing fleet of brick-and-mortar stores, but also at Barnes & Noble, Amazon and other bookstores. While it is the first book Warby Parker authored on its own, it's certainly not the first non-eyewear product the company has sold, and it won't be the last.
"You'd be surprised by the number of people that come into our stores that don't need glasses," says co-founder Neil Blumenthal. As the online-native eyewear brand's brick-and-mortar presence has grown, so has its need and desire to produce items (other than sunglasses) for those with 20/20 vision. Books in particular have been a popular category for the brand, whose name comes from two Jack Kerouac characters. (Blumenthal sees them as a natural extension of Warby Parker's "literary heritage.") So far bestsellers have been "Nas's Illmatic" and the "Beck x Warby Parker Song Reader," for which Beck created sheet music. Mugs are apparently a hot-ticket item, too. One created specifically for the new Seattle store, which has an overall "Writer's Block" theme, reads, "Trust me, I'm a librarian." Meanwhile, a store in Miami's Wynwood neighborhood sells special swim caps and bikini-shaped planters. A summer 2015 capsule included a towel with blueprints for building a sand castle, as well as a road trip kit with a copy of "On the Road." For its recent Nordstrom Pop-In, the brand curated a selection of non-eyewear items, like McSweeney's books and Pike St. Press notecards, to be sold alongside its glasses.
"Usually it ties into the community that we're joining and the concept of the particular store," says Blumenthal. He adds that when deciding whether or not to produce a new product, the company puts it through a "brand filter," asking themselves, "Is it authentic to us as a brand? Is it unexpected and something that people will want to to talk about? Does it do good in the world and serve a clear purpose?" So far, the products are pretty ephemeral, meant for "a particular moment," as Blumenthal puts it. They are also not sold online, though he says "eventually" some non-eyewear items will be. "Right now they're really designed to complement the physical experiences we've created."
Without going into too many specifics, Blumenthal confirmed that the company's expansion into non-eyewear goods will continue with the intention of positioning Warby Parker has not just an eyewear brand, but a "tech-enabled lifestyle brand."
"Customers should expect to see us continue to do fun stuff that represents what we believe the Warby Parker lifestyle to be, which is around fun, creativity and doing good in the world."
For a look at many of the products Warby Parker has launched over the past year, see below.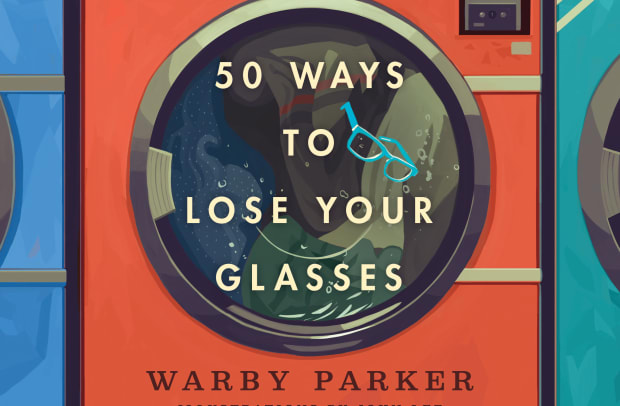 Homepage photo: Dimitrios Kambouris/Getty Images