Chanel Brings Paris to Rome for a Cinematic Runway Show
Complete with A-list actresses, naturally.
The backdrops for Chanel's runway shows, whether they take place during Paris Fashion Week or on location, have long been compared to movie sets. So for his latest Métiers d'Art show (Chanel's pre-fall equivalent) on Tuesday, Karl Lagerfeld took over an actual movie set: Rome's iconic Cinecittà, to be exact, which is essentially Italy's Universal Studios. Everything from "Roman Holiday" to "La Dolce Vita" to "Zoolander 2" was shot there in part, and now Lagerfeld, a film director in his own right, has made his mark.
Lagerfeld essentially erected a Parisian neighborhood in one of the studios, complete with a brasserie, a boulangerie, a cinema, a metro station, Roman statue props and an Italian restaurant. Guests — including, notably, Rooney Mara and Kristen Stewart — sat at bistro tables and and a number of Lagerfeld muses were present, including the entire Kroening family who, dressed in newsboy caps, handed out branded newspapers and later closed the show. 
Lara Stone was the first model to walk and other notable faces, including Freja Beha, Jamie Bochert, Bella Hadid, Molly Bair, Sam Rollinson and Lindsey Wixson, followed. As for the clothes: they were quite covered-up and exceptionally textured and embellished. Ruffles, fringe and appliqués abounded on dresses, jackets and capes. Leather was big, and, this being a Chanel collection, rich tweeds were not in short supply either, seen in pantsuits, dresses and outerwear. Several looks were styled over lace tights and classic-with-a-twist, black-and-white shoes, many embellished with pearls. 
Lacy gowns felt sexy and romantic, as did the Brigitte Bardot-esque beauty look. And what is Rome (or at least our perception of it) if not romantic? See below for photos of the full collection, as well as more of our favorite snaps.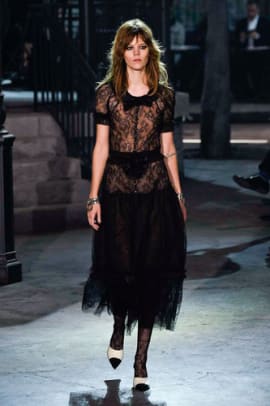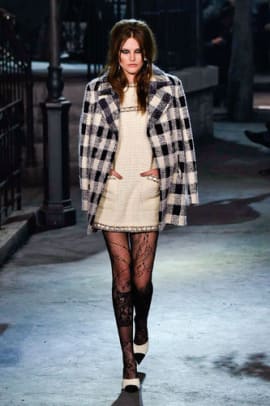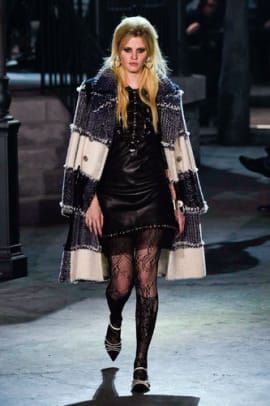 Homepage photo: Gabriel Bouys/AFP/Getty Images