Coach Preys on Our Emotions with a Dinosaur-Heavy Pre-Fall Collection
Everyone loves a dino sweater.
What is it about dinosaurs? Unless you go into paleontology, they tend to remain the purview of childhood — I'm not sure about you, but my bedroom features less dino decor than it once did — and yet! When the topic of dinosaurs comes up these days, most adults I know are suddenly filled with a youthful, giddy excitement, which might explain the crazy success of "Jurassic World" and "Jurassic Park" before it. Have you ever not clicked on an article about scientists piecing together a rendering of some massive prehistoric sea creature?
Dinosaurs are dope. Which is why Coach Creative Director Stuart Vevers is pretty brilliant for filling his pre-fall collection with Tyrannosauruses patched onto letterman jackets and clipped onto bags in keychain form. Mixed in with sweet prairie prints carried over from spring 2016 and the gorgeous leather jackets at the core of Coach's new clothing offering, the little scaly guys fortify the cool, youthful vibe Vevers has been building at the brand since he came on board in 2013.
Check out the full collection below.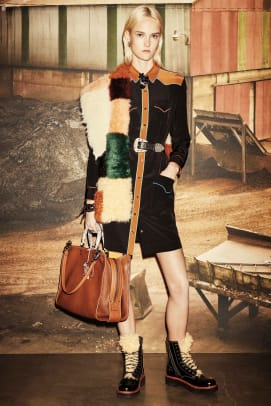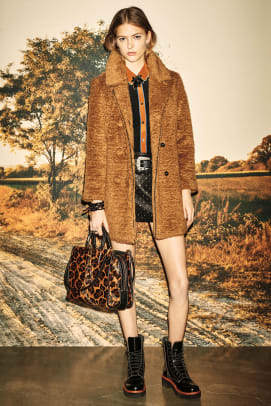 Update: A rep for Coach has let us know that the flying creatures on one of the sweaters in the collection are birds and not, in fact, pterodactyls. We deeply regret this error. There really are T-rexes, though.