Exclusive: Kith Launches Womenswear and Opens a Women's Store in NYC
Founder Ronnie Fieg is applying his menswear line's mentality to the booming athleisure business.
When Kith founder Ronnie Fieg noticed that the smallest sizes of his menswear line often sold out first — along with a large number of online orders addressed to women — he had a feeling there might be enough interest to start a womenswear collection. (Some encouragement from his mother and older sister helped, too.) Fast forward three years later and Fieg has launched Kith's own womenswear line and an upcoming storefront to house the debut collection and a selection of women's shoes.
Fieg grew up in Queens, New York, and got his first job when he was 12 as a stock boy for the footwear chain David Z. Over the next decade, he climbed the ranks from salesman to assistant manager and then head buyer by the age of 25. In 2010, Fieg opened the doors to Kith, a Manhattan storefront in Soho offering multiple brands of sneakers, as well as collaborations with Asics and New Balance. Two years later, Kith debuted its in-house, direct-to-consumer menswear label, a collection of elevated basics that blur the line between streetwear and activewear. Unlike other activewear brands, Kith items feature little to no branding, and are usually available in small, limited-edition batches — a business approach made famous by streetwear names like Supreme. Earlier this year, Fieg expanded Kith's brick-and-mortar footprint by opening a location in Brooklyn, a few blocks away from Barclays Center.
Although Kith's following already includes the female set, Fieg made sure that his women's line didn't follow a "borrowed from the boys" approach when it came to style and fit. Instead, the collection's design team, run by a Public School alum, reinterpreted only a few of Kith's key pieces, such as the Brie sweatpant, which, for ladies, switched the traditional ribbed ankle cuff and durable cotton French terry found on the men's Bleecker pant to a stretch binding trim at the cuff and an airy Japanese ponte knit fabric. In lieu of a classic flight jacket (another menswear staple), the Danika bomber jacket is made from French satin with cinched seams, dropped shoulders and topstitch detailing. The Jordan, a favorite among the Kith team, is another bomber-style piece that can be worn as a dress or a sporty duster coat. The debut collection features up to 60 styles that are seasonless, solid-colored and made from lightweight and super soft materials.
Debuting the women's line for Kith wouldn't be complete without a storefront, which is just across the street from the men's Manhattan flagship. Fieg worked with longtime partner Snarkitecture to create the space, which maximizes the location's 400 square feet with a clean and minimal design. Custom white marble covers most of the shop, which will have one wall entirely dedicated to women's sneaker-type footwear by brands like Buscemi, Converse, Nike, New Balance, Adidas, Vans and Timberland. The marble shelving can hold and display up to 120 pairs of shoes. Directly in the middle of the floor is a marble dumbwaiter that sales associates will use to retrieve products for customers. (A tray lifts the items from the basement stockroom along a four-foot pillar.) The opposite side of the store will feature full-length mirrors and stainless steel railing to stock Kith's line for women.
When asked if this collection is streetwear or athleisure, Fieg is quick to say athleisure. Sure, there are sports bras and leggings that justify that category placement, but it's more than that, too. The rest of the collection features everyday apparel like dresses, shorts, hoodies and jackets that are driven more by multifunction and sporty details as opposed to trends. Pieces with a mesh drawcord feature Kith-branded aglets made from machine-washable soft rubber — a signature type of trim that runs throughout the whole collection. Each item is stitched with a soft rubber tag that shows the line's new logo, a slimmer version of Kith's block-letter typeface. "I believe that this is a new category. We're smack in the middle because you can look sporty or dressy," says Fieg. "It's a response to how women are dressing now. However your day-to-day life goes, you want to give women that ability to wear something all the way through. In today's world, you got to give people multifunction product."
And although fashion labels are taking advantage of this vastly growing market, whether it's by collaborating with athletic brands or launching in-house brands, the offerings for fitness-leaning fashion pieces — clothes you can wear out but not necessarily to your next dance cardio class — at relatively accessible prices are somewhat low. With Fieg applying his menswear line's mentality to the booming athleisure business, he's able to provide a direct-to-consumer collection that will be released across four deliveries between now and April. Similar to Kith men's, each delivery will have limited quantities — only 75 pieces per color, per style. A second women's collection will launch by next May.
"It's an honest approach," says Fieg as he reflected more on his first take on womenswear. "I know this is going to take time and we're really going to let it sink in. But I think once people see the space and the product in it, they'll be inclined to at least try it." The marble mini-freight elevator is worth a visit, too.
Click through the gallery below to view Kith's debut womenswear collection. Visit the Kith women's store at 64 Bleecker St. in New York City starting Friday, Dec. 18, or visit KithNYC.com to shop the collection, which officially launches at 11 a.m. ET on Saturday, Dec. 19.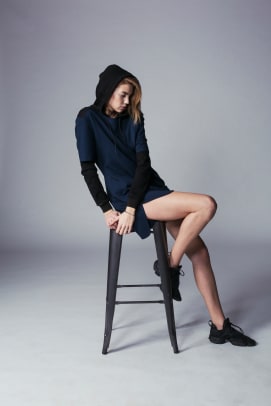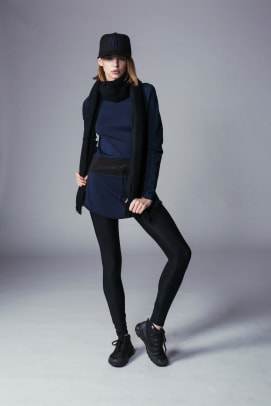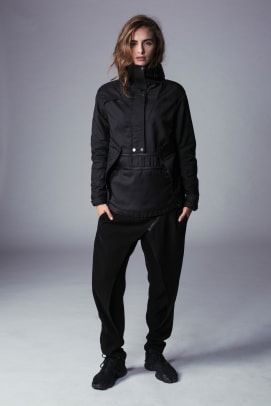 Homepage image: The Danika bomber and Kassie short from Kith's debut womenswear collection. Photo: Kith
Note: This article was updated to clarify the dates of the store opening and release of the collection.