Elie Saab Couture Showed Victorian Princess Gowns With a Contemporary Twist
A backdrop of leafy, tropical foliage made for the second ecology-minded show this week.
Elie Saab is nothing if not consistent. While the designer's themes and inspirations change with each show season, his product rings true with what he famously does best: ornate, glittering gowns fit for the modern-day princess. For his fall 2015 couture range, Saab sought inspiration from the moody, gold-filled Byzantine Empire, and this historical kick apparently carried through his spring 2016 collection, too. This time, his vision came from the ever-relevant Victorian era, a period some 700 years later.
On Wednesday in Paris, Saab presented a collection filled with his expected offerings — floor-grazing dresses with intricate detailing and ethereal construction — each with an unmistakably baroque flourish. Embroidered necklines made appearances on long-sleeved lace gowns, while chain-like metallic brocades recalled Edwardian suits of armor. A Victorian theme is not entirely original, of course, with houses like Alexander McQueen drawing from the period as recently as fall 2015. But with heavy silver jewelry, flat, lace-up boots and coordinating crown-like headbands accenting nearly every look, the artistry felt far from stale. Though Saab's tried-and-true cupcake silhouettes remained, he also included a fleet of fresh styles — perhaps most notably, a beautifully embellished, short-sleeved lavender gown that bore resemblance to a traditional Indian Sari. 
This Sari reflects the collection's theme, "Enter India," which some may find problematic. The show notes describe "a young adventuress" who "stands at the crux of different worlds," with India being "her inspiration for a new blend of formalism and ease, opulence and elementary lines." Specifically, Saab drew inspiration from the journals of real-life Anglo-Irish noblewoman Lilah Wingfield, who traveled to Delhi in 1911 to celebrate the succession of King George V.
The show's leafy-tropical backdrop provided a notable juxtaposition to the collection's otherwise Old World motifs. What gives? Saab's Instagram proclaims that climate change influenced the line's fabrics, making this the second ecologically minded collection of the week following Chanel on Tuesday. Clearly, this is a subject that remains at the top of designers' minds, and we look forward to seeing how it plays out — in their actions as in their designs — in future seasons.
Click through the gallery below to see Elie Saab's spring 2016 couture collection in full.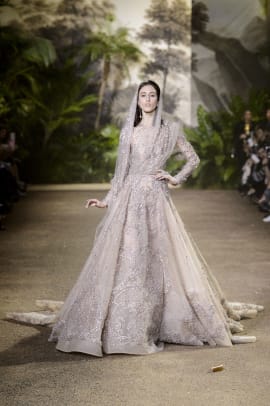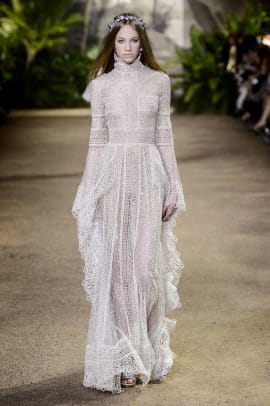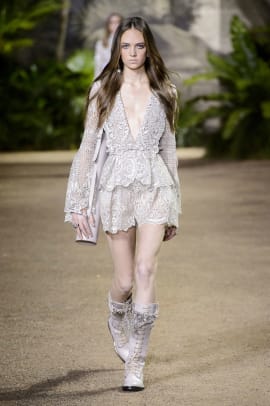 This story has been updated to include details from the collection's show notes.