In 2015, I Resolved to Buy Only 15 Fashion Products — And Failed
But I learned a few things along the way.
At the end of 2014, I was feeling pretty disgusted with myself. I had been keeping a running list of all the clothes, shoes and accessories I'd bought over the course of the year, and was shocked both by the number of things I'd acquired — 82, well above the national average— and the amount I'd spent, which certainly surpassed the budget I'd set for myself and the paltry amount I'd added to my savings account. Worst of all, I didn't feel like my wardrobe was any better, or that I was any better dressed, for all the time and money I'd poured into it.
Rather, I'd picked up piles of (often ill-fitting) basics from J.Crew and Everlane, inexpensive sneakers and boots from Tretorn and Zara, fashion-y but impractical coats from Topshop and the sales rack at Opening Ceremony, occasion dresses I'd worn once or twice, more sweaters and scarves than there were days of the week and stacks of cheap costume jewelry. Few were the pieces that cost more than $150, and those — a pair of Chloé ballet flats, navy Ferragamo heels and tweed Lanvin pumps I haven't worn to this day — weren't carefully considered purchases, but designer pieces I impulse-bought during end-of-year sales. The only things I was truly happy with were a Mansur Gavriel bucket bag, which I ordered wholesale and have carried almost every day since, and a sleeveless Rachel Comey coat — my most expensive purchase of the year, and the one I'd spent the most time considering before I acquired it.
Long before I tallied up my purchases, I knew that my shopping impulses were trumping my reason. In college, I worked 20 hours a week just to fund my Ebay habit for Marc Jacobs shoes and vintage costume jewelry. But the frenzied behavior really started when I left my business reporting job to become co-editor, and then editor, of this site. For the first time since my Condé Nast internship in college, I was around people who cared about fashion, and dedicated a lot of thought to cultivating a personal style. All of my basics seemed, well, basic. 
I didn't really know what to buy, so I bought everything (usually on sale) that appealed to me. Instead of reading, I spent hours upon hours browsing for clothes online each night. I desperately wanted a "uniform" so that I could stop thinking about clothes and go back to thinking about more important things (work, books, people), and over the course of 2014, I tried several. I'd be happy with a uniform for a few months — buying a pair of pants or a certain cut of blouse in multiple colors — and then the weather would change, or I'd catch myself in a mirror looking dumpy, and I'd start all over. I dreaded getting dressed for Fashion Week and industry dinners.
And so I decided that I'd undergo a little shopping experiment in 2015, and limit myself to just 15 things — one a month, instead of 1.5 things a week, and three extras for special occasions. "Things" included clothes, shoes and fashion accessories like belts, handbags and gloves; it did not include workout clothes, pajamas, underwear or anything I could buy 100 percent with a gift card or store credit I'd accrued the year before. In the week leading up to the new year, I bought three T-shirts from Everlane and two pairs of tights from Uniqlo; some would call this cheating, but I'd say I was enabling myself to succeed.
Almost from day one, I had a difficult time not shopping. Because I couldn't buy clothes, I fueled my acquisitive energies into other areas: I saw a dermatologist, and overhauled my skin care regime; stocked up on makeup essentials; and bought new furniture and decorative pillows for my apartment. I browsed retailers' websites obsessively, debating what my first choice would be. At the end of January, I settled on an unusually cut short-sleeve button-down from indie label Apiece Apart — still one of my favorite pieces.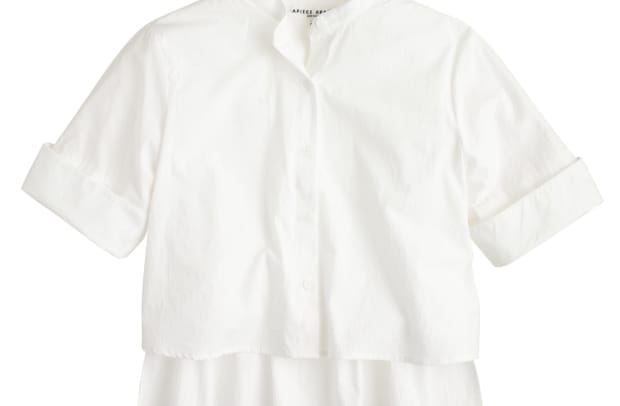 Eventually, it got easier. I read Marie Kondo's "The Life-Changing Magic of Tidying Up," and said good-bye to everything that didn't "bring me joy" — about 70 percent of my clothes, half of my shoes, all but three of my scarves and a dozen trash bags' worth of other stuff. Her approach — acquiring, and keeping, only the things that bring joy — helped me set a bar for my own purchases. Suddenly, I found it easier to buy less. I wanted less, and I took better care of the fewer things I had — hemming a coat that had never been quite the right length, resoling my shoes, cleaning the two pairs of white sneakers I'd kept. During my biannual trip to Topshop at London Fashion Week in February, I found several pieces that I liked but didn't quite fit right (things, in other words, that I would have quickly purchased a year ago), and walked out empty-handed. It felt great.
Because I was purchasing far fewer things, and no longer putting a dollar cap on what I did purchase, I spent more on individual items. I bought my first Marni skirt — midi-length, with a brushwork print — and over the course of the year, two more. For the first time, I spent real money on shoes, and saw how they could transform a simple outfit. And slowly, a uniform started to emerge. Most days, I wear a printed midi skirt and a crew neck sweater (or, if it's warm, a T-shirt) in navy or grey; an Apple Watch but no jewelry; and a pair of sandals, loafers or low-heeled ankle boots, depending on the weather. I no longer panic in the mornings because I have nothing to wear, and I'm no longer tempted by, say, printed tops or statement necklaces because I know I won't wear them. For most of a year now, I've been really happy with my clothes — a novel feeling.
Still, I've had my moments. By the beginning of September, I had purchased 10 of my allotted 15 items, right on schedule. And then — blame it on all the new fall merchandise, or Fashion Month, or the strong dollar in Europe, or the arrival of my tax return — I went nuts, persuading myself I'd learned enough from my experiment and no longer needed to stick to my 15-item limit. By the end of October, my tally had gone up to 23. For the most part, I'm not dissatisfied with the things I bought, though I certainly regret a pair of flashy, star-printed silver Stella McCartney platform sneakers and a knockoff Miu Miu coat I bought at Topshop, which I've never even worn.
Since then, I haven't bought a thing; not out of compunction, but because I haven't wanted to. And though there's a few things I'd like to own, I'm not really tempted to buy them. That's partly because I'm happy with what I already own, partly because I'm going freelance this year and won't need as many outfits (or have as much cash to spend on them), and partly because I no longer feel like clothes give me such a great return on my money. I'd much rather spend $500 on a plane ticket, or a bunch of yoga and SoulCycle classes, than on clearance Prada jacket. For years, the media has been talking about how consumers are eschewing clothing for experiences, and I'm finally starting to understand why.
All in all, I reduced my acquisitions by almost 75 percent this year, and decreased my total spending by more than a quarter. Even better, I managed to put twice as much in my savings account as I spent on clothes. And most importantly, I now feel in control.
I'm not setting a clothing budget or an item limit for myself in 2016, because I don't really need to. Yes, I will still buy clothes — a pair of Mansur Gavriel black suede sandals and light-wash boyfriend jeans are high on my list this year — but I'll be careful to make sure that they're items that will really add to my wardrobe, and that I'll get a lot of daily wear out of. I know now that the best way to avoid regrettable impulse purchases is to wait a month to see if I still want it, and that instead of aiming to buy one thing a month, I should plan on buying two or three things at the times of year I most want them: April and September. By the end of next year, I hope to have 10 to 12 new things I really treasure – and no more.