Guo Pei, the Woman Behind Rihanna's Met Gala Masterpiece, Makes Her Paris Couture Debut
We hope to see more of these gowns on the red carpet very soon.
In a pop cultural climate where everyone's a critic (and nearly everything is one Photoshop session away from becoming a meme), it's rare that celebrities really go for it on the red carpet, leaving us with fewer and fewer memorable fashion moments every year. Happily, the world still has Rihanna, whose "no fucks given" attitude extends to her daily wardrobe choices and who never shies away from taking a sartorial risk. Her most recent triumph was at the 2015 Met Gala, where she brought massive amounts of attention to Chinese couturier Guo Pei after wearing a 55-pound golden gown of her design — one that took 20 months to create and was literally fit for a queen. We're talking real gold thread here.
Though Guo has been designing couture since the early 2000s, she just opened an atelier in Paris last year, and the boost she earned from Riri's endorsement helped her to earn a prestigious spot on the Paris Couture Week calendar for the first time in 2016. Her spring offering was as intricate and regal as we'd expect, with the opening gown giving Rihanna's a run for its money: A glittering, gilded lacelike dress with a skirt that was nearly the width of the runway. More youthful shapes followed — minidresses, shorts, a jumpsuit — in sweet shades like aqua, pale pink and peach, with plenty of embroidery and adornments like feathers, florals, beads, tassels and bows that made each look a feast for the eyes. Her national heritage came through in a number of the silhouettes, too (think mandarin collars, cross-collars and both Hanfu and cheongsam-esque dresses), and there was certainly no shortage of rich fabrics and textures. We'd say that her Couture Week debut lived up to the hype, and we're hoping that more celebrities follow in Rihanna's wake when it comes to wearing Guo's creations this awards season.
Browse the full Guo Pei spring 2016 couture collection in the gallery below.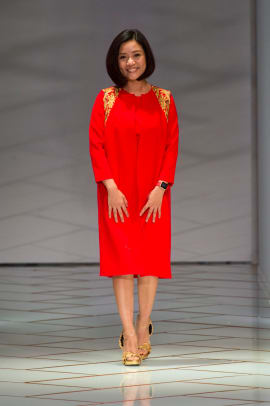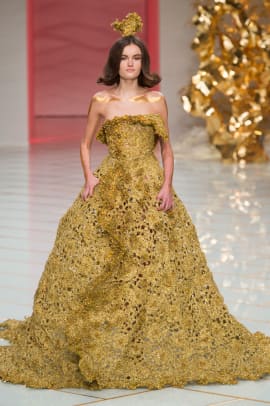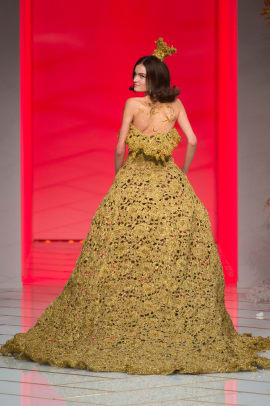 Want the latest fashion industry news first? Sign up for our daily newsletter.